Lens Test: Sigma APO 50–150mm f/2.8 II EX DC HSM AF
Fast Friend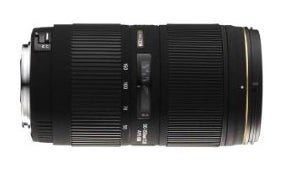 We may earn revenue from the products available on this page and participate in affiliate programs. Learn more ›
Rest on its laurels? Not Sigma. Just look at the updated version of its bright 50-150mm f/2.8 digital-only (DC) zoom ($675, street), part of the company's top-drawer EX family of glass. Its predecessor performed admirably in the Pop Photo Lab just two years ago (January 2007). Since then, the company's engineers have twisted, squeezed, and tweaked its design in an attempt (we're guessing) to catch up to the optical superiority of Tokina's remarkable 50-135mm f/2.8. Reaching out to the full-frame equivalent of approximately 77.5- 232.5mm, the Sigma's zoom range is just slightly longer than the film-era 70-210mm moderate tele zoom standard. Its APO designation comes by way of its four elements of SLD (Special Low Dispersion) glass-more than any other DC lens. Other noteworthy attributes: A new lens design claimed to maximize image quality at the closest focusing distances, plus compatibility with Sigma teleconverters, which can extend focal length out to a 465mm equivalent. Throw in the HSM motor-delivering fast, silent, and sure autofocus-and you've got quite a lens.
HANDS ON
While it weighs about average for its class (and a few ounces less than the Tokina), the lens measures about 1/4-inch longer than its rival. Still, it cast no shadow at any zoom setting or focusing distance when used with the built-in flash of our test camera, the Canon EOS 50D. Sigma skipped the tripod collar-we found the Tokina's useful. Focusing and zooming internally, the lens has a fixed length in use, suiting it to macro ringlights, Cokin-type filter holders, and other lens-mounted accessories. Barrel markings are adequate, except for the subject distance scales (feet and meters), a low-contrast gray-on-black that's challenging to read in low light. The HSM focusing motor performed superbly, and the lens offers one of the silkiest manual-focusing actions (and broadest MF rings) in its class. The zoom action is almost as outstanding and a noticeable improvement over the original version of the lens, which we faulted for its stiffness.
IN THE LAB
On the optical bench, Version II showed its mettle, outperforming its predecessor in overall sharpness and contrast, especially at 150mm. SQF numbers were in the mid-Excellent range at the three tested focal lengths, whereas Version I delivered sharpness at 150mm only in the Very Good range. By relatively slight margins, it also bested the Tokina 50-135mm f/2.8 at two out of three focal lengths. Our remaining lab tests revealed overall satisfactory performance and insignificant differences with its rival. DxO Analyzer Version 3.0.1 tests of distortion control, for example, uncovered Imperceptible-range barrel distortion at 50mm (0.10%), and Slight pincushioning at 100mm (0.15%) and 150mm (0.21%)-a state-of-the-art showing. Light falloff was gone from the corners by f/3.5 at 50mm, f/4 at 100mm, and f/5 at 150mm. That's slightly less impressive than the (almost) falloff-free Tokina and a virtual match to Sigma's original version. Magnification ratios at a uniform close-focusing distance of approximately 34.9 inches came in at 1:13.38 at 50mm, 1:6.69 at 100mm, and a merely adequate 1:4.82 at 150mm.
CONCLUSIONS
Informally matched with Sigma's new 18-50mm f/2.8 EX DC Macro HSM, this 50-150mm makes an obvious (and excellent) choice for photographers who want to upgrade to bright, high-speed f/2.8 optics. Its benefits: Sharp pictures in low light, faster shutter speeds for freezing action, and the power to blur out backgrounds. Except for its lackluster magnifying power, this lens has few optical, handling, or financial drawbacks. Put the two lenses together, and you have a pair of optics to last a lifetime.