Canon EOS 5D Mark II: Camera Test
Resistance is futile.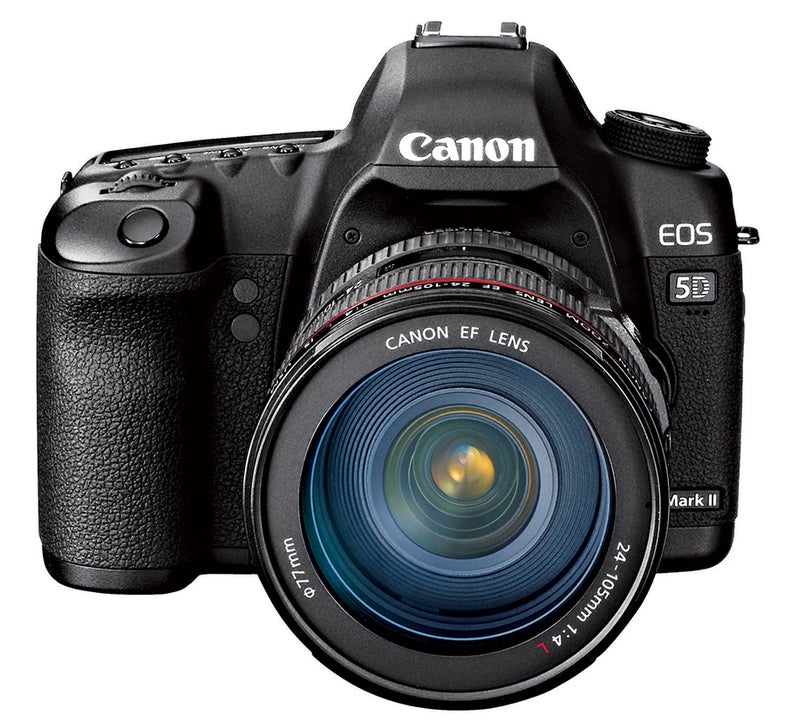 We may earn revenue from the products available on this page and participate in affiliate programs. Learn more ›
Let's cut to the chase — the Canon EOS 5D Mark II does live up to its billing. It takes a great full-frame DSLR, the original 5D (Pop Photo's 2005 Camera of the Year), boosts damn near everything, adds high-definition video capture, and turns in an overall performance that makes it a virtual steal (or at least as close as a steal comes in this price bracket). The body-only street price is $2,700; $3,500 with the EF 24-105mm f/4L IS USM kit lens.
Does the 5D Mark II have drawbacks? Certainly. The autofocus is no faster than that on the original 5D (greetings from the Wayback Machine). The burst rate, at just 3.9 frames per second, isn't pro-sports caliber. And when shooting video, though the image quality rivals any consumer-level camcorder, there's no autofocus.
Of course, the true wonders and shortcomings of this camera are in the details. So let's take a look at those in four key areas.
IMAGE QUALITY
Talk about the best of both worlds! Until this 21.1MP Canon debuted, the choice in the under-$3,500 price range was between lots of pixels or high image quality at high ISOs. One route was a camera such as the $3,000, 24.6MP Sony A900, which produces high-resolution images but tops out at only ISO 6400, and even there serves up lots of noise. The other approach was the $3,000 Nikon D700, with just 12.1MP but impressively clean images at ISO 6400, along with the ability to shoot (albeit noisily) at up to ISO 25,600.
But the 5D Mark II matches the Nikon for sensitivity and comes close to the Sony in resolution. At its lowest standard sensitivity, ISO 100, the Canon scored 2820 lines of resolution; the Nikon, 2350 lines; and the Sony 3230.
Reduced to ISO 50 for longer exposures and bright-light work, the Canon's resolution was 2830 lines, matching the $6,680 (street) 21.1MP Canon EOS 1-Ds Mark III (see, the 5D Mark II is a steal). Neither the Nikon nor Sony offers ISO 50.
And even when the ISO is cranked up to 25,600, the Canon edges out the Nikon with 2400 lines of resolution. Put simply, in our tests, even at its worst, the resolution of the Canon beats the Nikon's best. That's the power of 21.1 versus 12.1MP.
Of course, at such a high ISO, both the Canon and Nikon are in Unacceptable territory in our noise tests (4.9 for Canon, 4.6 for Nikon). At 6400, the Sony scored 3.5, while the Canon and Nikon hit 2.0. Any reading above 3.0 is Unacceptable.
These numbers suggest low-light shooting like you've never seen before. We took the Canon out at sunset in New York's Central Park and photographed a rollerblader, capturing the scene with a shutter speed of 1/20 sec and aperture of f/11. At ISO 6400, there was no more than a light dusting of noise. Compared to the grain you'd see with 6400-speed film, this is the stuff of revelation.
Such high resolution and ISOs will change your photography. You'll use the 5D Mark II in settings where you wouldn't have opened your camera bag before. And you can leave your auxiliary flash at home (though think twice, because this camera doesn't have a pop-up).
One benefit of the camera's 14-bit capture (up from 12-bit), with help from the camera's processing engine, is Canon's Highlight Tone Priority setting. When enabled, it limits your ISO range to 200-6400, but also captures a little more detail in highlights. The effect is subtle and, according to Canon, may add a little noise to the shadows. If you're shooting a wedding dress, though, you'll likely be glad you have it.
But this low-light performance isn't glitch-free. As have commenters on the web, we noticed tiny black blotches next to areas of blown-out highlights, such as the streetlights in our image of the skater. We found it hard to predict what images these spots would turn up in — sometimes we'd find them, sometimes we wouldn't. Canon is aware of the problem, and our bet is that the issue soon will be resolved with a firmware upgrade. In any case, the blotches are easily removed in postproduction.
When working with RAW images, we noticed finer gradations of tone in the final images. Credit the sensor's 14-bit capture. And that sensor ranked fourth out of all current DSLRs in DxOMark Sensor tests (www.dxomark.com), which analyze and compare unprocessed RAW data.
Color? In our testing protocols, anything below 8.0 is Excellent. The Canon scored 6.3. This beats both the Nikon and Sony. And with 9.0, the Sony fell into our Extremely High category.
THE BODY
Following the if-it-ain't-broke axiom, Canon didn't change much of the ergonomics from the original 5D. Same control layout (two command wheels and a tiny joystick to quickly maneuver the menus), and same magnesium-alloy chassis as the original.
What's new? The 3-inch 920,000-dot LCD (up from 2.5 inches and 230,000 dots). This larger screen meant moving the delete button to the left.
Look through the viewfinder, and you'll instantly be reminded of what a full-frame DSLR is all about — an awesome, wide view. If you're accustomed to using Canon's popular 24-105mm f/4 L-series lens on an APS-format camera, be prepared for a bright, wide-angle experience. Although viewfinder accuracy isn't the Sony's 100 percent, the Canon's 98 percent is still impressive and beats the Nikon D700's 95 percent.
The standard viewfinder screen (EG-A) can be swapped out for a grid (EG-D) or, for photographers who focus manually, a Super Precision (EG-S) screen. Each of these optional focusing screens streets for about $45.
While there's no pop-up flash (we can't get over it), the hot-shoe is more rugged, with the addition of a rim that seals Canon's EX II-series Speedlites in place.
Despite the fact that many pros will use this camera, the 5D Mark II (like the Nikon D700) has only one CompactFlash slot. Canon's 1D and 1Ds cameras, however, have twin slots, which we find more useful for heavy shooters. The Sony? Both CF and Memory Stick PRO Duo slots.
Canon upgraded the shutter to boost its life expectancy to 150,000 cycles, up from 100,000 cycles. That makes it the same as the D700, leaving the Sony's 100,000-cycle shutter behind.
If dust keeps finding its way onto your imaging sensor, you'll appreciate the 5D Mark II's Integrated Cleaning System. It shakes the sensor each time you start up the camera so that any loose dust falls down to be trapped by a sticky surface below the sensor. Also, the low pass filter on the front of the sensor assembly has a fluorine coating to repel dust in the first place.
If all of that weren't enough (and sometimes it isn't), a menu option lets you create a dust map by capturing an image of a plain white surface large enough to completely fill the frame. That dust map data then becomes embedded in your future image files — you can use Canon's Digital Photo Professional software (version 3.3 or later) to remove the dust spots from your images in postprocessing. Most people think of that Photo Pro software just for RAW conversion, but the latest version also works on JPEGs and TIFFs, so you don't have to shoot RAW to take advantage of dust mapping.
For all the similarities with its predecessor, the 5D Mark II uses a different battery. Not a small issue for photographers who have spares for their old 5D, as well as those stepping up to this model who have extra cells for their EOS 20D, 30D, 40D, or 50D. The new battery packs 1800mAh, up from 1390mAh in the BP-511A, and is rated for up to 850 shots per charge.
More bad news for those moving up from Canon's APS-sensor DSLRs with a bag of digital-only lenses: As with other Canon full-framers, this new one doesn't take that glass. In contrast, the Nikon D3, D3X, and D700 can go both ways.
VIDEO
This was the second DSLR to shoot video (beat to the punch by the Nikon D90), but is the first to go all the way to 1080p, 30-fps high-def. It is truly pro-caliber image quality. Even before production models were introduced, Canon pro Vincent Laforet shot a promotional video that was breathtaking for its rich detail.
Unlike camcorders — even pro units — which typically have tiny CCD sensors, this DSLR packs a full-frame CMOS. The result is the ability to control depth of field. Want a beautifully defocused background in your video? No problem. But just try that with a camcorder.
Also, you can use any Canon-mount lens, even a fisheye or a Lensbaby for outrageously creative footage.
The downside? Once you start shooting video, the aperture is locked and you're stuck with slow contrast AF or manual focus. If you need to refocus during a scene, Canon suggests you do so manually. We found that difficult, since the viewfinder blacks out and all you have to go by is the live view on the LCD.
Due to file-size constraints, your HD clips are limited to about 12 minutes. Another drawback is the format of the video-you must use Canon's proprietary software to convert it into a standard format before editing.
Nonetheless, the camera produces beautiful video footage. And clearly, this is just the dawn of video DSLRs.
The new camera inherits the 5D's metering and AF systems. The 35-zone TTL metering is excellent at determining the proper exposure for a scene, and lets you choose among evaluative, centerweighted, partial, or spot.
When faced with a confusing scene, the evaluative mode isn't as adventurous in guessing your intentions as Nikon's 3-D Matrix Metering II. But that doesn't mean it's inaccurate. In our field tests, it performed just as it should.
The partial metering mode uses the center 8 percent of the viewfinder, and the spot, 3.5 percent, which is larger than the Nikon's impressive 1.5 percent.
The 5D-era AF, however, is no longer competitive with the blazing speeds we see in most DSLRs these days. At the brightest light level in our tests, the 5D Mark II focused in 0.51 sec, while the Nikon D700 zipped along at 0.35 sec, and the Sony A900 roared to the head of the pack with 0.29 sec.
In low light, the Canon is downright sluggish, and in extremely low light (EV -1 and -2), it's inconsistent and sometimes fails to focus. But Canon rates the AF system to be effective down to only EV -0.5, about the same as a very poorly lit living room. This limits the utility of the high ISOs. Granted, you can focus manually, but in such low light, that's no mean feat.
Oddly, some older and newer Canon models have faster AF systems. Just as Nikon trickled down the D3's AF to the D700, we think Canon should have done this with the 1Ds Mark III and 5D Mark II.
BOTTOM LINE
If you're moving up from an APS-format DSLR, you will be happy with the 5D Mark II. Make that ecstatic. Life is fuller in the full-frame lane.
And the vast amount of detail that goes along with 21.1MP, as well as the sophisticated image processing served up by its new DIGIC 4 engine, cannot be understated — it's a wow! The low-light image quality is almost life-changing.
But the 5D Mark II's old-fashioned AF system can't keep up with the cutting-edge imaging power. Nor is the 3.9-fps burst rate state-of-the-art. So if you're a pro, understand these limitations.
Yet if you're looking to trade in your old 5D for this version, while you gain nothing in AF, you pick up everything from low-light to video capability. And those are very impressive — perhaps irresistible — upgrades.
Imaging: 21.1MP effective, full-frame CMOS sensor captures images at 5616×3744 pixels with 14 bits/color in RAW mode.
Storage: Single CompactFlash Type I/II including UDMA; microdrives. Stores JPEG, RAW, RAW + JPEG, sRAW 1 (3861×2574 pixels), and sRAW 2 (2784×1856 pixels).
Burst rate: Full-sized JPEGs (Fine mode): Up to 78 shots at 3.9 fps. RAW: Up to 13 shots at 3.9 fps.
AF system: TTL phase detection with 9 illuminated focus points (1 center cross-type), plus 6 assist points. Single-shot and continuous AF with Predictive AI Servo focus tracking. Tested sensitivity down to EV -2 (at ISO 100, f/1.4).
Live view: TTL Phase detection and Contrast Detection modes.
Shutter speeds: 1/8000 to 30 sec plus B (1/3-, or 1/2-EV increments). 150,000-cycle rating.
Metering: 35-zone TTL metering, evaluative, centerweighted, partial (approx. 8% of viewfinder), and spot (approx. 3.5% of viewfinder). EV 1-20 (at ISO 100).
ISO range: Normal, ISO 100-6400 (in 1/3- or 1-EV increments); expanded ISO 50, 12,800, 25,600 (in 1-EV increments).
Flash: X sync at 1/250 sec.
Viewfinder: Fixed eye-level pentaprism.
LCD: 3-in. TFT with 920,000-dot resolution, 170-degree viewing angle.
Output: Hi-Speed USB 2.0, HDMI (mini-type) video, composite video, mini-jack mic input, accessory terminal.
Battery: Rechargeable LP-E6 Li-ion, CIPA rating, 850 shots.
Size/weight: 6×4.5×3 in., 1.79 lb with card and battery.
Street price: $2,700, street, body only; $3,500 with EF 24-105mm f/4 IS USM lens.
For info: www.canoneos.com.
VIEWFINDER TEST
Accuracy: 98% (Excellent)
Magnification: 0.71X (Good)
COMPETITIVE SET
• Nikon D700 ($3,000, street, body only)
Though noise results for Nikon's D700 almost match what we saw in the 5D Mark II, the Nikon checks in with nearly half as many pixels as the 5D Mark II. That's a big difference and might be enough to push pros toward the Canon. However, those same pros are likely to be the ones most annoyed by the 5D Mark II's disappointing AF performance and the slight edge the Nikon's 5-fps burst gives it compared to this Canon's 3.9-fps rate.
• Sony Alpha 900 ($3,000, street, body only)
Sony edges Canon out in terms of pixels, burst rate (5 fps), and effective resolution. The A900 also focuses faster than the 5D Mark II and has built-in sensor-shift image stabilization which provides 2-2.5 stops of shooting advantage. However, the A900 can't match the 5D Mark II's outstanding noise performance. This could sway a lot of photographers' minds when comparing the two cameras. The Sony also yields colors that are less accurate, scoring 9.0 in our color accuracy test, compared to the Canon's more accurate (lower numbers are better for this test) 6.3.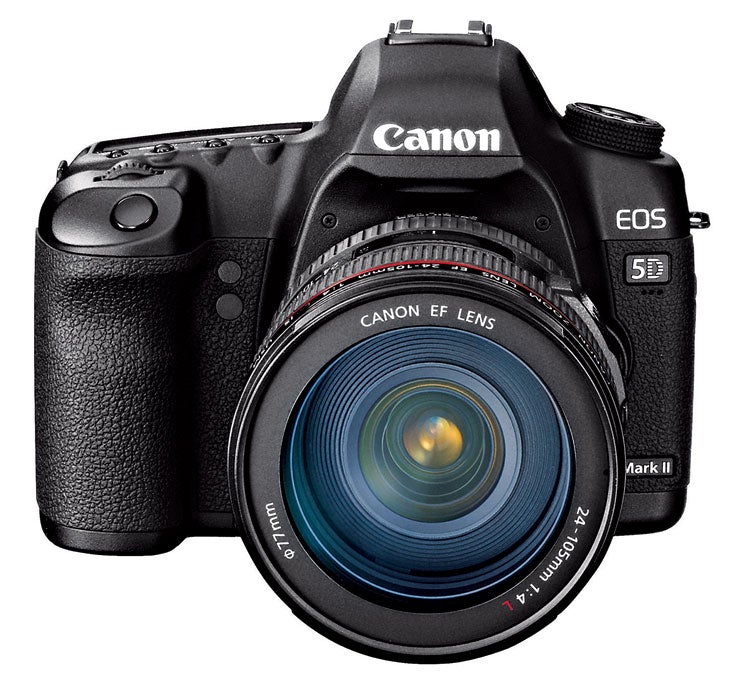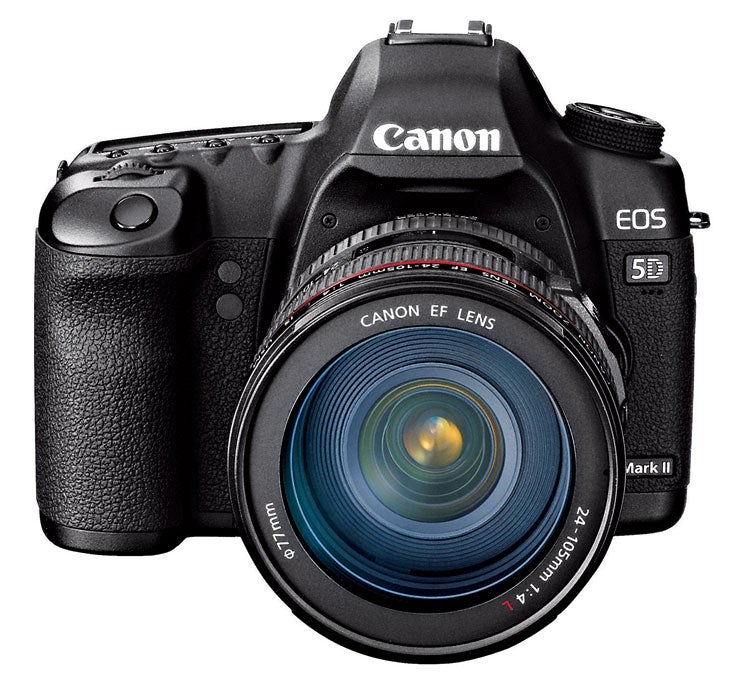 Canon-EOS-5D-Mark-II-001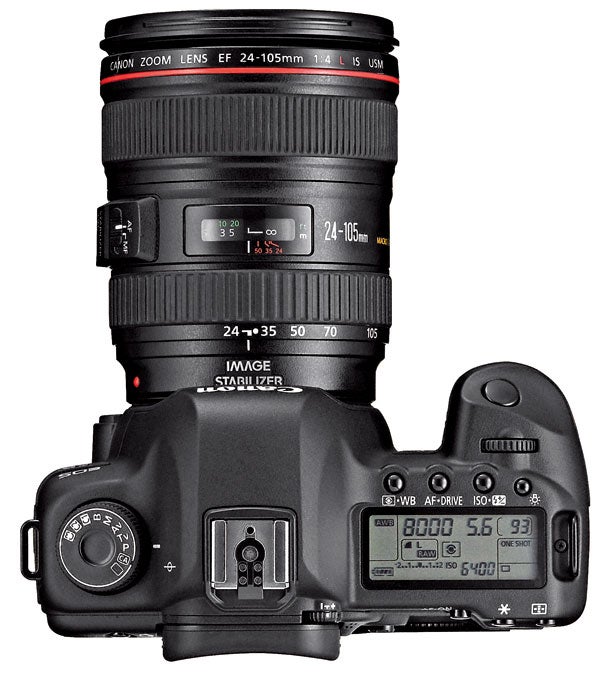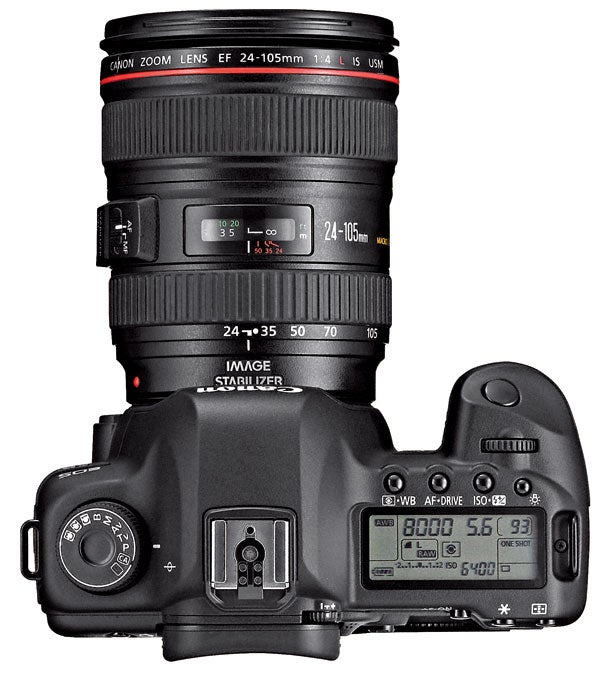 Canon-EOS-5D-Mark-II-002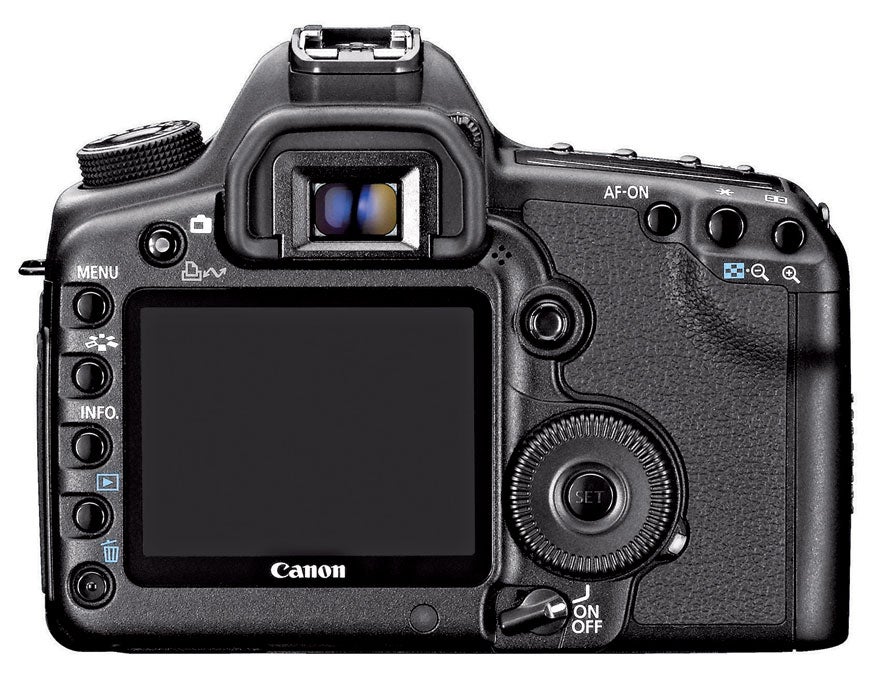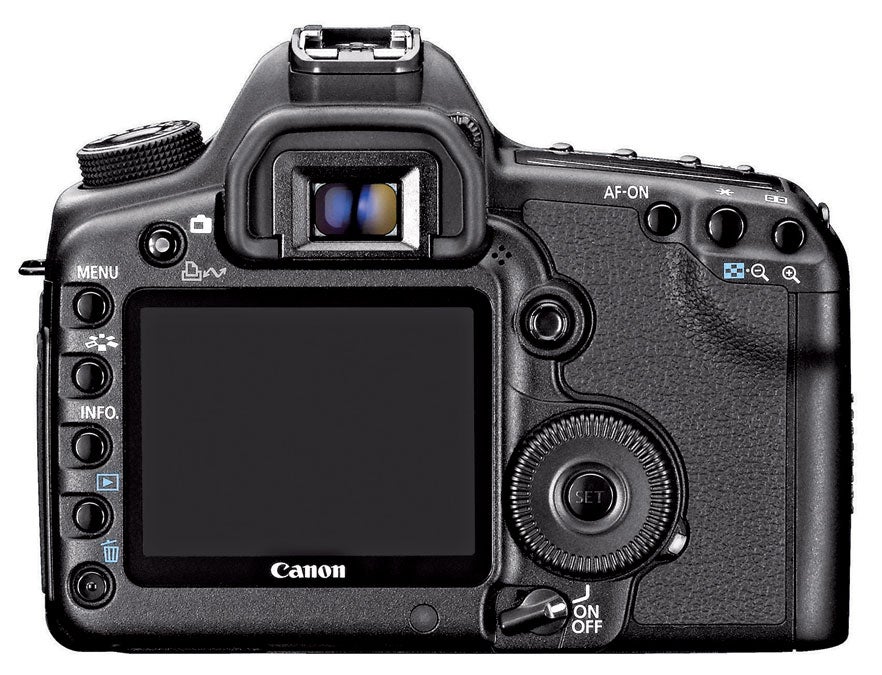 Canon-EOS-5D-Mark-II-003