Olympus Zuiko Digital 14-54mm f/2.8-3.5 II AF
Lens-master Olympus offers the fastest kit lens today -- A step-up option for the E-30.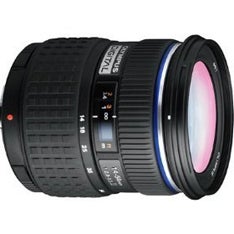 We may earn revenue from the products available on this page and participate in affiliate programs. Learn more ›
Leave it to Lens-master Olympus to offer the fastest (and, at $600, street, the priciest) kit lens today — with the closest focusing of any comparable zoom. A step-up option for the E-30, this 28-108mm full-frame equivalent has more reach than Oly's standard 14-42mm f/3.5-5.6 kit zoom. And it's a remake of an earlier lens, with a circular aperture for smoother edges in defocused areas and seals to resist splashes and dust. Three of its 15 internal elements are aspherical.
HANDS ON
About 3.5 inches long when compact, it's slightly larger than its predecessor — big enough to cast a shadow at close-focusing distances and wide focal lengths when used with the E-30's pop-up flash. It's unusually well marked, with large, bright numerals in orange (feet) and white (meters and focal lengths). A blue band echoes the E-30's accent colors. The ribbed, ample manual-focus ring turns smoothly, with no stops at the extremes. The knurled zoom ring is large and adequately damped, if slightly stiff. AF is near-silent, and noticeably faster than the original in live view.
IN THE LAB
Our SQF tests found superior sharpness and contrast — Excellent at all three tested focal lengths. DxO Analyzer 3.0.1 tests showed unusually distortion-free imaging, with Slight barrel distortion at 14mm (0.26%), Imperceptible pincushion at 35mm (0.01%), and Imperceptible barrel at 54mm (0.02%) — the best of any zoom we've tested in recent years and much better than the original, which had Visible barreling at 14mm (0.42%).
Light falloff was gone from the edges by f/3.5 at 14mm and by f/4 at 35mm and 54mm — again, a clear improvement over its predecessor, which vignetted to f/5.6 at the two longer focal lengths. Maximum magnification ratios at the uniform close-focusing distance of about 8.4 inches was 1:6.94 at 14mm, 1:4.26 at 35mm, and 1:3.35 at 54mm — disappointing next to the original, where it was 1:2.6 at 54mm.
CONCLUSIONS
By wide-to-moderate tele standards, this lens is a superstar. By kit lens standards, it doesn't get any better: Sharp and nearly distortion-free, it's faster and focuses closer than any comparable kit zoom.
That $600 price is steep, especially since it's not a constant f/2.8. But the variable aperture let Olympus create a true general-purpose utility zoom that's not only optically superior but light and compact enough to bring along every day, everywhere.
SPECIFICATIONS
14-54mm (14.42-55.23mm tested), f/2.8-3.5 (f/2.46-3.55 tested), 15 elements in 11 groups. Focusing turns 140 degrees counterclockwise. Zoom ring turns 80 degrees clockwise. Focal lengths marked at 14-, 18-, 25-, 35-, and 54mm.
• Diagonal view angle: 75-23 degrees.
• Weight: 1.04 lb.
• Filter size: 67mm.
• Mount: Four Thirds.
• Included: Lenshood, softcase.
• Street price: $600.