Which Photo Management Tool is Right for You?
Need help managing your ever larger archive of digital images? Here are five digital asset managers to make your life easier.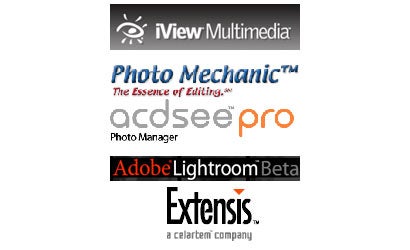 We may earn revenue from the products available on this page and participate in affiliate programs. Learn more ›
As professional photographers have gone digital, they've had to devise completely new methods for archiving, searching, storing, and editing their digital files. While there isn't an Easy Button in sight, there are a number of digital asset management tools that can make your life less complicated.
At Microsoft's Pro Photographer Summit last month, representatives from five of the field's leading software companies gave quick demos of their products on a panel before an audience of discerning pro shooters (Apple, maker of Aperture, was curiously absent, however). The event provided a rare opportunity to compare and contrast the various features each software tool offers, and how they can aid in digital workflow. Here are the key takeaways from the panel.
If you have a favorite program of your own not listed here, drop us a line at editor@popphoto.com.
More Software Articles Editor's Choice 2006 Adobe Lightroom Test Apple Aperture Review
ACDSee Pro Version 8
www.acdsee.com/products/acdseepro/index
ACDSee Pro is a tool that can be used from the moment images are acquired all the way to the printing process or whatever the final stage of your workflow is. It can act as a browser or a catalogue tool, and is handy for reviewing images immediately after a shoot. Lorne Neil, ACDSee Product Line Manager, explained that one of ACDSee Pro's key features is its customizable interface. Expanding or collapsing information panes is as easy as drag-and-drop. The software handles RAW image processing, including proof editing and layer-based editing. When Neil told the crowd at the Microsoft panel that the company offers U.S.-based tech support, several members of the audience applauded. Unfortunately for Mac users, however, ACDSee Pro is PC only.
Price: $129.99
iView MediaPro 3.0
www.iview-multimedia.com
"iView's philosophy is we try to be flexible enough to play with as many players as possible," says Shayne Bowman, Chief User Experience Architect at iView. "But with all the proprietary soup that's out there it's pretty difficult." To prove his point, iView has built-in support for PhotoShelter and Digital Railroad, as well as Photoshop. The company was recently purchased by Microsoft, and company officials stressed in announcing the sale that iView would continue to work on both Mac and Windows-based platforms. In addition to photos, iView works with multiple media types, including audio and video files. So if you want to manage or review metadata inside an audio file, you don't have to open a different application. iView's image comparison tool, called Lightbox, allows you to easily zoom in on images to get magnified details, and the software offers exposure warning histograms. It also allows for multi-platform scripting, with multi-platform being the key. "Good asset managers have to play well with others and I think that's why iView has succeeded," Bowman says.
Price: $199 for iView MediaPro 3, or $49.99 for version 2.7.
Camera Bits Photo Mechanic Version 4
www.camerabits.com
Photo Mechanic is designed to help photojournalists and other deadline-driven photographers get their images to clients quickly and easily. From the moment a memory card is connected to a computer, Photo Mechanic goes to work getting photos off the card, cropped, captioned and up to a server in record time. The process begins with metadata management such as photographer name, copyright info, etc. A "code replacement" feature acts as a sort of spell-check function for captions, which is applicable for anyone who's ever had to caption a hockey game full of Eastern European players. The software also connects with programs like PhotoShelter. For more information, contact Kirk Baker, Sr. Software Engineer.
Price: $150
Adobe Lightroom
http://labs.adobe.com/technologies/lightroom/
The aim of Adobe's Lightroom is to consolidate image-management capabilities with some of Photoshop's more basic editing functions, reserving full-fledged Photoshop for more specialized tasks. Users can do side-by-side comparisons of similar images, to more easily determine which ones need to be pulled into Photoshop for the deep tissue massage. The program offers one-click image zoom, which spares users from having to first select the appropriate tool. Kevin Connor, Adobe's Sr. Director of Product Management, said the focus of Lightroom is on simplicity and "non-disruptive editing." Lightroom supports RAW files, and it allows you to store pre-sets to apply to other images. The software is currently in Beta mode, and can be downloaded at Adobe's website.
Extensis Portfolio 8
www.extensis.com
Core users of Extensis' Portfolio are the creative staffs of large ad agencies, big studios with multiple photographers and retouchers, and government agencies — in other words, institutions that have multiple people who need to manage a large image archive. But the program is also used by photographers with large image libraries. Portfolio offers batch processing of files, CD burning, and NetPublish, a module that allows you to use Portfolio to act as your searchable backend for a website. For more information contact Product Manager Dan Harlacher, or visit Portfoliofaq.com, which offers a users forum for support and questions.
Price: Portfolio 8 is $199.95, or $249.95 with NetPublish.