Which Mouse Should I Buy?
When a laptop touchscreen isn't enough for photo retouching, the solution may be not a mouse but a tablet and pen.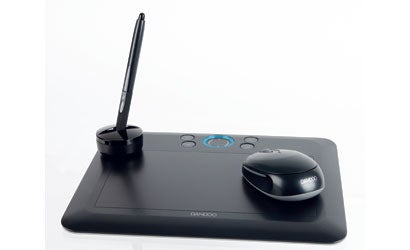 We may earn revenue from the products available on this page and participate in affiliate programs. Learn more ›
Q. I use a laptop for nearly all of my photo editing and retouching, but its small trackpad is useless for controlling most tools. What's a good mouse for retouching?
A. Normally, we'd suggest that you kill your mouse and switch over to a pressure-sensitive tablet. That's because most computer mice can't track fine hand movements or control paintbrush style tools.
However, if you travel with your laptop then an "evolved" mouse such as the Logitech VX Revolution Cordless Laser Mouse ($80, street) is a great choice. Its ergonomic design and multiple, programmable buttons give you great control. Its laser tracking system works on nearly any surface, plus it has a high-resolution zoom control.
But if your image editing involves lots of paint-style retouching, go for the new Wacom Bamboo Fun pressure-sensitive tablet and mouse set (4×6-inch, $99, street; 6×8-inch, $199, street).
Silly name, perhaps, but consider that the wireless pen delivers 512 levels of pressure sensitivity for fine-tuned adjustments when using paintbrush, selection, burn and dodge, or cloning tools. You can even use it to sign documents.
And unlike most mice, its placement on the tablet corresponds directly to the same point on the monitor. The tablet includes four programmable ExpressKeys and a finger-sensitive touch ring (with blue backlight) that speeds scrolling and zooming.
Miss the feel of your old mouse, or just want to get rid of a hand cramp after hours of editing? Then switch over to the Bamboo Fun's cordless mouse and click, scroll, or surf away.
The Bamboo Fun comes with editing software that alone nearly justifies its price: Adobe Photoshop Elements 5 (version 4 for the Mac OS), Nik's Color Efex Pro 2 GE filter software, and Corel Painter Essentials 3. It's also available in black, silver, white, or blue. (For info: www.wacom.com.)