Which Monitor Should I Buy?
Upgrading to a new computer monitor? Here are the best for photographers at different prices.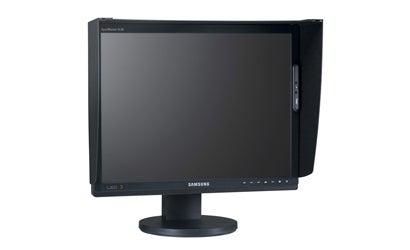 We may earn revenue from the products available on this page and participate in affiliate programs. Learn more ›
I sell a lot of photos these days, but my enlargements don't always match what I see on the three-year-old "calibrated" LCD monitor for my PC. Would a more accurate monitor pay for itself?
Your monitor is almost as important as your camera when it comes to ensuring the ultimate quality of your prints. That's why pros often spend more on them than on their computer systems. LCD monitors have improved dramatically, and there are several we'd recommend, depending on your budget and aspirations.
For $450 (direct from www.gateway.com), Gateway's 21-inch widescreen (FPD2185W) is a great deal, with 1680×1050-pixel resolution, a 1000:1 contrast ratio, separate RGB controls, a Hi-Speed USB 2.0 hub, DVI connectors, and even video inputs for a TV or camcorders.
Apple's 23-inch Cinema HD display ($1,000, street) is compatible with most new Macs and PCs. It has a wider viewing angle, better color accuracy, 1920×1200-pixel resolution, a Hi-Speed USB 2.0 hub, two FireWire jacks, and a DVI connector.
But neither of these can display the full Adobe RGB color gamut (recommended to get the most from the latest photo printers with six or more inks), so there will still be some colors that appear differently on the screen than in prints.
That's reason enough to justify the price of Samsung's new SyncMaster XL20 LED BLU ($2,000, street), the most color-accurate monitor that we've seen in this price range. It's the first with LED backlighting and other technologies that allow it to display more colors than either the Adobe RGB color space or NTSC color gamut. It has a 20.1-inch screen, 1600×1200-pixel resolution, 1000:1 contrast ratio, wide 178-degree viewing angle, and a pivoting stand. It comes with a customized Pantone Huey calibrator and Natural Color Expert software to measure color and light output in multiple zones. And, according to Samsung, the stable, long-lasting LED backlight means you don't have to recalibrate as often.
Recommendation If you can afford it, the Samsung SyncMaster XL20 LED BLU monitor has the widest color gamut, best viewing angle, longest lifespan, and highest calibration stability of any LCD monitor we've seen for $2,000 or less.