Which Calibrator Should I Buy?
When perfect prints mean the world to you, one handy kit can calibrate and profile your entire system.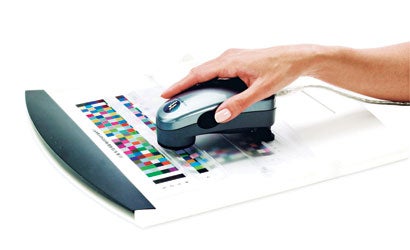 We may earn revenue from the products available on this page and participate in affiliate programs. Learn more ›
Q. I want to balance my 23-inch LCD monitor to match the colors in the 13×19-inch fine art prints I make to sell online and at local galleries. Ink and paper mistakes are costly, so what calibrator can help me get it right the first time?
A. Color calibrators are available in a range of prices and capabilities. If you already have accurate color profiles for the papers you're using in your printer (often supplied by the printer manufacturer), then an affordable monitor calibrator such as the Pantone hueyPRO ($110, street) should do the trick.
The hueyPRO calibrates and profiles LCD and CRT monitors, and offers advanced controls for gamma, brightness, and contrast. It also can be set to adjust screen colors automatically, based on changing ambient lighting.
But for specialty fine-art and coated papers from suppliers other than your printer's manufacturer, or to fine-tune your current paper profiles, the X-Rite Eye-One Photo LT ($720, street) may pay for itself.
This compact, handheld spectrophotometer is bundled with a calibration plate and a small test chart (shown) that only takes a few minutes to print and measure. The accompanying Eye-One Match LT software (for PC or Mac) generates custom paper profiles for most RGB-color printers, including inkjet, laser, and dye-sub models.
The Eye-One Photo LT is more precise and much faster than the colorimeters found in most monitor calibrators, measuring up to 300 patches in 1 minute.
It also calibrates and profiles all types of LCD, CRT, and laptop monitors. And it measures the ambient color temperature of the light in your room or viewing booth, or even from your camera's flash.
As your business expands, the system can be upgraded to profile CMYK printers, scanners, digital cameras, and projectors. (For more info: www.xrite.com)