Top Cameras For Your HDTV
These compacts can shoot HD video and 16:9 stills and include high-definition outputs to keep images sharp on the big screen.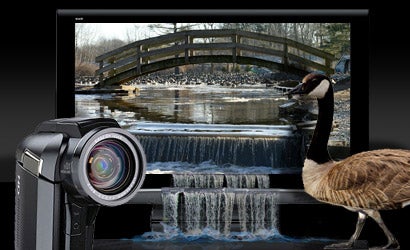 We may earn revenue from the products available on this page and participate in affiliate programs. Learn more ›
No longer is your digital camera strictly for capturing stills. Virtually all compact digital cameras have supported video capture for several years, but most are limited to recording at VGA (640×480) resolution. Canon, Panasonic and Samsung have been the front-runners in creating digital cameras that rock at capturing both high-resolution stills and smooth 720p (1280×720) HD video, but recent offerings from Sanyo and Kodak are worth a look as well. The five cameras below offer both HD (16:9) still and video shooting. With an influx of HD-capable digital compacts and the falling prices of high-definition television sets, it may be a good time to consider an upgrade if you haven't already.
Canon PowerShot TX1 (Street: $269)
A year after its release, the 7.1-megapixel TX1 continues to be a great buy. This hybrid still camera/camcorder offers a 39-390mm (35mm equivalent) zoom lens and a flip-out LCD. The 10x lens includes optical image stabilization, helpful when shooting video or stills in low light. The 115,000-pixel, 1.8-inch LCD is on the small side, but swivels 180 degrees for the best viewing angle. The TX1's Face Detection autofocus is also available while capturing 720p video at 30 fps with stereo sound, making it easy to focus on human subjects in both still and video mode as well. Exposure and white balance are adjusted continuously while recording, a feature not always offered with compact digital cameras. Included in the box is Canon's Zoom Browser software, which enables the extraction of individual frames for use as still images. This sturdy, all-metal snapper connects to your HDTV with the included component video cable.
Kodak EasyShare V1253 (Street: $193)
With a 12.1-megapixel sensor and 720p high-definition video capture, the V1253 brings HD capture to your pocket on the cheap. The camera offers a 37-111mm, 3x optical zoom lens and a large 230,000-pixel, 3.1-inch LCD in a slim (0.9-inch) package. Displaying high-definition video directly from the camera will cost you, however, with component output only available with purchase of the Kodak EasyShare HDTV Dock (Street: $75 — cables and remote included). The V1253 includes a Lithium-Ion battery and support for SD and SDHC cards and is currently available for purchase.
Panasonic Lumix DMC-FX500 (Street: $400)
Announced in late March, the FX500 won't hit stores until May, but includes some standout features that make it worth the wait. The 10.1-megapixel compact features an ultra-wide-angle 25-125mm optically stabilized zoom lens and a large, 230,000-dot, 3-inch touchscreen display with a very wide viewing angle. The ultracompact can capture 720p HD video and offers HDTV viewing with an optional $30 component video cable. In addition to a standard set of automatic scene modes including a 2.5 fps full resolution continuous shooting mode, the FX500 includes full manual control with aperture and shutter speed selection.
Samsung NV24 HD (Street: $350)
Launched at the Consumer Electronics Show in January and available later this month, the 10.2-megapixel NV24 HD features the widest angle lens of the bunch, with its optically stabilized 24-86.5mm, 3.6x Schneider zoom. The camera offers a 230,000-pixel, 2.5-inch LCD display with an ambient light sensor and includes Samsung's Smart Touch interface. While the ultracompact can record smooth 720p HD video out of the box, a $50 HDMI cradle is required for playback on a high-definition television. Appealing to Samsung HDTV owners, users can navigate through camera menus using their television remote. Self-portrait shooters need not worry about blurry or cut off faces, thanks to a Self Portrait mode that only releases the shutter when the subject is in the center of the frame.
Sanyo XActi HD1000 (Street: $650)
Low-light video shooters, meet your new best friend. By far the priciest of the bunch, the high price tag and measly 4-megapixel sensor of the HD1000 won't appeal to everyone, but with an f/1.8-2.5, 38-380mm optical zoom lens, Sanyo claims the camera is capable of allowing almost four times as much light through the lens than other models. With the appearance of a futuristic weapon, the camera includes a fold out 230,000-pixel, 2.7-inch LCD that rotates 285 degrees. Unlike the cameras above, the HD1000 shoots at a (debatably) higher 1080i (1920×1080) resolution (versus 720p) at 60fps. Maximum recording time is limited by the capacity of your memory card, but Sanyo claims you can store about 85 minutes of 1080i video on an 8GB SDHC card. You may have also heard of 1080p content, though no compact is capable of producing it yet. While 1080i and 1080p technically both offer 1920×1080 resolution, the latter presents a smoother image but produces a significantly larger file. The HD1000 is available now and includes an HD docking station and component video cable in the box.
Even if HD video recording isn't supported, your existing camera may offer HD still photo output using a component or HDMI video cable. If not, Kodak's EasyShare HDTV Dock (Street: $75) can display images in HD from a compatible EasyShare camera or a third-party camera utilizing its built-in SD card slot. If your camera doesn't use SD cards, the 720p dock also includes a USB slot that supports USB thumb drives and even memory card readers. Sony shooters with recent Cyber-shot cameras may also be in luck. Many recent cameras include HDTV support with Sony's optional component video cable (Street: $40). Cameras from other manufacturers may also support HD output. Check your camera's manual for more information. Your images and high-definition video will look great on an HDTV, so if your television supports it, an HD compatible camera or memory card reader is the perfect accessory for your new display.