Top Cameras for Shooting the Super Bowl from the Stands
These compact cameras pack super features for capturing memories at the big game.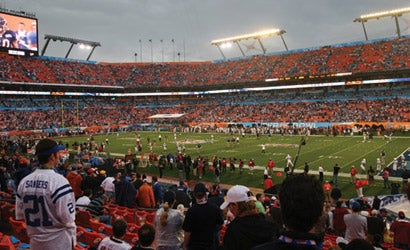 If you're one of the lucky ones to have scored seats of for the Super Bowl, odds are you're thinking of bringing along a camera. You may, and we stress may, get through the security checkpoints with a small DSLR and Superzoom lens around your neck — but then again, maybe you won't. And believe us, you won't get through the gates with a big f/2.8 telephoto bazooka mounted to a pro-level DSLR. And wouldn't it be a shame to have to choose between attending the big game or giving up your prized SLR? Our advice: keep the SLR in the safe at the hotel room and pack one of these small but mighty digicams instead.
Olympus SP-560UZ (Street: $350) This sensor-shift stabilized 18x EVF goes from true wide angle to superduperzoom, meaning you can grab some shots of your friends in the stands, and maybe even some on-field action with that long reach. Most super feature? 2MP ultra-hi-speed burst mode can capture up to 45 shots at 15fps and plays them back flipbook style!
Pansonic Lumix DMC-TZ3 (street: $250) This Mega Optical Image Stabilized 10x zoom pocket rocket has a lot of reach and fits easily into the pockets on a pair of jeans. Most Super feature: There's virtually no distortion at the true wide angle 28mm setting, so those arm's reach "look where I am!" self portraits will have significantly less dognosing and edge distortion (not to mention more of the background) going on than almost every competitor. And that 280mm telephoto reach isn't anything to sneeze at, either.
Canon PowerShot S5 IS: (Street: $329) This EVF from Canon looks like a puppy version of the big-dog Canon EOS 1D Mark IIIs you'll see on the sidelines. It's got a 12x zoom for in-the-stands and even some tight field action — if you're in the lower sections, and the play isn't too far up the field. Most Super Feature: Dual microphones will capture the halftime show in stereo, while everyone else is just grabbing mono sound. (And optical image stabilization will minimize the long-reach video shakes, too)
Pentax Optio W30: (Street: $240) There's a ton of small 3x zoom pocket digicams on the market, but if had to pack one for the Super Bowl, it'd be the Pentax Optio W30. Most Super Feature: It's fully waterproof to depths of 10 feet. We wish we had one of these with us last year in Miami! OK, so this year's game takes place in the desert, so there's long odds on rain, but it's also beer-proof!
Apple iPhone: (Street $399) It's a glorified cellphone cam with 2 megapixels resolution and extremely limited user inputs, but we'd still love to have an iPhone in our pocket for the big game. Most Super Feature: The ability to zap photos of yourself in the stands to your friends' iPhones and email accounts while they're home watching the game on TV.