Top 5 Digital Photo Frames for Mother's Day
Let Mom show off her pictures in style.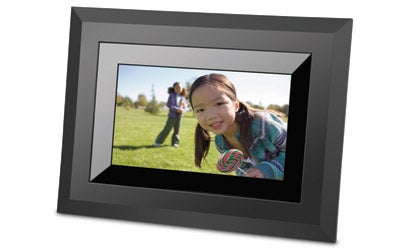 We may earn revenue from the products available on this page and participate in affiliate programs. Learn more ›
Top 5 Digital Photo Frames for Mother's DayLet Mom show off her pictures in style.By Kathleen Davis
Flowers are lovely, but they'll be in the trash by the end of the week. Besides, mom probably wants something to preserve family memories, which makes a digital photo frame the perfect gift.
Just a few years ago digital photo frames were a rarity, now they are everywhere — the research firm IDC estimates that 9.3 million digital frames to ship in 2008. With so many to choose from, it can be a daunting task to select one, so follow our guide to find the perfect digital picture frame for Mother's Day.
Proud Mom
Smartparts 8-inch Digital Picture Frame and Printer (SP8PRT)
($270, street)
smartpartsproducts.com
Your mom loves to take photos and share them, but she wants photos she can take with her, put in albums, and on the refrigerator. This 8-inch frame with a built-in 4×6 photo printer is perfect. Hot: Natural wood frame and neutral matte make it better looking than a lot of other digital frames, comes with a dye-sub cartridge and paper for 36 prints, has 128 MB of built-in memory, a multi card reader, and plays video and music clips. Not: Cartridge and paper package is $20 to replace, which puts the prints at about 55 cents each.
Wired Mom
Kodak EasyShare EX811 8-inch Digital Picture Frame
($165, street)
kodak.com
Most digital picture frames do slide shows, and have remote controls, video and audio, and multiple card readers. To really impress your mom, give her a frame with something extra. Only a few frames have built in Wi-Fi, and none of them include it at such a low price without comprising resolution and performance. Hot: Sharp 800×480-pixel screen, a 16:9 aspect ratio (which is perfect for DSLR owners), 128MB of internal memory, handy small remote that fits into the back of the frame. The Wi-Fi function lets you quickly pull up images stored on your computer, or from Kodak's online EasyShare Gallery, and print shots wirelessly to PictBridge-enabled printers. Not: Available only with a black plastic faceplate (other faceplates sold separately).
Indulgent Mom
Aluratek 15-inch Digital Picture Frame
($260, street)
aluratek.com
Is bigger always better in the eyes of your mom? Get her this supersized digital picture frame, and help her clear some space — no more squinting to see photos on a 7-inch frame from across the room. Hot: Crisp resolution (1024×768 pixels), wide viewing angle, 256MB of internal memory, multi-card reader, various display modes (including four photos at once), optional rechargeable battery pack ($39, street). Not: The aspect ratio (4:3) is better suited to compacts than DSLRs, which is a shame on a screen so big.
Mom of Many
Westinghouse DPF-1021
($180, street)
westinghousedigital.com
Whether everyone is always vying for her attention, or she just can't commit to a single vacation photo, the unique MosaicView slideshow on this 10.2-inch frame is a different and attractive way to view photos. Hot: View one to four photos at a time both horizontally and vertically, 128MB of internal memory, multi-card reader, good resolution (800×480). Not: No remote means you'll have to make adjustments on the frame.
Mom of Simple Pleasures
Sunpak 8-inch Wood Digital Picture Frame
($120, street)
tocad.com/sunpak/digitalframes.html
Special features are only worth it if they're used. If your mom isn't into all the bells and whistles that the other frames offer, stick with a basic, nice looking frame like this one. Hot: Classic black matte and black wood frame, easy to use, the 4:3 aspect ratio is perfect for compact digital camera owners (goodbye black bars on the sides of your photos). It has a lot of standard features, including remote, speakers, and a multi-card reader. Not: No internal memory, so buy her an extra memory card she can leave in the frame to view photos.