Super Printer Shootout
Want to make big, gorgeous, color and black-and-white prints? We put three pro-level printers to the test.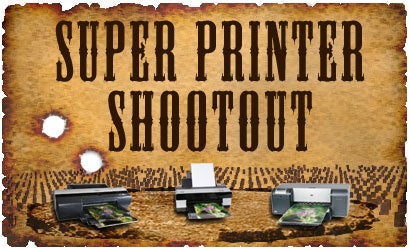 We may earn revenue from the products available on this page and participate in affiliate programs. Learn more ›
Small prints don't do justice to your beautiful photos?
Do your creative juices start to flow when you see a 11×14- or 13×19-inch enlargement on premium glossy paper, watercolor paper, or canvas? Then it's time to take your photography to the next level with the latest generation of super printers.
To help you choose the right one for your needs and budget, we tested three of the newest models to show what to expect at different price levels. At $700 (street), Hewlett-Packard's eight-color B9180 is the most affordable and makes up to 13×19-inch borderless prints. Epson's nine-color Stylus Pro 3800 ($1,300, street) ups the performance ante and pops out up to 17×22-inch borderless prints. And Canon's 12-color ImagePROGRAF iPF5000 ($1,900, street) produces bordered 17×22-inchers — and, using a roll feeder ($225, street), panoramic prints up to 17 inches by 59 feet.
These three represent the very best that Canon, Epson, and HP have ever offered in terms of image quality, control, and reliability. They make long-lasting, pigmented-ink prints that are dry to the touch and durable, handle a wide variety of specialty media and paper surfaces, automatically calibrate their print heads, and have automatic cleaning cycles that prevent clogged heads. And all three can be connected to computers via Hi-Speed USB 2.0, or added to a home or studio network via a fast 10/100 Base-T network connection.
So if you're ready to make lots of big prints worthy of hanging in a gallery or museum, take a closer look at the features in this extreme threesome on the pages that follow.
($1900 street)
The largest, most expensive printer in this roundup, the Canon must offer more to compete. And it does in terms of speed, with the fastest print times in both color and black-and-white.
The Canon has dual replaceable print heads (each with more than 15,000 nozzles), assigned to six individual Lucia pigment inks. These cartridges are normally loaded with 130ml of ink each, so you'll be able to make more prints from a fully loaded iPF5000 than from the other two printers. Sticker shock may set in when you realize it costs nearly $900 to replace all 12 inks when they eventually run dry. (The starter inks that ship with are just 90ml each, so that will happen more quickly the first time around.) But because the inks cost less per milliliter than the others, this printer could pay for itself in the long term — especially if you make a lot of prints and use lower-cost-per-page roll media.
Special FeatureThe control panel lets you monitor ink levels, switch between the three paper paths (including roll media), and set paper types and sizes.Color Gamut
The Canon uses up to 10 color inks at one time, plus either matte black or photo black, depending on the paper. It has the largest color gamut of the three, most evident in dark blue and purple colors, plus a maximum black density of 4.9L.
We were impressed by the detail, low gloss differential, and durable feel on test prints made on Canon's Heavyweight Glossy Photo paper and several other papers. The print driver provides exceptional control over print quality and includes a 16-pass mode that's optimized for printing 16-bit-per-color image files. It also offers advanced black-and-white controls that nearly match the capabilities and results from the Epson. Color prints on photo and fine-art paper have a preliminary WIR rating from Wilhelm Imaging Research of more than 100 years.
This printer ships with an extensive software bundle, including GARO Status Monitor, Canon's Digital Photo Print Pro, PosterArtist 2006 for Windows, and print plug-ins for Adobe Photoshop.
Complaints? Switching between the built-in paper tray, feed slot, and roll paper can be confusing, since you must set the proper paper and sizes on the printer control panel as well as in the print driver — and the color profiles that ship with the printer don't give you maximum color saturation. You also have to shell out an additional $225 (street) for the RU-01 roll feeder to make borderless prints on rolls from 10 to 17 inches wide. And the Canon is large, weighing twice as much as the Epson. It's certainly no "desktop" printer.
However, its ability to produce a 16×20-inch borderless print in just four minutes and 20 seconds (in High Quality mode) can't be beat, and its roll-media option makes it the workhorse of this group.
Specs
Maximum DPI: 2400×1200.
Droplet size: 4 picoliters.
Inks: 12 individual pigment inks (Y, PC, C, PGY, GY, PM, M, R, G, B, MBK, BK) in 130ml cartridges ($75, street).
Print size: 8×10-in. bordered to 17×22-in. bordered.
Connections: Hi-Speed USB 2.0 and 10/100 Base-T Ethernet.
Size/weight: 39.3×28.9×12.5 in.; 99 lb.
For info: www.usa.canon.com.
Test Results
Color: Excellent image quality. Prints on Canon's Heavyweight Glossy roll paper showed Excellent color accuracy (Avg. Delta E of 5.27) and saturated colors (with custom profiles), plus plenty of detail in shadows and highlights.
B&W: Excellent image quality. Prints show great detail and neutral tones, and print driver allows fine-tuning of contrast, tonality, and sharpness.
Speed: Extremely Fast. 16×20-in. borderless: 4 min, 20 sec in 8-pass (High) mode. 13×19-in. bordered: 5 min, 45 sec in 16-pass (Highest); 3 min in 8-pass (High) mode.
($1300 street)
It's hard to believe that this printer can make 17×22-inch borderless prints, since it's similar in size and weight to the 13×19-inch HP. It's also the quietest of the three and handles a variety of media — even 1.5mm-thick poster board up to 16 inches wide.
Print quality beats Epson's more expensive Stylus Pro 4800 (using the same eight-color UltraChrome K3 ink set), thanks in part to advanced screening algorithms and a new, 1-inch-wide MicroPiezo Active Meniscus Control (AMC) print head. It creates droplets as small as 3.5 picoliters for incredible detail in highlights and saturated color areas, and controls the size and curvature of individual ink drops.
The 3800 uses up to eight inks per print, including three blacks, and switches between matte (a ninth ink) and photo black to accommodate fine-art and other papers. This takes about 2 minutes and 30 seconds, and wastes only a little ink in the conversion. Prints on Epson's Premium Gloss Photo paper have a WIR Display Permanence rating of 85 years (framed behind glass).
Special FeatureThe 2.5-inch monochrome LCD tracks ink levels and can be used to change paper path and media settings, or to predict print capacity.Color Gamut
In our tests, it produced excellent prints on a number of surfaces, including Epson's Velvet Fine Art paper, and deep, rich blacks on glossy and luster papers (with a maximum black density of 5.9L). We saw no gloss differential between dark shadows and midtones on glossy and luster surfaces. The Epson driver includes a control to minimize gloss differential in highlight areas.
Epson's free, downloadable color profiles are incredibly accurate and take advantage of the 3800's large color gamut, which has more saturated yellows and reds than the Canon or HP. With Epson's award-winning Advanced Black and White print-panel driver, we made nearly perfect b&w prints (using all colors for increased detail) while controlling the contrast, tonality, sharpness, and overall brightness of shadow and highlight areas. The Canon has similar controls, placing it and the Epson on a higher b&w level than the HP.
The Epson uses a permanent printing head that doesn't need to be installed in the initial setup, so it's easier to get started. Use the 2.5-inch monochrome LCD to select paper types and paths, and monitor ink levels. You can also track (and download) everything from the amount of ink used on individual prints to remaining print capacity, time, and date of print jobs.
For its size, incredible print quality in color and b&w, paper options, auto switching of black inks, speed, control, and price, this Epson is the bargain of the three. But we miss a roll-feeder option.
Specs
Maximum DPI: 2880×1440.
Droplet size: 3.5 picoliters.
Inks: Nine individual pigment inks (C, Lc, M, Lm, Y, Lk, LLk, PK, MK) in 80ml cartridges ($60, street).
Print size: 4×6-in. bordered or borderless to 17×22-in. borderless.
Connections: Hi-Speed USB 2.0 and 10/100 Base-T Ethernet. Size/weight: 27x10x15 in.; 43.2 lb.
For info: www.epson.com.
Test results
Color: Excellent image quality. Prints on Premium Luster Photo paper showed Excellent color accuracy (Avg. Delta E of 5.65) and saturated colors, plus very high details in shadows, midtones, and highlights.
B&W: Excellent. Prints show superb details and neutral tones, and print driver allows precise fine-tuning of contrast, tonality, and sharpness.
Speed: Very Fast. 17×22-inch borderless: 6 min, 30 sec in High (1440 dpi) mode. 13×19-in. borderless: 9 min in Highest Quality (2880 dpi) mode; 5 min, 15 sec in High. 8.5×11-in.: 2 min, 43 sec in High (borderless): 2 min, 20 sec in High (bordered).
($700 street)
HP's first printer to use its eight-color Vivera pigmented inks and to print in sizes from 3.5×5 inches to borderless 13×19 inches, this is a more affordable alternative to the Canon and Epson. It's perfectly suited to serious photographers who occasionally want extremely long-lasting, big prints. While not as fast as the others, it can speed up dramatically if you sacrifice some image quality.
Because you must install four printer heads, initial setup has many steps and takes nearly as long as the Canon (longer than the Epson). The main tray holds up to 60 sheets of photo paper and extends out for sheets up to 13×19 inches. Unfortunately, the paper bends around a roller during printing, making this printer almost as noisy as the larger-format Canon.
We were impressed by its Excellent image quality on HP's improved Advanced Photo paper, as well as by its second (straight) paper path for media up to 1.5mm thick, including fine-art papers and coated canvas. Prints on compatible media are fairly durable and resistant to water, but it takes longer for the colors to stabilize. On the other hand, prints on Advanced Photo paper get a WIR Display Permanence Rating of 230 years (framed behind glass).
Special FeatureHP's eight Vivera pigmented inks on Advanced Photo paper produce the longest-lasting prints of any inkjet.Color Gamut
Color prints were superb on a number of HP's media, including coated canvas. Color prints on Advanced Photo paper had a smaller color gamut but a darker maximum black (4.8L) than those from the Canon or Epson. The HP switches automatically between matte and photo blacks based on the media. And it doesn't waste much ink in the process.
HP's color management controls are well defined, and we'd like to see other manufacturers adopt some of them. For instance, a clearly marked setting turns off print-driver color management in favor of an imaging program's color management.
While you can make fairly neutral black-and-white prints from color images, the driver controls allow a choice of "gray inks only" or "composite gray." The latter uses color inks, plus black and gray, to create prints with smoother gray scale. But, unlike the Canon and Epson, that's all the control you get for b&w printing — there are no advanced controls to let you add sepia tones or adjust print contrast and overall brightness.
The HP's ink cartridges hold less than the Canon's and Epson's and are more expensive per milliliter.
Making dozens of large prints monthly? The Epson will save you money on inks in the long run. Going commercial? The Canon, with the roll feeder, is a better alternative. But for a well-priced printer that makes gorgeous 13×19-inch prints when you need them, or lots of 4x6s in short order, the HP is a great choice.
Specs
Maximum DPI: 4800 optimized.
Drop size: N/A. Inks: Eight individual pigment inks (C, M, Y, Pk, Mk, Light gray, Lc, Lm) in 27ml cartridges ($32, street).
Print size: 3.5×5-in. bordered to 13×19-in. borderless.
Connections: Hi-Speed USB 2.0 and 10/100 Base-T Ethernet. Size/weight: 26.5×16.9×9.5 in.; 37.7 lb.
For info: www.hp.com.
Test results
Color: Excellent image quality. Prints on glossy Advanced Photo paper showed Excellent color accuracy (Avg. Delta E of 7.63) and saturated colors, plus very high details in shadows, midtones, and highlights.
B&W: High image quality. Prints made using "composite gray" setting show fine details and neutral tones, but print driver has no extra controls.
Speed: Moderately Fast. 13×19-in. borderless: 10 min, 25 sec in Highest Quality (4800 dpi) mode; 7 min, 35 sec in Best mode. 8.5×11-in. borderless in Best mode: 3 min, 42 sec; bordered: 3 min, 20 sec.
Wide Color Gamut
All three printers in our shootout produce expanded color gamuts compared with previous pigment-ink models, thanks to additional inks and small droplet sizes. They also ship with accurate color profiles. So you can expect saturated and exacting colors, plus richer, deeper blacks that blow away those found in silver halide printing papers.
In the past, we've recommended setting the Adobe RGB color space as your working color space in Adobe Photoshop (or any color managed imaging program), instead of the default sRGB space, in order to get the highest-quality prints from six-ink or higher-capacity color printers. That's because the sRGB color space clips many of the saturated colors captured by film/flatbed scanners and DSLRs, while the Adobe RGB space is a closer match to the color gamuts of these input devices and 6-color ink jet printers.
But now, with their expanded color gamuts, these three printers can produce colors outside the Adobe RGB space, most noticeably in highly saturated yellow and red colors [Graph A].
So with these printers, we recommend using the Wide Gamut RGB color space [Graph B] as your working space in Photoshop to avoid clipping original digital camera colors. You should also convert the RAW files you shoot into 16-bit TIFF images and save them with Wide Gamut RGB tags in order to improve the color quality of prints made on luster and glossy paper surfaces. If you use a high-end flatbed or film scanner to digitize art or film, the ProPhotoRGB space may be your best choice to prevent color clipping.