Speed Racers
Transfer speed claims of three top-of-the-line CompactFlash cards put to the test.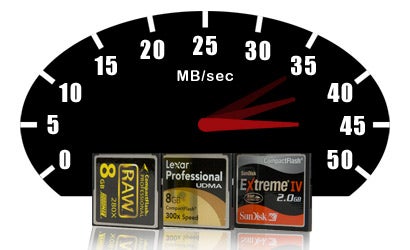 We may earn revenue from the products available on this page and participate in affiliate programs. Learn more ›
With each new product cycle, CompactFlash cards get faster, tougher, and more powerful. It seems like only yesterday a 512MB 16x CF card was state of the art. But as camera processors get faster, file sizes increase, and a 512MB 16x card is, for a certain breed of photographer, the CF equivalent of the Yugo.
For the photographic power users — professional photojournalists, advertising photographers, and wedding shooters — bigger is better. And a large card must be fast. For these users, 45x is now considered slow.
With these power users in mind, we decided to put three of the big dogs in this arena to the test, looking at the transfer rates each claimed versus actual performance. The three we tested are the SanDisk Extreme IV, with a claimed speed of 266x (claimed 40MB/sec), the Hoodman Professional RAW 280x (claimed 42MB/sec) and the just-announced Lexar Professional UDMA CF card, with a claimed speed of 300x (45MB/sec).
It's not so much the in-camera write speed that is most crucial. That will be limited by the camera's processor and circuitry, represented by the burst rate for RAW and JPEG-only images, and there's no camera in market that is near even the 133x figure yet. You might notice a slight uptick in write time for a big burst, but what is perhaps most crucial is the transfer speed — getting those gigabytes of images off the CF card and on to the hard drive as fast as possible. A news photographer could miss a deadline as the progress bar slowly fills up with a big, slow card via a slow connection method with a slow reader. At 1x (150kb/sec), it could take hours to download an 8-gigabyte card.
And don't forget the receiving computer. The processor and configuration of the computer is also a major factor.
Despite the potential speed of the cards, it's possible to hit a transfer speed wall with an older, slower computer.
Let's face it, not everyone has a brand-new, fresh from the factory computer. If your computer doesn't have a FireWire 800 connection, only a FireWire 400, this will keep the transfer speeds in a lower gear than these cards are capable of (FireWire 800/IEEE 1349b transfers at 800 megabits/sec. FireWire 400/IEEE 1349a transfers at half this rate: 400 megabits/second.) If you've only got USB2.0 inputs that will mean the max transfer at the USB2.0 speed limit of 480 megabits/second.
A fast card reader should be able to throughput the data from these big fast cards near top transfer speed of these connections.
But here in the Pop Photo lab, we do have big, fast, machines with FW800 connections, and we're going for speed.
We're racing them to test both read and write times with a gigabyte of digital camera files, from card to desktop and from desktop to card on a Macintosh Power PC G5 Tower with a 2.5Ghz CPU, 2GB memory, 512kb cache, and a 1.25GHz bus.
No programs are running during the testing except for the OS and finder. The files are dragged-and-dropped from the desktop to the card, which has been formatted before the test. The folder is renamed, then dragged and dropped back to the desktop. The folder on the card, and the folder copied to the desktop is then sent to the Trash, which is emptied. This process is repeated three times, and the scores are averaged.
The Data Load: 78 photos in both JPEG and Canon CR2 RAW format, for a total of 156 files in a single folder. Total folder size: 1,075,030,833 bytes.
The Cards:
Lexar Professional UDMA 8GB 300x CompactFlash.
Hoodman CompactFlash Professional RAW 280x 8GB.
SanDisk Extreme IV CompactFlash 266x 2GB.
The Readers:
SanDisk Extreme Firewire Reader
Lexar FireWire 800 Reader
(Both readers were connected directly to the FireWire 800 port with each company's supplied connector cable.)
Lexar FireWire 800 Reader
|||||| |—|—|—|—|—| | Card| Read Speed (copy to desktop)| Write Speed (copy to card)| | | Bytes/second| time| Bytes/second| time| | Lexar| 44,755,654| 24.02| 28,500,287| 37.73| | Hoodman| 43,771,613| 24.56| 27,291,973| 39.39| | SanDisk| 39,860,245| 26.97| 26,728,762| 40.22| SanDisk Extreme FireWire Reader
| | | | | |
| --- | --- | --- | --- | --- |
| Card | Read Speed (copy to desktop) | Write Speed (copy to card) | | |
| | Bytes/second | Time | Bytes/second | Time |
| Lexar | 45,036,901 | 23.87 | 28,767,215 | 37.37 |
| Hoodman | 44,774,295 | 24.01 | 26,092,981 | 41.20 |
| SanDisk | 39,757,057 | 27.04 | 26,735,409 | 40.21 |
We'll give +/- 1/4 second as our tolerance margin with the stopwatch, and not surprisingly, the 300x Lexar finishes at the top in read/write times in both readers. Interestingly enough, though, is that the Lexar CF card performed faster in the SanDisk Reader for both read/write, and the SanDisk card posted better read times in the Lexar Reader, while the SanDisk write times were a dead heat in both readers. It's also interesting to note that the faster-rated Hoodman Card outperformed the SanDisk in every trial, except for write speed in the SanDisk reader, which is surprising.
Conclusions
These cards are fast — blazingly fast. Even fully loaded, the read speeds of these cards will offload a full 8GB card in less than four minutes on our test computer. Not one of these cards will give you an excuse for missing deadline with the right connection and computer configuration!
These three CF cards are all exceptional in their speed ratings, so which one is right for you really comes down to value-add features.
The Lexar Professional 300x 8GB card ships with Corel Paint Shop Pro X, Lexar Image Rescue 3, and Lexar Backup n Sync pre-loaded on the cards. At press time, the cards are in pre-order status on many big websites, with a street price of $219.00.
The SanDisk Extreme IV 8GB card ships with RescuePRO pre-loaded, and is built to withstand tough weather, whether it's wet, snow, or desert heat, from -13F to 185F, for $209 street.
The Hoodman RAW 8GB card costs a bit more than its competition, with a street price of $300. Hoodman touts the fact that these cards are hand-assembled in the USA, and that Hoodman is a small company with a personalized touch when it comes to customer service.
For our money, we're happy with the performance of all these cards, and we'd gladly carry any or all of them in our Pixel Pocket Rocket on our next photo adventure.