Sony Alpha 900: Hands On
The A900 is gunning for the big guys with 24.6MP.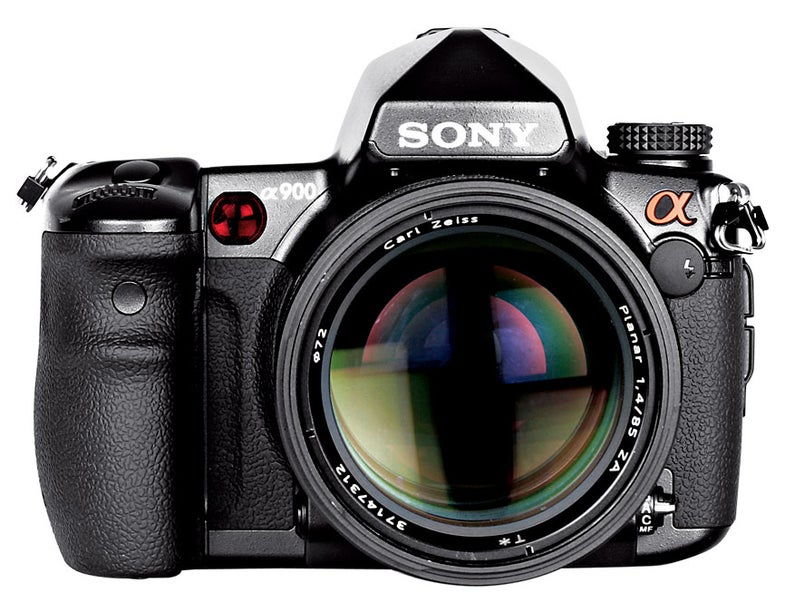 We may earn revenue from the products available on this page and participate in affiliate programs. Learn more ›
Sony started teasing photographers last winter with an under-glass mockup and tantalizing clues about a new "flagship" DSLR. Now that we've shot with a preproduction unit, we're convinced that the tease undersold the real camera.
The Alpha 900 ($3,000, estimated street, body only) packs not just a full-frame CMOS sensor. And not just 24.6 megapixels. But also sensor-shift image stabilization — which Sony dubs SteadyShot Inside. Add to that a big, bright, pentaprism viewfinder, a pair of Sony's powerful Bionz image processors, and a relatively compact pro-level body, and you've got what sounds like a supercamera that could deliver stratospheric resolution, low noise, and the ability to get the most out of your wide-angle lenses.
Of course, we'll see if these promises and others pay off when we test a production version in the field and the Pop Photo Lab.
Still, competing against Nikon's D700 and any successor to Canon's aging EOS 5D won't be easy, despite Sony's clear edge in megapixels. For instance, the D700's 12.1MP sensor is sensitive up to ISO 25,600 (though at lower effective resolution), while the A900 tops out at ISO 6400. And the Nikon's 3D Color Matrix Metering II uses a 1005-pixel array, compared with the Sony's 40-segment honeycomb metering system.
Autofocus? Nine AF points, including a sensitive double cross in the center, plus 10 assist points that help boost the sensitivity of the others.
Although we can't vouch for 100-percent viewfinder accuracy until we test it, in our shooting the viewfinder was a pleasure to use. Sony claims it serves up the full image you'll capture — crucial for photographers who are deliberate in their composition and don't want to crop in postproduction. For instance, if you use the viewfinder to get the top of a building as close to the edge of the frame as possible, you won't end up with extra space above it in your image.
This is one of those features you don't miss until you've used it, then will never stop praising once you have. The Nikon D3 and D300 provide such accuracy, but not the D700; Canon makes you step up to its 1D or 1Ds series for the luxury.
The Sony's viewfinder also boasts an impressive 0.74X magnification. While many cameras that have APS-C sized sensors reach higher than that, the A900 is tops in this spec among full-frame DSLRs in its price range.
Choosy about focusing screens? If the standard G-type screen that ships with the A900 doesn't meet your needs, Sony also offers its L-type Spherical Acute Matte and M-type Super Spherical Acute Matte focusing screens (prices for these were not available at press time).
The quality of the optical viewfinder matters because the Alpha 900's 3-inch, 921,600-dot, fixed-position LCD doesn't afford the superior live view you get on Sony's midlevel A300 and A350 models, which have a second sensor in the optical viewfinder path.
Instead, you get a still preview in Intelligent Preview mode, which you can use to test any changes you might make to white balance or other image settings, such as saturation or Sony's Dynamic Range Optimizer. You can also check RGB and luminance histograms.
If you shoot action, you'll appreciate the A900's claimed 5-frame-per-second burst rate (again, we haven't tested this). Sony developed a new mirror box to help achieve that quick frame rate: While most mirrors swing up and down on a single pivot point, this uses two pivot points for faster response, less depth, and a milder slap. Since big bursts can eat up memory, the A900 has slots for both CompactFlash and Memory Stick PRO Duo cards.
For control freaks, the A900 has an ample custom-function menu, three user-programmable shooting modes accessible from the main mode dial, and a custom button that can take on your choice of 16 different functions. You can also fine-tune the autofocus for up to 30 different lenses.
An accessory grip ($350, estimated street) will also be available, letting you add a second battery and a duplicate set of controls for vertical shooting. This well-designed vertical grip even sports a duplicate joystick like the one on the back of the camera body.
Speaking of accessories, you'll need a hot-shoe flash, because the A900 lacks a pop-up. However, skipping the built-in flash is, unfortunately, typical of pro-caliber DSLRs.
Less typical: this Sony's 100,000-cycle shutter. The Nikon D700's shutter is rated st 150,000 cycles, and the D3's 300,000.
All told, with the Alpha 900, Sony solidifies itself as a serious player that's here to stay. So, we can definitely look forward to Sony building out its lines of lenses and accessories as it reaches for the same footing as Nikon and Canon.
The Battle of the Big Guns is on and escalating fast.