Sony Alpha 900: Camera Test
From megapixels to viewfinders to sensors, size matters.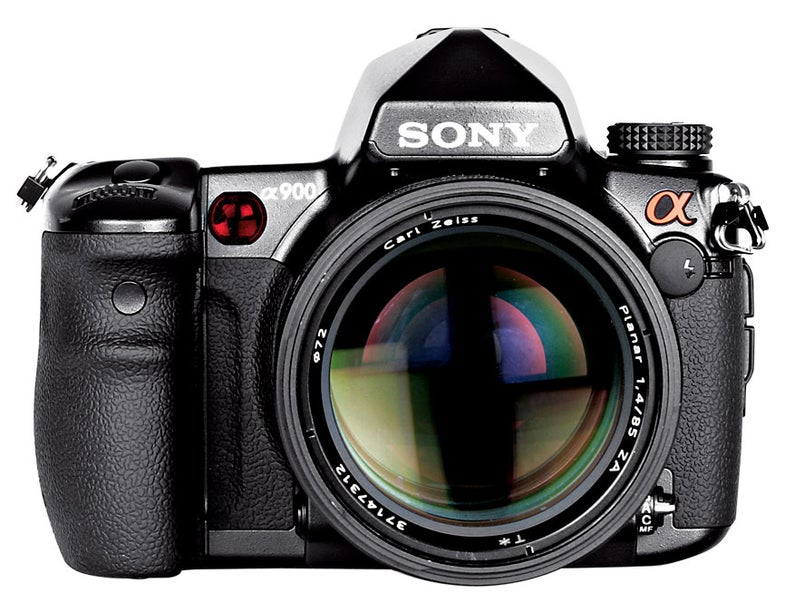 We may earn revenue from the products available on this page and participate in affiliate programs. Learn more ›
What happens when an electronics behemoth jumps into DSLRs? In Sony's case, it pushes development into overdrive for a couple of years. Then it makes a full-frame 24.6MP CMOS sensor and steals the title of most megapixels in the 35mm format from Canon, which has held the title for as long as anyone can remember.
But a camera is more than just megapixels. And the Alpha 900 ($3,000, street, body only) packs a gorgeous viewfinder that covers the entire frame, plus real-world resolution greater than that of any camera we've tested.
In terms of design, the A900 follows previous Sony DSLRs. The grip has a deep cutaway for your middle finger and a long divot on the inside for your fingertips, making a very comfortable hold. There are dual scroll wheels to set shutter speed and aperture independently, plus dedicated buttons for exposure compensation, white balance, ISO, and drive mode, as well as a dial for exposure mode. Add the fact that you can press the function button to jump into a menu of most of the settings, and you've got a really versatile imaging tool.
Like too many pro-level DSLRs, the A900 doesn't pack a pop-up flash. Ask Sony, though, and you'll hear that the A900 isn't meant for pros. We doubt that'll stop wedding and event photographers from flocking to it. That goes doubly once they check out Sony's new HVL-F58AM flash ($500, street). Since the entire flash head swivels horizontally instead of twisting, you can keep the head in the same basic position for vertical portraits as for horizontal shots. So, while the white bounce card in most on-camera flash units faces in the wrong direction when you shoot verticals, it faces your subject with this Sony.
IN THE LAB
Color? Not as accurate as most pro-level DSLRs — though, with an average Delta E of 9.0, it ranks Extremely High in our rating. Also, while noise remained at Very Low and Low through ISO 800, it rose to Moderately Low territory at ISO 1600, hit Moderate by ISO 3200, and reached Unacceptable at the top sensitivity of ISO 6400.
Resolution? Excellent across all ISOs. It was best at ISO 100, with 3230 lines. For comparison, Canon's 21.1MP EOS-1Ds Mark III ($7,500, street, body only) scored 2830 lines and Nikon's 12.3MP D700 ($2,700, street, body only; $3,375 with 24-120mm f/3.5-5.6G ED-IF AF-S VR lens) turned in 2350 lines in the same test.
As we've seen before, Sony's noise reduction eats up a lot of resolution. But, since the A900 has resolution to spare, the result isn't bad. At ISO 800, the camera delivered 3010 lines. At ISO 3200, that number dropped to 2630 lines and by ISO 6400 it was 2440 lines — still more than the Nikon D700's top resolution. Keep in mind that even though the Sony has resolving power at that high ISO, you will see noise in the image, so the overall image quality rating drops.
Nonetheless, the Sony maintained an Extremely High image-quality score at ISO 3200 and Very High at ISO 6400. At ISO 100-1600, it was rated Excellent.
Though the A900 has just 9 selectable AF points and 10 assist points to boost their sensitivity, autofocus was very fast in bright light, focusing in 0.29 sec at our test's brightest level of EV 12. AF took less than 1 second down to EV -1, slightly brighter than the light of a full moon. At our dimmest level of EV -2, AF still didn't quit, though it slowed to 1.42 sec.
That makes it very competitive with the Nikon D700, whose autofocus started at 0.35 sec at EV 12 and slowed to 1.25 sec at EV -2. Nikon has an edge in coverage, thanks to 51 AF points that reach further left and right in the frame.
Talk to anyone at Sony about this camera for more than 30 seconds, and you'll hear about the big, bright viewfinder with 100-percent accuracy. Basically, that means what you see is what you get when framing your images through the viewfinder. And with a magnification of 0.74X, you get a large image, too.
The Nikon D700 matches the Alpha 900's magnification, but only delivers 95-percent accuracy. Canon says that its new 5D Mark II has 98-percent accuracy and 0.71X magnification.
Sony's finder should see plenty of action, considering that the A900 doesn't include a live-view shooting mode. The camera maker has tried to compensate for this with a feature called Intelligent Preview. Press the preview button just to the right of the lens, and the camera temporarily grabs an image and displays it on the LCD. You can then change various settings, such as exposure compensation, white balance, and Sony's D-Range optimizer, and see what they will do to the image. We were annoyed that you can't save the image as is. Also, while useful when trying to frame images that would be difficult to frame with the finder, it just wasn't as practical as real live view.
However, we were glad Sony included its sensor-shifting Super SteadyShot Inside in the A900. It's the first full-frame DSLR to boast this feature. In our lab, the A900 gave our testers an average of 2 to 2.5 stops of handholding leeway. That means that if you usually have to shoot at 1/200 sec to get a sharp image with a particular lens, you should be able to shoot at 1/50 sec with it engaged. And since the anti-shake is built into the body, you can get that advantage with any lens, including old Konica Minolta glass.
The downside, compared with the optical stabilization built into some Canon and Nikon lenses, is that you don't see the effect before you shoot. At wider focal lengths, this usually doesn't matter much, but once you get out past 300mm, optical stabilization can aid in framing and may help you hold steadier.
Interested in how much the camera is compensating for your movement at a given time? Sony includes a meter in the viewfinder that looks a lot like the bars indicating signal strength on a cell phone. On the back of the camera is a dedicated on/off switch for stabilization.
Sony plays it safe when it comes to metering. The camera's 40-segment Multi-segment (its name for evaluative) metering mode is terrific at preserving highlight detail. But that also means that it tends to underexpose, especially in scenes with high contrast. Nikon's 3D Matrix metering, with its onboard database of images, does a better job of figuring out the best exposure for a given scene. This isn't such a big deal, since most of the photographers who buy this camera will probably use spotor centerweighted metering anyway.
Exposure compensation covers a wide range of +/- 3 EV.
Burst shooters will like the Alpha 900's 5-frame-per-second continuous shooting mode. Although the manual says the buffer has a limit of 11 Extrafine JPEGs, we were able to capture 20 Extra-fine JPEGs in 4 seconds with a SanDisk 8GB Extreme IV 45MB/sec UDMA CF card, verifying Sony's 5-fps claim. Shooting RAW, we captured 5 frames in 1 sec using the same card.
LARGE AND IN CHARGE
With its first full-frame DSLR, Sony has shown that it can definitely run with the big boys. While we have yet to test Canon's new, midrange, full-frame 5D Mark II, this Sony currently packs the most resolution you can get in a DSLR. Add to that fast AF, an outrageously appealing viewfinder, and a body with a great grip and plenty of dedicated controls, and you've got a winner.
For an experienced photographer not married to another brand's system, the A900 deserves a look. If you have even a modest stockpile of Konica Minolta lenses, then it demands your attention. And anyone who thought Sony wasn't serious about DSLRs has now been officially proven wrong. The next question is who will be the undisputed champ of the full-frame world.
Imaging: 24.6MP, effective, fullframe CMOS sensor captures images at 6048×4032 pixels with 14 bits/colorin RAW mode.
Storage: Dual slots: CompactFlash Type I/II, including UDMA and microdrives; Memory Stick PRO Duo. Stores JPEG, RAW, RAW + JPEG.
Burst rate: Full-sized JPEGs (Extrafine mode), up to 11 shots at 5 fps; RAW,up to 12 shots at 5 fps.
AF system: TTL phase detection with 9 illuminated selectable focus points and 10 nonselectable assist points. Single-shot and continuous AF. Tested sensitivity down to EV -2 (at ISO 100, f/1.4).
Shutter speeds: 1/8000 to 30 sec plus B (1/3-EV increments).100,000-cycle rating.
Metering: TTL metering with 40-zone evaluative, centerweighted, and spotmetering (percentage of viewfinder not disclosed).EV 0-20 (at ISO 100).
ISO range: ISO 100-6400 (in 1/3-EV increments).
Flash: Supports ADI and TTL autoflash with Alpha flashes; X-sync at 1/250 sec, at 1/200 sec with Super SteadyShot Inside engaged.
Viewfinder: Fixed eye-level pentaprism.
LCD: 3-in. TFT with 921,600-dot resolution.
Output: Hi-Speed USB 2.0, HDMI (mini-type) video, 3-pin remote. PictBridge and PIM III compatible.
Battery: Rechargeable NP-FM500H Li-ion, CIPA rating, 1,000 shots.
Size/weight: 6.3 x 3.3 x 4.6 in., 2.14 lb with card and battery.
Street price: $3,000, body only.
For info:www.sonystyle.com.
VIEWFINDER TEST
Accuracy: 100% (Excellent)
Magnification: 0.74X (Very Good)
COMPETITIVE SET
• Nikon D700 ($2,700, street, body only; $3,375 with 24- 120mm f/3.5-5.6G ED -IF AF-S VR lens) While the Nikon doesn't match the A900's resolution, it has the edge in color accuracy and focuses faster in extremely low light. Its biggest edge is in noise — or, more important, lack of it. The D700 reaches 2 full stops further in sensitivity than the A900, with a top ISO of 25,600; at ISO 6400, it produces noise equal to the Sony's at ISO 1600. So lowlight shooters should look to Nikon. In most other ways, the two cameras are on par, although Nikon's 3D Matrix Metering beats Sony's Multisegment for those shooters who don't use spot- or centerweighted metering. A major advantage of the A900: in-body image stabilization. Nikon makes you buy stabilizedlenses to combat shake.
• Canon EOS 5D Mark II ($2,700, street, body only; $3,500 with 24- 105mm f/4L EF IS lens) Canon keeps the resolution war alive with its new 21.1MP DSLR. But the big story is the Canon's 1080p HD movie mode, which neither the Sony nor the Nikon D700 offers. Canon also keeps up with Nikon by providing a top ISO of 25,600, as well as more versatility in brighter light, with a low of ISO 50. Both the A900 and D700 bottom out at ISO 100. This Canon lags slightly with its 3.9 frame-persecond burst rate, compared with 5 fps on both the Sony and the Nikon. We haven't yet tested the 5D Mark II, but we're eager to see how it doesin the Pop Photo Lab.