Software Review: Tiffen Dfx
Anything glass can do, bytes can do, too. And these digital filters can do some tricks optical filters can't.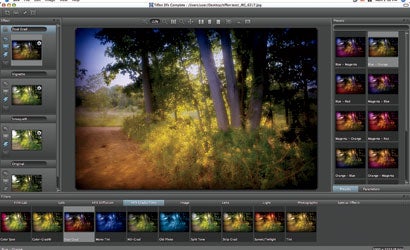 We may earn revenue from the products available on this page and participate in affiliate programs. Learn more ›
If you already spend way too much time messing with your pictures on the computer, do yourself and your loved ones a favor: Don't buy Tiffen's Dfx software. Because once you start using it to create an infinite variety of wacky, beautiful, and superior versions of your favorite or failed photographs, there's a good chance you won't want to stop.
Tiffen is one of the most well-known and established brands in optical filters — those pieces of glass that you presciently attach to your lens to make sure your pictures turn out just as your mind intended.
With its new software, Tiffen turned its filters into code, so you don't need to predict your photo's outcome before you take it.
You can choose between a Complete set of filters ($200, direct) and a pared-down Select version ($100). The software also comes in the form of a plug-in that works with Adobe Photoshop or Elements ($300 for Complete; $160, Select). If you're a professional video editor, you can even get a version to work with your video-editing software ($600).
I tested the Complete standalone version because it gives you the most filters for your money, and I've found that the software works very well when you've already perfected your file in an image editor.
The program's layout is extremely straightforward, making it easy to add filters to your images without checking the manual. Everything you need is visible: In the center sits your image; below it, tabbed categories of filters and effects, each represented by a thumbnail preview of the picture you're working on.
You can layer filters on top of one another on the left of the screen, and choose variations on a filter or use the Parameters tab to create your own modified version on the right. And powerful masking tools make it simple to apply a filter only to a given area.
With the Complete version, you get GamColor and Rosco gels, HFX diffusion and grad/tint filters, star filters, ones that mimic gold or silver reflectors, a huge array of warming and cooling filters, plus goofy and cool special effects, such as X-ray and night vision, that never could have existed as optical filters. You can add vignettes, do selective focusing, make dramatic skies with split neutral-density filters, and pop on a virtual Glimmerglass or Pro-Mist filter for glamour portraits.
Standalone versions are color-managed, allowing you to choose the working space and bit-depth.
While Dfx opens RAW files, its converter is fairly meager. And although the idea of a digital graduated neutral-density filter or polarizer is amazing, it still cannot bring back highlight detail that's absent in the original file.
Those caveats aside, we highly recommend that filter aficionados download the 15-day free trial and check this one out. (For more info: www.tiffen.com)
| | |
| --- | --- |
| | |
| Infinite Variation: The blue-orange dual grad filter, among others (top) imparts an otherworldy quality. A neutral-density filter and a polarizer added punch to a sky (left) and the three-strip filter (right) birthes a Technicolor cow. | |