Software Review: Adobe Photoshop Elements 6
No longer Photoshop Lite, the newest version of Elements is both powerful and easy-to-use.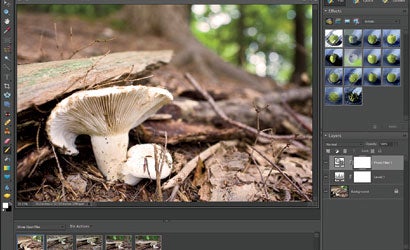 We may earn revenue from the products available on this page and participate in affiliate programs. Learn more ›
Although Adobe Photoshop Elements started its life as a stripped-down version of Photoshop, it has, since version 4, come into its own as a well-designed, simple to use, and powerful program.
Now in version 6 ($100, direct), it also remains the best first step for those with ambitions to learn Photoshop. This iteration is only an incremental step from Elements 5 — there are a few cool new tools, but the biggest difference is the simplified and friendlier interface.
Software designs change like fashion, and these days dark gray is the new light gray. (Witness the murkier shade of this year's Corel Paint Shop Pro Photo X2, Tiffen's Dfx software, and Adobe's Photoshop CS3.) The change happened for a reason — dark gray allows your pictures to pop off the screen, and the white type that replaced the black on the tools and menus serves a similar purpose.
The program still comes in two, separately operating, parts: an organizer and an editor. Folks who have considered Adobe's all-in-one workflow program Lightroom will see similarities in Elements 6's interface reorganization. Now, sets of functions are arranged by tab on the upper right part of the screen (Edit, Create, and Share in the editor and Organize, Fix, Create, and Share in the organizer).
The editor has a choice of three modes. Full Edit is the most Photoshop-like, and the only one that allows you to make edits and corrections using both Layers and Adjustment Layers. Quick Edit distills the feature set down to the basics; general, common fixes are all readily available in slider form. Guided Edit offers a text-based, choose-your-own-adventure approach to picture repair: It's a great way for novices to get started, but unfortunately it doesn't point out the names of the tools, so when you're ready to graduate, you may not know what to look for.
The most practical, powerful, and fun new tool in Elements 6 is the new Photomerge Group Shot. A whole group of people never looks good in every shot; this makes it easy to combine them from separate photos. You can quickly select the heads or bodies you want, and watch as Elements merges them into one perfect picture. (Let's hope this gets added to Photoshop CS4.)
Elements' RAW converter is still unmatched by any other similarly priced picture-editing program. In fact, Camera RAW is the exact same program that comes with CS3, although opening it via Elements prevents certain higher-level features from showing up.
So should you upgrade? If you're a dedicated Elements user who hasn't gotten a new version since 3 or 4, the answer is a resounding yes. If you're happy with 5 but are sick of that old-school light gray, or if you do a lot of group shots, go for the newest version. This is still a program that's hard to beat for anyone who's not up for spending $650 on Photoshop CS3.