Sigma 150-500mm f/5-6.3 DG OS HSM APO AF
Lens Test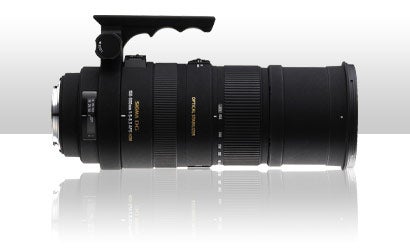 We may earn revenue from the products available on this page and participate in affiliate programs. Learn more ›
Sigmaniacs and assorted bloggers have, over the years, dubbed Sigma's longer tele zooms with nicknames that seem to have stuck. The 50-500mm f/4-6.3, for example, is known as "the Bigma." The 300-800mm f/5.6 is the Sigmazilla. It prompts the question: what should we call this new OS-enabled 150-500mm f/5-6.3?
We vote for the SigEnigma and here's why: Somehow, Sigma took the 170-500mm (that this lens replaces) widened its zoom range, added an Optical Stabilizer (OS), improved sharpness, distortion, vignetting, and macro performance (all by significant degrees), made it compatible with Sigma's 1.4X and 2.0X teleconverters, and yet was also able to hold its street price to under a grand ($980) — THAT'S a SigEnigma.
A full-frame lens that scales up to a 232-775mm on most DSLRs, this new 150-500mm has three super low dispersion glass elements (for controlling chromatic aberration), an Hyper Sonic AF motor (HSM) for super quiet AF, and is available in Canon, Nikon, Pentax, Sigma, and Sony mounts.
HANDS ON
While at just over four pounds and over a foot long when racked out to 500mm, the lens obviously shares genes with The Bigma. Nevertheless, because of large, well-positioned zoom and focusing rings and overall pleasing balance, it's still just this side of handholdable.
Also contributing to that handholdablity is Sigma's well-designed removable tripod collar. Incorporating finger channels, the collar makes an excellent grip from which to support the lens while shooting off a tripod. It also serves as a useful handle from which to carry the lens-and-camera combo (upside down) when you're not shooting.
A velvety matte black, the polycarb barrel's handsome finish looks like it might scuff easily, but doesn't. As for handling, the zoom collar turns with a very stiff action — so stiff, you wonder why Sigma included a zoom lock. (Who, besides the Hulk, is going to carry this lens vertically from a neckstrap, anyway?) Other barrel switches (besides the lock) include MF/AF and three-way OS controls for On, Off, and Panning modes. While the zoom action is stiff, the Manual Focus ring turns very smoothly with just a nudge from the user's thumb. (As with most Sigmas having HSM focusing motors, it allows manual focusing in the AF mode.)
Extremely quiet thanks to that HSM AF, the AF is also very quick and sure. In field tests, it easily held focus on approaching cars, joggers, bicyclists, even pigeons on the streets of midtown Manhattan.
IN THE LAB
The lens produced sharpness and contrast in the Excellent SQF range at 150, 200, and 250mm. Due to its physical size, however, the lens prevented our test equipment from gathering SQF data at longer focal lengths. As a result, we substituted conventional, lines-per-millimeter resolution tests for them. At 300mm and 500mm, those results also came in within the Excellent range. [ck]
In DxO Anaylyzer 3.0.1 distortion tests, we encountered pincushioning in the Imperceptible range at 150mm (0.10%); and very Slight pincushion distortion at the three longer focal lengths: 0.13% at 250mm and 300mm; 0.16% at 500mm. These numbers were noticeably better than those of the now-discontinued 170-500mm, which showed Visible range pincushioning at all focal lengths (0.43% to 0.85%).
Light fall off was gone by f/8 at all four tested focal lengths, again better than its predecessor, which vignetted to f/11 at 500mm.
The 150-500mm is also a stronger contender for the affections of macro shooters. In fact, when the 170-500mm was tested for our November 1998 issue, we carped that its 1:6.6 magnification was "probably insufficient if your interest is small birds." The new lens, which magnifies to a stronger 1:4.4 (at 500mm) can probably handle those finches and wrens. Other magnification ratios at the uniform close focusing distance of 75 inches ranged from 1:11.7 at 150mm to 1:6.4 at 300mm.
In tests of the lens's optical stabilizer, three different users gained between one and 2.5 stops of handheld sharpness with the OS turned on-possibly a touch below average.
CONCLUSIONS
This sharp and relatively distortion-free lens shares the seeming mutually exclusive traits of being bulky, but also being surprisingly handholdable. That's true, in part, because of the built-in stabilization, but also because of its excellent physical layout. While the nature, sports, and wildlife shooters who flock to this lens will almost certainly be shooting from a monopod or tripod, in a pinch, they could also shoot hand held and capture sharp images even at relatively slow shutter speeds.
OK, so forget SigEnigma. How about the SigMonster!?!