Shootout: 18x EVF Superzooms
Who's the king of the 18x optical zoom EVFs: the Fujifilm Finepix S8000fd, the Panasonic Lumix DMC-FZ18, or the Olympus SP-560UZ?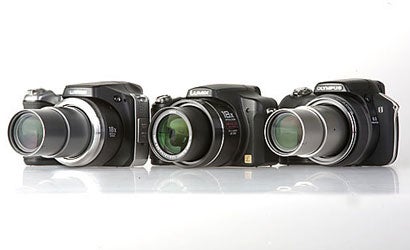 We may earn revenue from the products available on this page and participate in affiliate programs. Learn more ›
The competition is heating up in the 18x superzoom EVF category! Earlier this year it was simple: If you wanted an 18x zoom EVF, you had one choice, the 7-megapixel Olympus SP-550UZ ($340, street). Now, the original superduperzoom has been joined by an 8-megapixel Olympus sister, the SP-560UZ ($450, street), and two competitors, the Panasonic Lumix DMC-FZ18 ($350, street) and the Fujifilm Finepix S8000fd ($320, street ).
These cameras offer a lot of big-camera functionality in a small package, along with wide-angle to supertelephoto reach that's got more versatility than any DLSR lens on the marketplace. All this for less than an entry-level SLR with a wide-normal kit lens.
Looking over the spec lists, these cameras have a lot in common: Optical- or sensor-shift stabilization, wide to supertelephoto zoom lenses, face detection, a host of scene and shooting modes including full manual control, and VGA video capture, to list just a few. But after running these three 18x digicams through our lab and field tests, these are three different cameras.
We're comparing the major features and functions, and performance of the Fujifilm Finepix S8000fd, Olympus SP-560UZ, and the Panasonic Lumix DMC-FZ18 to help you decide which super-duper-zoom is right for you.
THOSE 18X OPTICS!
Obviously, all three of these cameras have integrated 18x zoom lenses. Both the Olympus SP-560UZ and the FujiFilm Finepix S8000fd feature 27-486mm f/2.8-4.5 lenses (35mm equivalent). Both of these lenses will close-focus to 1 centimeter in Super Macro mode. Both lenses posted nearly identical DxO 2.0 distortion results at 27mm/1x (Visible Barrel), 243mm/9x (Slight Pincushion) and 486mm/18x (Slight Pincushion). Furthermore, the visible internal gasketing of both lenses is identical, which leads one to assume that despite the "Olympus ED" and "Fujinon Zoom" inscriptions on the barrels, these cameras are basically employing identical lenses. Perhaps there's a difference in the coatings or element composition, perhaps not.
Meanwhile, the Panasonic Lumix DMC-FZ18 packs a 28-504mm f/2.8-4.2 (35mm equivalent) Leica DC-Vario Elmarit lens with Panasonic's Mega Optical Image Stabilization with shifting lens elements to stop camera shake. Like its competitors, it can close-focus to 1cm. At 28mm/1x, the Panasonic showed only Slight Barrel Distortion, which is very impressive, and is probably a combination of both optical construction and firmware-based distortion correction. At both 252mm/9x, and 504mm/18x, distortion is imperceptible (9x: Imperceptible Barrel, 18x: Imperceptible Pincushion.) The Panasonic glass is also a touch faster than its competitors at the telephoto end, but this 1/5 stop difference is negligible, since all three cameras set shutter speeds and apertures in third-stops, and you'll be getting nearly identical exposure settings at telephoto with all three cameras.
For all intents and purposes, there's not much of a difference between a 27-486mm and a 28-504mm lens. It's a step or two backwards or forwards to get the identical framing with any of these cameras. However, with both the Fujifilm and the Olympus, you'll often notice the distortion at different focal lengths, particularly in images with straight lines such as landmarks, non-centered horizons, and interiors.
OPTICS RANKINGS
Panasonic Lumix DMC-FZ18Tie: Olympus SP-560UZ, Fujifilm Finepix S8000fd
IMAGE QUALITY: JPEG RESULTS FROM THE POPPHOTO LAB
We tested all three cameras in the Pop Photo lab at highest-quality JPEG settings, since only the Panasonic and the Olympus models support RAW capture. Looking at our resolution and noise results, it is obvious that all three cameras employ noise suppression at higher ISOs — some to a greater extent than others. In the Pop Photo lab, we compared resolution at each camera's lowest ISO and again at ISO 1600, and noise at all full-resolution ISOs.
At ISO 64, the Fujifilm Finepix S8000fd has Extremely High (1583) Resolution, and Low (1.7) Noise. At ISO 100, Noise rises a touch to Moderately Low (2.1). At ISO 200, Noise is Moderate (2.9). At ISO 400, Noise is Unacceptable (3.0); aggressive noise control kicks in at ISO 800, bringing it back down to Moderately Low (2.4). At ISO 1600, noise is again Unacceptable (4.0), with a significant Resolution drop to Acceptable (1150). Color accuracy is Extremely High (Average Delta E: 9.4, ISO 64, Auto White Balance.)
At ISO 50, the Olympus SP560UZ also has Extremely High (1660) Resolution and Low (1.7) Noise. Noise is also Low (1.7) at ISO 100. Noise is Moderately Low at ISO 200 (2.3). At ISOs 400 (2.4), 800 (2.4), and 1600 (2.8) Noise is Moderate. Resolution also drops dramatically at ISO 1600, to Unacceptable (900.) Noise is Unacceptable at ISO 3200 (3.1). Color accuracy is Excellent (Average Delta E: 7.7, ISO 50, Auto White Balance.)
At ISO 100, the Panasonic Lumix DMC-FZ18 has Excellent (1890) Resolution, with Low (1.7) Noise. Noise is Moderate at ISO 200 (2.4). Noise is Moderately Low at ISOs 400 (2.2), 800 (2.1), and 1250 (2.2) and Moderate at ISO 1600 (2.5.) At ISO 1600, Resolution drops to 1325 (Very High). Color Accuracy is Extremely High (Average Delta E: 8.1, ISO 100, Auto White Balance.)
For the absolute best image quality with all three of these cameras, we suggest shooting at the lowest ISOs possible, combined with image stabilization only when necessary. When it comes to higher-ISO performance, the Panasonic has the definite edge in both resolution and noise control. At ISO 400 and up, the Fujifilm seems to favor resolution over noise suppression, while the Olympus favors noise control over detail.
LAB TEST RANKINGS:
Panasonic Lumix DMC-FZ18Olympus SP-560UZFujifilm Finepix S8000fd
CERTIFIED TEST RESULTS:
• Panasonic Lumix DMC-FZ18
• Olympus SP-560UZ
• Fujifilm FinePix s8000fd
AUTOFOCUS AND FACE DETECTION
In high and normal contrast conditions, in daylight and average indoor conditions (EV12-6), all three cameras achieve focus quickly, with the Fujifilm and Panasonic feeling just a touch quicker than the Olympus. All three models took well under a third of a second to give the satisfying focus confirmation beep.
In very low light (EV4 and under), with the focus assist beam, the Panasonic doesn't slow down significantly, but the Fujifilm and the Olympus slow down to about half a second before the beep. With the focus beam covered, the Panasonic slows down, but not by much (about half a second), but both the Olympus and the Fujifilm (both of which have similarly placed AF assist beams, by the way) take nearer to a second to lock onto focus before giving the confirmation beep in our tests.
Face detection is probably this year's hottest focusing trend, and, of course, all three of these 18x EVFs allow for this focusing and exposure mode. We tested Face Detection in the Pop Photo lab, employing our mannequins as our models.
The Panasonic was the quickest to lock onto the mannequin and kept the focus box on the face, even as we moved about, until the viewing angle approached full profile. Our test shot shows excellent color balance on both the mannequin's ersatz skintones and on the lab's neutral targets and walls.
Both the Olympus and the Fujifilm identified the full-body mannequin, though neither was as fast as the Panasonic, and both had trouble keeping a focus indicator on the LCD as we moved around recomposing the angles. In our test shot, the Olympus shows excellent color on both the mannequin and the lab's neutral test targets and walls; the Fujifilm shows very good skintones on the mannequin, although there's a cold blue cast to the neutral walls and targets.
AUTOFOCUS AND FACE DETECTION RANKINGS:
Panasonic Lumix DMC-FZ18Olympus SP-560UZFujifilm Finepix S8000fd
VIDEO CAPTURE
All three cameras capture at least VGA video with mono sound at 30 frames per second, which is totally on par with today's standards. None allows for optical zoom with audio capture during recording – which is also typical for today's EVFs and compact cameras. The Olympus SP-560UZ will optically zoom during video, but only with the sound off. We guess there could be some use for this, with overdubbing or when audio isn't important, but we generally like our video with sound, thank you very much.
Highest Quality video on both the Olympus and the Fujifilm is 640×480 at 30 frames per second. The Panasonic will match this ratio and also ups the capture to 16:9 ratio at 848×640 at 30 frames per second.
We tested all three cameras in daylight conditions in New York City, and both the Panasonic and the Olympus video looked very good at widest angle. Likewise, video quality of both the Panasonic and Olympus was very good at maximum zoom, though the Panasonic handled the camera shakes a bit better than the Olympus.
Video shot with the Fujifilm was free of shake at wide angle, but at full zoom, it was exceptionally jittery. (The camera offers only "electronic stabilization" during video capture, as opposed to optical or mechanical stabilization.) What's more, the videos were very noisy. And this was in sunny daylight conditions!
VIDEO CAPTURE RANKINGS:
Panasonic Lumix DMC-FZ18Olympus SP-560UZFujifilm Finepix S8000fd
DOING IT RAW
Both the Panasonic Lumix DMC-FZ18 and the Olympus SP-560UZ can shoot RAW. The Fujifilm Finepix S8000fd skips RAW, so if RAW is a deal breaker for you, the S8000fd is out before we even begin.
The RAW edge goes to Panasonic for several key reasons. First, you can shoot RAW+JPEG, which will definitely gobble even more card space, but gives you the option of going with the in-camera JPEG conversion for quick printing or sharing on the go, or cooking the data yourself in Panasonic's feature-packed Silkypix 2.1 RAW converter. As we've mentioned elsewhere (cameras/4722/), Panasonic's Silkypix 2.1 has the option for one-touch fixes, but each image quality adjustment can also be expanded to include an impressive set of user-selectable choices for sharpness, noise control, lens distortion, chromatic aberration, keystoning and more. This is a RAW converter we can sink our teeth into!
The Olympus appears limited to RAW capture only (on first glance, that is. It can capture RAW+JPEG by a RAW capture submenu that's not entirely obvious), and Olympus's RAW converter, MasterSuite, is very rudimentary. It's easy, for sure, but we prefer much more control of our RAW conversions. We want more than one slider for Sharpness/Noise! MasterSuite feels like a "lite" RAW converter. If we're not going to have tons of knobs and sliders for every possible image quality adjustment, we might as well do in-camera processing and just DPOF shots straight from the camera at a kiosk! RAW is about total control, and with MasterSuite we feel we don't have both hands firmly on the wheel.
In the field, the FZ18 is significantly faster shot-to-shot than the Sp-560UZ, even when the Panasonic is shooting RAW + JPEG. With both cameras, RAW is a single-shot mode. You've got to release the shutter after each shot to grab another frame. Hold it down and hope for another capture and you're just wasting your time. It's a little over 3 seconds from shutter to shutter in RAW+JPEG with the FZ18. Shot-to-shot time with the SP-560UZ in RAW-only capture is a leisurely 10+ seconds! That's a lot of chug-chug-chugging away between frames. At this sloth-like pace, we're wondering if Olympus shouldn't have followed Fujifilm's lead and just skipped RAW outright!
RAW CAPTURE RANKINGS:
Panasonic Lumix DMC-FZ18Olympus SP-560UZDID NOT COMPETE: Fujifilm Finepix S8000fd
BUILD AND HANDFEEL
EVFs are not pocket cameras. These are cameras that live in little camera bags, or slung over a shoulder, SLR-style while out shooting.
Both the Fujifilm Finepix S8000fd and the Olympus SP-560UZ feel rock-solid in the hand, similar to how an entry level DSLR might feel. The FZ18, however, just doesn't quite have that satisfying heft and handfeel longtime SLR users have come to know and love. All three cameras have roughly the same dimensions, so it really comes down to feel.
The FZ18 is the lightest of the bunch, and the Fujifilm the heaviest, but the difference is, in all reality, only a couple of ounces. Interestingly, both the Fujifilm and the Olympus are powered by 4 AA cells inside their chunkier grips, while the Panasonic is juiced by a proprietary Li-Ion cell.
Nonetheless, combine the Fujifilm's weight, chunky grip and overall button feel, and it's the one that "feels" the most serious — from its spring-loaded on-off switch, shutter button and back-of-camera array.
Likewise, the Olympus SP-560UZ has a satisfying chunkiness of grip and heft that SLR shooters crave. The shutter and zoom toggle bar feels good, though the back-button array feels overly stiff and a little unresponsive at times.
The Panasonic is lighter, and for many big-camera photographers, the light weight may be a little unsettling at first. The grip isn't as pronounced as on its competitors, and the rubber has a much less "grippy" texture. The zoom toggle is nicely damped and the shutter has good action, but the back-of-camera and top-of-camera buttons have a sort of discount-camera feel. Sure, they work just fine once you get the hang of it, but they just feel a little chintzy, particularly the mini-joystick. And we're not crazy about the two-position on-off switch atop the camera. We like the spring-loaded slider button of the Fujifilm the best.
BUILD AND HANDFEEL RANKINGS:
Fujifilm Finepix S8000fdOlympus SP-560UZPanasonic Lumix DMC-FZ18
SHAKE IT, BABY! IMAGE STABILIZATION AND ISO BOOSTS
These EVFs make the implied promise that you can shoot anything, anywhere, anytime. Wide angle to supertelephoto and back again with just a little push on the zoom lever! Fortunately, all three of these digicams keep their f/stop loss to under 1.5 stops from wide to tele, which helps keep long-reach shutter speeds relatively fast, even at lower ISOs. And all three have motion-detection based stabilization to further attempt to keep crisp edges at slower shutter speeds.
Both the Fujifilm and the Olympus employ sensor-shift technology (along with some ISO boosting, depending on the camera settings.) The FZ18, meanwhile, incorporates a shifting lens element for its Mega Optical Image Stabilization system.
In the lab, we shot the DxO test target at maximum optical zoom (18x) through the eyepiece viewfinder, with both hands cradling the cameras SLR-style. At 1/x the equivalent focal length, or 1/500 sec, all three cameras produced acceptably sharp images. Shooting at 1/250 sec (one full stop) also produced acceptably sharp edges with all three cameras. As did 1/200 (1.3 stops.) At 1/160, both the Fujifilm and the Olympus started showing slight edge blurring in our still tests. The Panasonic looked good at 1/160 (1.7 stops), and some users may be able to push the FZ18 to 1/125, but past that, it's a serious gamble at full zoom. We'll recommend staying within that 1.3-1.7 stop range to be on the safe side with all cameras at all focal lengths.
Video capture was another matter. All three cameras did a very good job of keeping the shakes away at wide-angle, framing the scene through the LCD, with both hands on the camera. But at telephoto, it was a different story. At 18x, the Fujifilm video was exceedingly shaky, since only "electronic" stabilization is activated during video capture. The Olympus handled the shakes at 18x slightly better. The shakes weren't as dramatically pronounced, and it appears that Olympus's Electronic shake detection and correction system for video is more advanced than Fujifilm's.
The Panasonic outperformed both Fujifilm and Olympus at 18x video capture. That's not to say there wasn't a little bit of swaying and drift in the frame, but it handled it much better than either of its competitors.
To put it bluntly: The Panasonic's 18x zoomed video was truly watchable, Olympus' was watchable if it was your child and you were really, truly invested in the moment, and the Fujifilm's 18x video was so painful you'd want to turn it off, even it was your own daughter's solo piano recital!
IMAGE STABILIZATION TEST RANKINGS: Panasonic Lumix DMC-FZ18Olympus SP-560UZFujifilm Finepix S8000fd
BURST RATES
You've got a lots of asterisks, footnotes, (parenthetical notations) and downsampled high-speed rates to wade through when looking at the boxes and tech specs of these three cameras!
For example, the Olympus SP-560UZ can burst 40 shots at 15 frames per second! But that's at just about 2MP: 1600×1200 px. Or it can do 7 frames per second for 23 frames (at just under 5MP.) And how cool is this — in playback mode, click on the first photo in a high speed burst, and they are played back at capture speed! At full resolution, the spec sheet caps it at 1.2 frames per second for seven shots at normal JPEG (HQ) setting — though we were sometimes able to get a few more in our burst tests. You'll get three or four shots before the buffer locks at the highest full-resolution (SHQ) setting.
Additionally, HDR fans will love that the Olympus SP-560UZ will autobracket five frames, albeit at only one EV apart (in other words: -2,-1,0,+1,+2).
The Fujifilm can burst 15 shots in row at either 7 frames per second or 15 frames per second, but at 4MP or less for 7fps, and 2MP or less for 15fps. (Sadly, the Fujifilm doesn't do the playback animation of high-speed bursts like the Olympus.) But with the Fujifilm at full resolution, you're limited to 3 shots at 1.3 frames per second either in Top 3 or Last 3. (Last 3 will make an impressive machine-gun spray while it is shooting away, but only the last three shots in the long burst will actually be recorded to the memory card.) For extended "bursts," the Fujifilm plods along at a leisurely pace of a frame every 2 seconds or so.
The Panasonic doesn't set any land speed records with its burst rate at any megapixel rating — but at the same time it doesn't have nearly as many footnotes! It caps out at three frames per second, regardless of image size. At finest quality JPEG at full resolution, it'll grab 4 frames before locking up. At Normal quality it'll grab 7 frames. Drop it down to VGA (640×480) and the FZ18 keeps firing away, probably until the card is full. But if you want to fill the SDHC card with full-rez images, it slows down the burst rate to just about a frame per second in unlimited burst. (With higher ISO images, however, the camera may start to slow down after 15 or 20 shots. It'll keep firing away, but you'll notice the rate slowing down a bit.)
Generally, we are most interested in full-resolution bursts and buffering, and between its normal 3fps burst and its almost 2fps unlimited burst, it's pretty much a no-brainer that the Panasonic will finish ahead of the pack in this category.
But wait! We're starting to see some really cool applications and ideas involving these lo-rez megabursts. Golf and tennis instructors can capture a tee-off or backhand and pinpoint exactly where the form is off. For online multimedia slideshows, the small megapixel count isn't nearly the issue it is for print output. Sure, the shots are small, and it's basically single unstitched frames from 15fps video, but it's a heck of a lot easier and cleaner than pulling a frame from video.
FULL RESOLUTION BURST AND BUFFERING RANKINGS (WITH LO-RESOLUTION RESULTS IN PARENTHESES):
Panasonic Lumix DMC-FZ18 (Olympus SP-560UZ)Olympus SP-560UZ (Fujifilm Finepix S8000fd)Fujifilm Finepix S8000fd (Panasonic Lumix DMC-FZ18)
LCDs and EVFs and DISPLAY BLACKOUTS
The Fujifilm Finepix S8000fd packs a 2.5-inch TFT LCD with 230,000 dots, and a .24 inch Electronic Viewfinder, also with 230,000 dots. The Olympus SP-560UZ also packs a 2.5-inch TFT LCD with 230,000 dots, and a .24 inch 230,000 EVF with an eyepoint and feel that is virtually identical to the Fujifilm's. The Panasonic's 2.5-inch TFT LCD packs only 207,000 dots, and its EVF is .44 inch, with 188,000 dots.
Despite the lower pixel count, the Panasonic's EVF edges out the competition. We found the Fujifilm's EVF too contrasty, and prone to color casting and noise in previews. The Olympus EVF isn't as contrasty as the Fujifilm's, but it did also display casting and some noise in previews.
The Panasonic's EVF autocorrects for the ambient lighting, and doesn't feel as prone to casting or noise in preview, and displays high contrast scenes better than its competitors. However, there is an annoying internal reflection below the LCD unless you are perfectly aligned through the viewfinder.
All three LCDs are fixed (non-articulating) and offer very wide viewing angles. This means you will get a decent preview display pretty much as far as you can swing your arm to frame a shot. We did however notice a problem with glare issues at extreme angles in bright daylight conditions with all three cameras, most notably with the Olympus SP-560UZ.
Whether you're using the LCD or EVF, blackout between shots, particularly in bursts, is an issue with most compact and EVF digicams. These three are no exception, although all three bring their own set of issues to blackout.
The Olympus, which is the slowest from shot-to-shot, has the longest blackout period after a single shot. The Fujifilm is a little quicker, but not nearly as fast as the Panasonic in single-shot mode.
In full-resolution burst mode, you'll spend a lot of time staring at a black screen with both the Olympus and the Fujifilm. With both of these cameras, it's dark between frames, then there's a flash of the next shot for a split second, and back to a blank frame between shots. But with their lo-rez hi-speed modes, the display does a good job of keeping up with the burst of shots.
In normal burst mode the Panasonic locks the display after the first frame, and it just stays like that, regardless of camera movement until the burst is captured. It's more interesting, but no less helpful than a completely dark display. In unlimited burst, it shows the last frame captured and keeps tiling through the last shot until the burst is over. Again, it's interesting, but for the most part you are chasing, rather than truly framing, your next shot.
LCD AND EVF RANKINGS:
Panasonic Lumix DMC-FZ18Olympus SP-560UZFujifilm Finepix S8000fd
MODES AND SCENES
On all three cameras, the shooting mode is first selected from a mode dial atop the camera. On all three, you'll find the old standards: Auto, Program, Aperture-Priority, Shutter-Priority, Scene, and even Full Manual. But from here it gets interesting, and different. Both the Panasonic and the Olympus allow the user to preload custom settings into a dial position, for quick access to favored settings (three on the Panasonic, four on the Olympus). There's no such customizable speed-setting on the Fujifilm, which is an oversight, in our opinion. Experienced photographers often have touchstone settings for particular lighting conditions, and the less time messing around in camera menus is more time to make the shot!
On the other end of the spectrum are the Scene modes, which offer quick and easy optimization for the beginning photographers.
Fujifilm has 13: Portrait, Landscape, Sport, Night, Fireworks, Sunset, Snow, Beach, Museum, Party, Flower, Text, and Auction. Combine these with "Natural," "Natural/Strobe," and High-ISO anti-shake, and it's a pretty basic pack of scene settings.
The Olympus SP-560UZ includes 24 scene modes: Portrait, Landscape, Landscape & Portrait, Night Scene, Night Portrait, Sport, Indoor, Candle, Self-portrait, Available Light portrait, Sunset, Fireworks, Cuisine, Behind Glass, Documents, Auction, Shoot & select 1 and 2, Beach, Snow, Smile Shot (activated with face detection AF when a smile is detected), Quick Macro, and Panorama, along with Underwater Wide 1 and 2, and Underwater Macro. (Underwater optimization is for use with the optional PT-037 underwater housing. Note that this camera is not waterproof without the extra housing!) Combine these Scene modes with the 15 situations and various solutions offered in Guide mode, and you've got a very helpful camera! (And let's not forget about the Shadow Adjustment setting on the Olympus, which opens up the shadows and improves tonality, even if it doesn't dramatically increase overall dynamic range.)
The Panasonic comes with 14 Scene modes accessible via the SCN mode: Food, Party, Candlelight, Sunset, High Sensitivity, Baby 1 & 2, Pet (basically the same as Baby mode), Panning, Starry Sky (up to 60 seconds), Fireworks, Beach, Snow, and Aerial. But atop the camera with their own modes are Sports, Scenery and Portrait, each of which comes with their own set of drop-down options for different situations and a "creative" option that allows for user-controlled tweaks to the exposure or focus for different effects. It's a nice intermediate step to help the advance beginner take more creative control.
But the coolest Panasonic mode has got to be Intelligent Auto, which can identify challenging exposure situations, and sets the exposure accordingly. This combines Scene Detection, Face Detection, and Motion Detection to select the proper settings, whether it's an ISO boost, Face Detection exposure, backlight compensation, super-macro or more. The advanced photographer may feel they are giving over too much control, but for the beginner, this Intelligent Auto mode offers a lot of appeal in making photography more rewarding and less confusing.
SHOOTING MODES RANKINGS:
Panasonic Lumix DMC-FZ18Olympus SP-560UZFujifilm Finepix S8000fd
PLAYBACK
None of the cameras go overboard with playback options. There are your typical features such as slideshows, cropping, and DPOF, as well as different sort-by schemes in line with each company's standards. Neither Fujifilm nor Panasonic dazzles us with any playback functions. Olympus adds "Perfect Fix" to the mix, and this claims to automatically remove redeye and adjust the lighting. We also like the high-speed burst animated playback on the Olympus. Our biggest complaint with the Olympus? It's painfully slow between frames. If the Olympus could pick up the pace just a bit, it would come away with a clear-cut victory.
PLAYBACK RANKINGS:
3-way tie
THERE HAS TO BE A WINNER, RIGHT? WANT SOME WAFFLES WITH THAT?
If you've been following the category rankings thus far, it should come as no surprise that it is the Panasonic Lumix DMC-FZ18 that we're ready to call the king of the 18x superzooms. The much better control of lens distortion, the image quality at both low and high ISOs, better image stabilization results with both still and video image capture, quicker RAW+JPEG processing, a more advanced RAW software utility, faster long-period burst rate, quicker face detection, along with 16:9 video capture at 30 fps, and the Intelligent Auto mode offers a great set of features that neither of its competitors can quite measure up to. Combine this with a street price that is significantly lower than the Olympus SP-560UZ (with RAW) and just slightly higher than the Fujifilm Finepix S8000fd (sans RAW), and the Panasonic Lumix DMC-FZ18 is clearly the king of the 18x superzooms.
However, there is a lot to love about the Olympus SP-560UZ, as well, despite its shortcomings compared to the Panasonic. It's one of the only small cameras we've seen that will autobracket five shots for totally nuanced exposure control and HDR imaging. The big shot count, low-rez, hi-speed bursts have the potential for some really cool Web-based animations, flipbooks, and thumbnail printing, along with motion analysis for athletic trainers. And it offers RAW capture which, slow as it might be, has become a must-have function for many shooters. And let's not forget that the Olympus SP-560UZ can be outfitted with a fully-functioned underwater housing with on-board accessory strobe (triggered by the built-in) that allows for full camera control to depths of 133 feet. The whole aquatic kit and camera can be had for a fraction of the price of a housing for most DSLRs (street: approx. $750).
It's tougher to make a case for the price leader, the Fujifilm Finepix S8000fd. If you're shopping for an 18x superzoom on price alone, this one will obviously hold some appeal. However, in every category except for overall build and handfeel, it is outperformed by either the Panasonic Lumix DMC-FZ18, the Olympus SP-560UZ, or both. If RAW isn't important to you, and if you want very short, lo-rez, hi-speed bursts, the ruggedly built Fujifilm Finepix S8000fd may be enough superzoom for you. But we'd personally choose to spend either the extra $30 for shootout champion Panasonic Lumix DMC-FZ18 or the extra $110 to add RAW and longer hi-speed lo-rez bursts to the Olympus SP-560UZ, which, after all, employs virtually the same optics but adds a more robust feature set.
CERTIFIED TEST RESULTS:
• Panasonic Lumix DMC-FZ18
• Olympus SP-560UZ
• Fujifilm FinePix s8000fd