Rollei Prego
It's in there...well, most of it.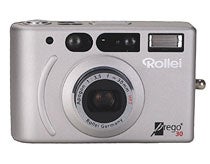 We may earn revenue from the products available on this page and participate in affiliate programs. Learn more ›
| | |
| --- | --- |
| | |
| Prego parts: Front of aluminum-bodied Prego 30 shows remote-control sensor (A), autofocus windows (B), meter port (C),viewfinder window (D), self-timer/anti-redeye LED (E), flashtube (F). Lens retracts completely flat into body. | |
Lens sharpness: Resolution was outstanding (best reading: 84 lines/mm) at the center and very good at the edge, at both wide-open and moderate apertures.
Flare: With just three lens elements, and Rollei's super-duper HFTcoating, the lens showed virtually no flare and no ghosts in severe backlighting. Rating: outstanding.
Light falloff: Just moderate falloff for this focal length. Rating:very good.
Distortion: Nearly undetectable barrel distortion.
Overall lens rating: Excellent.
Flash: Better than adequate at its rated distance on slide film. Some corner and edge flash falloff, but not bad for this focal length.
Noise: All operations were on the noisy side, including power-up and shutdown, which were particularly raspy-sounding.
Conclusion: Cool, sharp, and convenient. Please, please, keeping making it, Rollei!