Ricoh GX200: Camera Test
More of most everything in a favorite zoom compact.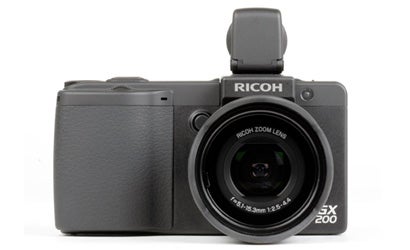 We may earn revenue from the products available on this page and participate in affiliate programs. Learn more ›
Ricoh has joined the megapixel race across its line of advanced compacts, and here's the upgrade of the GX series of wide zooms, the GX200 ($495, direct, camera only; $597 with VF-1 viewfinder). The new rig gets a boost to 12MP, up from the 10MP of its predecessor, the GX100, plus an assortment of tweaks and tuneups.
To recap the GX concept, it's a tough little magnesium-alloy camera housing a 24-72mm (full-frame equivalent) extrawide 3X zoom, sensor-based image stabilization, well-designed controls, and, to make up for the lack of an optical viewfinder, an optional accessory electronic viewfinder (EVF) that mounts in the hot shoe.
The GX200's LCD is a notch bigger at 2.7 inches, up from 2.5 inches of the GX100, but more important, noticeably finer-grained with twice the dots: 460,000 versus 230,000. The menus are clearer and better organized. The GX200 adds a second programmable single-function button, and adds a third My Mode position on the mode dial for custom camera settings. The sharp-eyed might notice that the video icon has disappeared from the mode dial, but video's in there — you'll find it as a selection under the scene modes.
Ricoh's new Smooth Imaging Engine III processor provides more shots in burst shooting and promises higher image quality. Ricoh also states that the lens, nominally the same as on the GX100, has been "enhanced" to match the higher capabilities of the sensor and processor.
On that issue, we can state that, yes, the GX200 has boosted image quality from the GX100, but it's rather a mixed bag. Resolution at low ISOs comes in at an average of 2200 lines, a sizable bump up from the tested 2075 lines of the GX100. Color accuracy also tested at Excellent. With the camera's noise reduction on (which we strongly recommend), the resolution dropped to 1950 lines at ISO 400, still Excellent. Resolution dropped off more steeply from there, to 1570 lines at ISO 1600, which just sneaks into the Extremely High ranking.
When it comes to noise, however, the devil's bargain that Ricoh (and other manufacturers of compact cameras) make going to more megapixels on small sensors becomes apparent. The noise numbers are not significantly better than the GX100's, and noise at ISO 800 and 1600 still fall into the Unacceptable range. The irony is that in overall image quality, the GX200 scores Excellent up to ISO 200, while the older camera made it into that ranking at ISO 400.
Our test results were based on evaluations of JPEGs rather than RAW-to-TIFF conversions. The GX200, like other Ricoh models, saves to Adobe DNG files rather than a proprietary format. We found that we got a very modest gain in resolution and slightly less noise at ISO 64 and 100 when we converted the RAWs to TIFFs in Adobe Raw Converter 5.1, with its noise reduction set to 50 (the midpoint). But at higher ISOs, the noise was worse than in the JPEGs, with no improvement in resolution, even with noise reduction cranked to 100. (What this shows is that Ricoh should develop its own RAW conversion software.)
Short answer: Keep the GX200 to ISO 400 or below and you'll get great pictures. The image stabilization helps here, providing up to two more stops handholdability in our tests using DxO Analyzer 3.0.1 — a very good performance for so short a lens.
In use, the GX200 has all the virtues of its predecessor, which are many. The camera is a very comfortable fit in the hand, and the two input controls — a scroll wheel in front, a toggle in back — make setting changes easy and fast, notably in manual exposure mode. The VF-1 viewfinder remains the same, which is to say grainy and jumpy, but it gives you a 100-percent accurate view, shows you an overlay of full information (if you want it), is easy to use in bright light, and can be tilted up to 90 degrees for low-angle or close-up shooting. One thing we'd like to see is an autoswitch from the LCD to the EVF.
The GX200 loses a feature of the GX100: the external phase-detection autofocus that worked in tandem with the contrast-detection AF for faster focusing speeds. We compared the AF of the new camera with the old one, in low light and low-contrast situations, and didn't find it any slower. Chalk one up to improvements in contrast-detection AF.
The megapixel boost also slowed down the burst rate, to just under 1.5 frames per second for Fine or Normal JPEGs, compared with 2.5 fps of the GX100. But unlike the older camera, which ran out of gas at just 5 frames, the GX200 just kept on firing, and firing, and firing . . . until the card was full. We were using a new 4GB SanDisk Extreme III 30 MB/s Edition SDHC card.
Lots of other useful and fun features: an electronic level for keeping horizons untilted, an interval timer for time-lapse sequences, and bracketing by exposure, white balance, even a "color bracket" — color, black-and-white, and sepia images.
And no new Ricoh model would be complete without the introduction of some sort of funky new accessory, so may we present . . . the automatic lens cap. Ricoh calls it the Self-Retaining Lens Cap LC-1 ($18, direct) and it consists of three flower-petal blades that are pushed open when the lens extends. Also new is an auxiliary tele lens, the TC-1 ($150, direct), which gives you a 135mm equivalent. The existing DW-6 wide-angle auxiliary lens ($140, direct) will also operate on the GX-200, giving you a 19mm equivalent.
There you have it: A camera we like a lot, that has easy and logical operation, with both advanced capabilities and fun built in. But we would have been happier with fewer megapixels if they came with less noise.
Lens: 24-72mm (full-frame equivalent) f/2.5-4.4 zoom.
Imaging: 12.1MP (effective) CCD captures 12MP images (4000×3000).
Storage: 54MB internal memory plus SD/SDHC/MMC card slot. Stores JPEGs or Adobe DNG RAW + JPEG.
Burst rate: 1.4 fps for highest-quality JPEGs to the capacity of the card (tested).
Video: 640×480 at 30 fps with mono sound.
AF system: TTL contrast detection reads 9 autoselect zones or single central spot; selected zone is highlighted on LCD or in EVF. AF zone can be manually placed anywhere on the screen, and can have spotmeter coupled to it. Single-shot AF. Cancelable AF-assist lamp.
Shutter speeds: 1/2000 sec to 3 min.
Metering: TTL 256-segment evaluative, centerweighted, and spotmetering. EV -2 to 18 (at ISO 100).
ISO range: 80, 100 to 1600 in 1-EV increments.
Flash: Built-in with TTL autoflash, GN 21 (ISO 100, feet), hot-shoe.
LCD: 2.7-inch TFT with 460,000-dot resolution.
Viewfinder: Optional shoe-mounted VF-1 electronic viewfinder ($166.95, direct, if bought separately) with 201,000-dot 0.2-inch LCD.
Output: Hi-Speed USB 2.0 and video.
Battery: Proprietary Li-ion rechargeable or 2 x AAA; 350 shots per charge (CIPA rating, 50% with flash).
Size/weight: 4.4×2.3×1.0 in.; 0.54 lb with card and battery.
Price: $495, camera only; $597 with VF-1 viewfinder. Distributed exclusively by Adorama (www.adorama.com).