Pop Photo Editors Predict What's Next for DSLRs
Speculation on what might be next for each major manufacturer.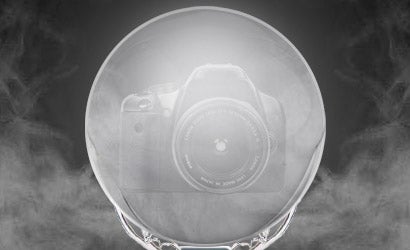 We may earn revenue from the products available on this page and participate in affiliate programs. Learn more ›
With no Non-Disclosure agreements signed, and no top-secret meetings scheduled with camera companies, four of Pop Photo's editors sat down to speculate about what the major players might be working on for the months ahead.
Senior Editors Dan Richards and Peter Kolonia, Online Editor Jack Howard, and Editor in Chief John Owens discuss possible improvements and upgrades for 2008 and 2009 DSLRS.
Their basic predictions are below, but if you want a camera-by-camera, feature-by-feature run down, click here for the full podcast with everything they had to say.
CANON
There have been rumors of an upgrade to the 5D (our 2005 Camera of the Year) , and our editors speculate its coming by the end of September. The possible Canon EOS 5D Mark II might bump up both the megapixels (to 16.6) and the ISO (as high as 3200 or even 6400), but it's likely the burst rate won't surpass 5fps. We predict Canon will keep the price under $3,000.
FUJIFILM
They have a niche with their dynamic range, but they are no longer the only player in this area. The S5 Pro was a great camera, but our editors are doubtful we'll see another DSLR from Fuji anytime soon.
NIKON
As Richards put it, "The D3 and D300 knocked us with a one-two punch." So we predict that rather than try to top those cameras, Nikon will likely upgrade the D80, bumping up the sensor to 12MP and adding Live View, and keeping the price down to under $1,300.
OLYMPUS
The trend we've noticed from Olympus recently is downsizing, which we predict they'll continue. Howard points out that many of the new DSLRs from Olympus are smaller even than other company's EVF cameras. Kolonia also predicts Olympus will continue to improve its in-camera IS.
PANASONIC
We predict that this is the year for Panasonic to come out with a new DSLR with its own body rather than borrowing from Olympus.
PENTAX
We have heard talk of a new pro level camera in the works. The next big offering from Pentax is likely to have improved noise levels and include a full-frame sensor from Samsung.
SAMSUNG
The company isn't likely to make its own DSLR, as its consumer market is more in the big-box and electronics stores. The company probably will continue working closely with Pentax. A full-frame sensor for a Pentax DSLR is likely in the works.
SONY
They have announced that a pro-level DSLR is coming and we think it's likely to be the Alpha1000. The new camera could feature a 22 or 23MP chip and be a pro-level full frame camera. A sensor that big could make it difficult to include the Image Stabilization that Sony is famous for, but could the sensor be so great that it wouldn't need IS?