PMA 2007: Trends
Peter Kolonia sees GPS systems, DIY photo books, face recognition and digital picture frames coming to a camera store near you.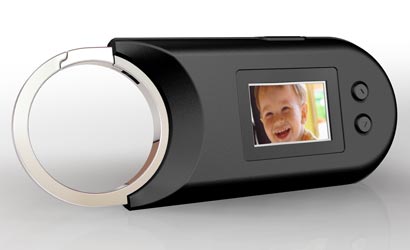 We may earn revenue from the products available on this page and participate in affiliate programs. Learn more ›
In no particular order, here are a handful of PMA's noteworthy product features, technologies, and trends for '07.
GPS
Samsung, Fuji, and JOBO have jumped onto the GPS bandwagon, each with different takes on how photographers can incorporate the technology into their lives.
Samsung digital compacts use a thumb-sized GPS receiver that retrieves GPS coordinates every time the shutter fires. Details of the system are sketchy, but it appears the camera sends out an infrared signal that triggers the nearby GPS receiver to seek the satellite signal. Later, the receiver is attached to the base of the camera, and by comparing time stamps (or the intervals between pictures), GPS coordinates flow into EXIF data fields of each shot.
It gets wilder: After the photos are downloaded to a web-connected computer, Samsung's software automatically retrieves Google Earth satellite photos corresponding to the GPS coordinates. The software then places stick-pin like icons on the Google Earth satellite photos, each a hotlink to a photo you've taken. Click on the icon, and the photo pops up on screen.
Jobo's system (described in some detail below) uses the GPS coordinates and a web-based database to funnel extensive location-related data (street address, ZIP code, nearby points of interest, etc.) into appropriate EXIF fields. This searchable and sortable information can be helpful in organizing pictures later, with little or no key stroking required.
FACE RECOGNITION
Among technological developments, face recognition has overtaken pixel count, image stabilization, low-light sensitivity, and 30 fps video as the hi-tech feature du jour. By locating faces within a scene and putting exposure and autofocus emphasis there, the technology promises that the faces in your pictures — if nothing else — will be sharp and well-exposed. The weird thing? It really seems to work.
HDTV-READY
A feature targeted at the point-and-shoot crowd, HDTV-ready lets you attach a camera to your HDTV and play back images at the highest resolution possible for the monitor.
DIGITAL PICTURE FRAMES
One of the hottest photo items of the last holiday season, digital picture frames seem to have legs, as upwards of a dozen booths were displaying samples in all shapes and sizes. Kodak, Digital Foci, Smartparts, and Westinghouse are major players, but perhaps the most interesting lineup came from Mustek of Irvine, CA, which showed the smallest digital picture frame: a keychain that stores up to 42 pictures to 4 MB of internal memory, and can put on a revolving slide show on its 96×64-pixel, cell phone-like OLED display. Mustek's most advanced model, the Ality PF-T 150 ($499), features a huge 4:3 15-inch active matrix touch screen, 512 MB of internal memory, an internal rechargeable battery for cordless operation, and it can be pivoted for either horizontal or vertical display. (mustek.com)
PENTAX POWER
Pentax, usually the wall flower of the camera industry, had a full dance card at this PMA with plenty of suitors praising…
• The jaw-dropping street price of its 6 MP K100D ($429, with rebate)
• Its sensor-based shake reduction system that brings this cutting edge image sharpening technology to Pentax's back catalog of 35mm AF and MF lenses going back to the 1950's. Over 24 million were produced.
• Its digital compacts which have all the right hot buttons: face recognition, touch-screen LCDs, 1-inch close focusing distances, water resistance (to 10 feet), and more.
• A clever new ad campaign
• Its new DA* line of professional quality digital-only lenses that support rumors of…
• A pro-caliber Pentax DSLR that's waiting in the wings.
DIY PHOTOBOOKS
Will hard- and soft-cover photo books soon replace the photo albums of yore? It could happen. Venders showed up in droves at the Las Vegas Convention Center with systems for do-it-yourself photo books, some made in the home, some produced by local photo stores, and others done over the Internet. The hope? Soon, every holiday, vacation, and family affair will have its own photo/memento book, complete with title pages, captions, front cover picture windows, drop shadows, and other sophisticated style and design elements. It's home-grown vanity publishing with prices starting at about $1 per page.
Click here to see Pete Kolonia's Selects, the most noteworthy new gadgets and gizmos from PMA 2007.