The Photographer's Guide to Media Servers
Sometimes merely storing your digital photos isn't enough. These four servers let you share your photos, videos, and music on a home network -- or even online.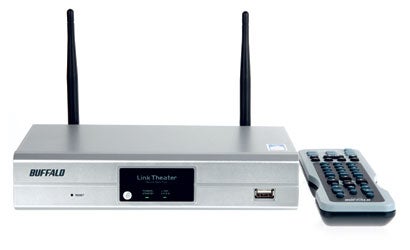 We may earn revenue from the products available on this page and participate in affiliate programs. Learn more ›
Do you have a backup plan? You should! With digital image and video files growing in size and number, it's crazy to expect your computer's hard drive to last forever. (Ask anyone who's had a hard drive fail.)
Backing up your files on an external hard drive is the least expensive solution. But who wants to spend time manually copying files from one drive to another? Instead, a new media server can automatically archive your treasured files and let you share them with any computer in your home or office network. Some even let you access those files from the internet; others can quickly stream files to electronic devices that are compatible with DLNA (Digital Living Network Alliance) standards.
Which one is right for your needs and budget? We've rounded up the latest to help you decide.
HEWLETT-PACKARD MEDIASMART SERVER EX475
The first media server to run Microsoft's Windows Home Server operating system, the HP MediaSmart Server may be the ideal choice for a PC-based home or small office network. The user-friendly Windows Home Server Control Console makes it simple to schedule backup routines for files located on multiple PCs (though not on Macs).
You can also share centralized media libraries and folders with PCs on the network, or e-mail a link to friends, family, and clients that allows them to securely view photos and videos from the internet. Unique capability? The MediaSmart Server gives an authorized user access and control from the internet of all of the PCs on the network. Powered by an AMD Sempron 1.8GHz 64-bit processor, it includes 512MB of built-in RAM. It can be set up as an Apple iTunes server or to stream media files to an HP MediaSmart TV, Microsoft Xbox 360, and networked home entertainment center.
The MediaSmart Server is available in single-drive 500GB ($600, estimated street) or dual-drive 1TB ($750, estimated street) storage configurations, with extra hard drive bays for future storage expansion. (www.hp.com)
BUFFALO TECHNOLOGY TERASTATION LIVE
Photographers who have a mix of different computers on their networks should check out the cross-platform TeraStation Live media server from Buffalo Technology. In addition to automatically backing up and sharing files on any computer operating system (Linux, Mac, or Windows) in the network, the latest version adds internet access.
Remote users simply log onto www.buffalonas.com, enter a user name, and instantly have access to all of their shared files. The TeraStation Live is a certified iTunes server, and its web access includes MP3 support so music can be played from any location at home or on the road. A certified DLNA server, it also lets compatible devices share songs and multimedia content. The TeraStation Live includes Memeo AutoBackup software, gigabit Ethernet, and two USB 2.0 ports. Several RAID configurations are supported. It's available in four storage capacities, starting at $695 (street) for 1TB and going up to $1,980 (street) for 4TB. (www.buffalotech.com)
MAXTOR SHARED STORAGE II
On a budget or don't really need remote access to all of your photos, music, and video from the internet? The Maxtor Shared Storage II packs lots of features and control for the price. It includes easy-to-use software for automating file backup on Macs and PCs, plus sharing media files with networked computers. All you have to do is drag documents onto the Shared Storage II icon, and the Drag and Sort function organizes your files into appropriate shared folders.
As a certified DLNA server, it can also seamlessly connect (even wirelessly, if the network includes a Wi-Fi router) and stream media files to DLNA-enabled electronics devices so you can watch archived movies and photos on your HDTV or listen to MP3s on your stereo. The gigabit Ethernet connection enables fast access, and two USB ports allow for easy storage expansion with external hard drives.
The Shared Storage II is available in a 1TB version ($430, street) with RAID 1 support. (www.maxtorsolutions.com)
WESTERN DIGITAL MY BOOK WORLD EDITION II
At 40 cents per gigabyte, the 2-terabyte edition of Western Digital's My Book World II media server ($800, street) competes in price with low-tech external hard drives. But it's a full-blown media server that includes EMC Retrospect Express backup software for scheduling backups of media files on Macs and PCs.
Neatest feature? The glowing blue ring on the front gives you a visual indication of remaining storage capacity.
While it's not a certified DLNA server, the My Book World II allows easy access to stored files from the internet, lets you listen to MP3s from another computer while on vacation, and lets you link your content to blogs, auctions, and social networking sites. You can even give clients, friends, and family direct links to photos and documents stored on the server.
The My Book World II includes RAID 1 support and is available in 1TB ($430, street), 1.5TB ($665, street), and 2TB ($800, street). (www.westerndigital.com)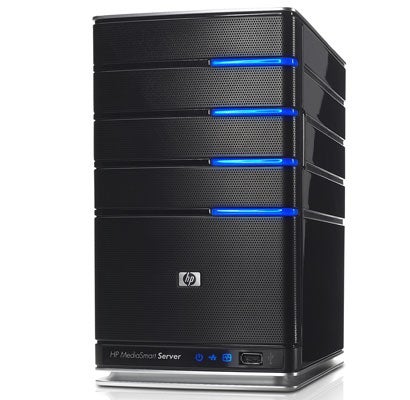 HEWLETT-PACKARD-MEDIASMART-SERVER-EX475
HEWLETT-PACKARD MEDIASMART SERVER EX475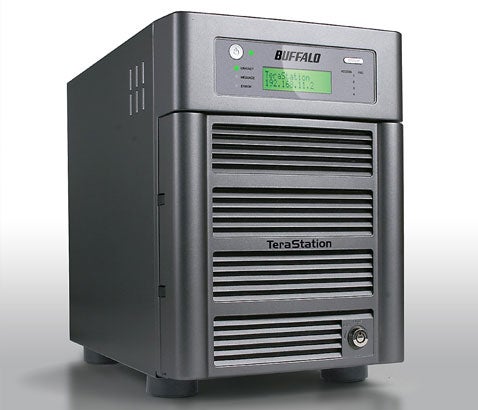 BUFFALO-Technology-TERASTATION-LIVE
BUFFALO Technology TERASTATION LIVE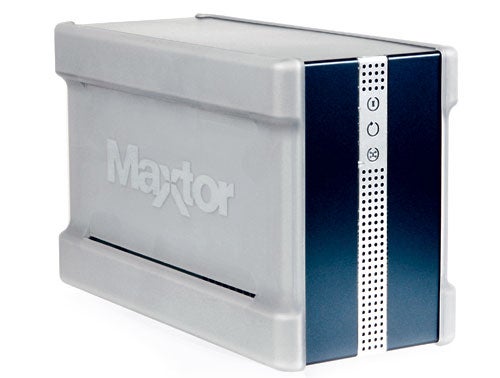 MAXTOR-SHARED-STORAGE-II
MAXTOR SHARED STORAGE II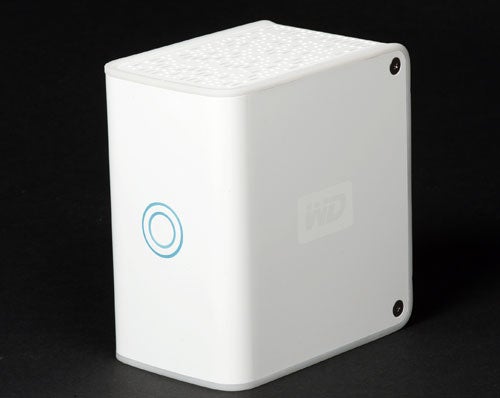 WESTERN-DIGITAL-MY-BOOK-WORLD-EDITION-II
WESTERN DIGITAL MY BOOK WORLD EDITION II