Pentax Takes Quantum Leap with New K10D
Pentax hits one out of the park with its newest DSLR.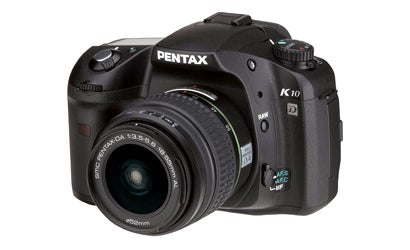 We may earn revenue from the products available on this page and participate in affiliate programs. Learn more ›
The features of the just-announced 10 megapixel Pentax K10D ($899 estimated street, body only) are sure to amaze Pentax lovers, and the photo world in general. Since abandoning the *ist nomenclature on its DLSRs, Pentax has slowly but surely built more features and functions into the K line of DSLRs around the 6 megapixel range, building a line of safe cameras at a nice pricepoint, but no one, not even us here at PopPhoto.com, were expecting such a monumental upgrade between the current K line and the new K10D.
Here's a list of what makes this camera so noteworthy.
– Let's start with the 10.1MP (3872×2592) sensor: OK, it's 10 megapixels, what else?
Well, how about a sensor-based stabilization system that rotates on three axes to (according to Pentax) provide up to four extra stops of image stabilization with any Pentax lens. Oh, and it also shakes itself clean at start-up, or when you ask it to.
|| |—| | > Pentax K10D Gallery****> Pentax Shake Reduction ** Technology Explained** > Podcast: Exclusive Interview ** with Pentax's Imaging Guru** ** about the K10D** | – Shoots RAW, JPEG, or RAW+JPEG, and saves RAW as either Pentax's PEF, or Adobe DNG.
– Bursts 3 Frames per second at Finest JPEG setting to SD card capacity.
-11-point AF.
– Metal chassis and gasketing provide strength and weatherproofing.
– 140 degree viewing angle on 2.5″ LCD.
– Pop-up flash can trigger TTL Pentax auxiliary flash heads such as the AF540FGZ.
– Sensitivity-Priority exposure modes let you switch ISOs using exposure input dials.
– 2 command dials for controlling exposure settings.
– Optional Vertical Grip D-BG2 (estimated $200, street) doubles CIPA rating to 1460 shots. Grip features the shutter release, power/depth of field preview switch, AE lock button, two control dials and green program button.
In a year where the challenge seems to be to make the best camera in the sub-$1,000 class, Pentax may have seriously raised the bar with the K10D. We're excited to get our hands on one, and we will post results of lab testing soon.