Panasonic Lumix DMC-LX3: New trix for Lumix
Panasonic Lumix DMC-LX3 promises league-leading image quality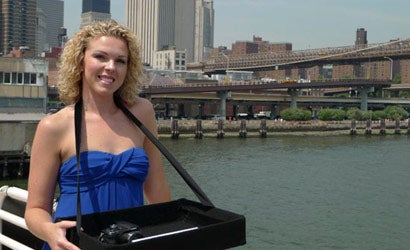 We may earn revenue from the products available on this page and participate in affiliate programs. Learn more ›
Panasonic officials made the very bold boast that the new 10.1 megapixel Lumix DMC-LX3 will produce "the highest image quality in compact digital camera history."
We had seen prototypes of this new camera, the successor to the LX2, in Japan, and the Panasonic people made a strong case for that claim. For starters, the company resisted the temptation to up the megapixel ante, opting to go with a 10.1MP CCD rather than a 12MP or 14MP sensor. While virtually the same physical size as the LX2's sensor at 1/1.63 inch, the new CCD has larger diameter photodiodes-essentially, bigger light buckets-to increase sensitivity and lower noise. The circuitry and peripheral components have been redesigned to minimize noise, and the LX3 has the new Venus IV processing engine that promises better signal-to-noise ratio and increased dynamic range. The camera will go to ISO 3200, and to ISO 6400 with a stepdown to 3MP capture.
On the optical front, the LX3 has a new 24-60mm f/2-2.8 Leica DC Vario-Summicron, a sophisticated 8-element/6-group design with four aspheric elements. The design is claimed to minimize distortion and chromatic aberration. As per longstanding Panasonic tradition, the lens is equipped with Mega Optical Image Stabilization, with a new wrinkle: an auto setting will switch between Mode 1 (always stabilizing) and Mode 2 (engaging only at shutter release) to optimize blur reduction.
The LX3 will allow full manual exposure control as well as manual focusing, engaged by a switch on the side of the lens barrel. But for those who want to just point and shoot, the camera has the latest refinement of Intelligent Auto (iA), combining six detection systems to make essentially all decisions except what subject to photograph. Motion detection bumps up ISO as needed; shake detection triggers the Mega O.I.S. as needed; and scene detection decides which of five scene modes to set. Light detection analyzes 3,000 zones in the frame and custom tunes the exposure accordingly. An improved face detection can follow a face when it turns to profile, and subject detection can lock on a subject to track it both across the frame as well as toward/away from the camera.
The LCD has been upgraded to a 3-incher with much higher resolution-460,000 dot versus the 207,000 dots of the LX2. A hot shoe will allow the attachment of a dedicated accessory flash. White balance can be set in Kelvin color temperature. The camera can make multiple exposures, and the new Film Mode lets you choose among six different color and three different monochrome looks. You can even bracket film looks with Multi-film Mode, which simultaneously captures three different profiles! For horizon-challenged shooters, the LX3 has Image Leveling, which will rotate an image to fix a non-level horizon and crop the skewed edges.
The LX3 also has Panasonic's signature Multi Aspect mode, which records images in 4:3, 3:2, and 16:9 simultaneously. It can record HD video in 1280x720p at 24fps, and can output both stills and video to HDTVs via an optional component cable.
Accessories for the camera include an auxiliary wide-angle converter lens for an equivalent 19mm focal length, and filters. Street shooters will appreciate the shoe-mount optical viewfinder that shows the frame at 24mm..
It remains to be seen how this new camera will stack up against enthusiast-class compacts from Canon, Nikon, Ricoh, and Sigma. We'll report on its performance as soon as we get a testable camera.
The LX3 will come in silver or black at a projected street price of $500. It should be in stores in August.