Olympus E-1: Digital SLR with an edge
Will the Olympus E-1's all-digital design set a new standard?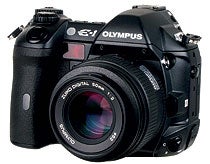 We may earn revenue from the products available on this page and participate in affiliate programs. Learn more ›
According to the voice from Mount Olympus, there are two kinds of interchangeable-lens digital SLRs. The most prevalent type mates digital camera bodies with lenses originally designed for 35mm or medium-format film SLRs. But compromises in performance arise, such as light falloff around the edges and other nasty problems. The other type uses new lenses perfectly matched for the smaller size and mechanics of digital sensors, and thus avoids image-quality pitfalls. This group has a single member, the Olympus E-1 ($2,199 list for body only, $599 list for a 50mm f/2.0 Zuiko Digital macro lens with a 100mm field of view-street prices unavailable at press time).
Why did Olympus choose this path and risk alienating its faithful 35mm SLR owners looking for a more affordable way to go digital? Olympus claims that by optimizing the relationship between the lens and the smaller, flatter CCD sensor (relative to 35mm film), the "pro-level" E-1 will deliver powerful advantages in terms of image quality, low-light performance, durability, speed, and camera and lens size. Olympus has joined with Kodak, the manufacturer of the E-1's CCD sensor, in an effort to create a new camera-and-lens standard called the Four Thirds System (see side bar on page 62). Kodak claims that its 5.5MP Super Latitude Full Frame Transfer CCD (which captures 5MP, or 2560×1920 pixels of resolution) has the highest dynamic range, lowest noise level, and best color of any imager in its class. Olympus says that the "pure-digital" nature of the E-1 helps it capture details on par with higher megapixel sensors. The company also claims that the camera's rugged construction, fast AF system, accurate metering, and other features earn it a "pro" designation. But there are more affordable, lighter SLRs with more megapixels these days, so is the E-1 really worth the premium? That's what we had to find out.
| | |
| --- | --- |
| What's HOT and what's NOT | |
| HOT: • Rugged magnesium-alloy body with splash-proof seals • Up to 12 frames at 3 fps • True wide-angle lenses • Extremely accurate metering and viewfinder • Extensive image quality controls, programmable buttons, and playback histogram | NOT: • Missing pop-up flash • AF bottoms out at 2 EV • Short-life Li-ion battery • Low viewfinder mag. • Expensive lens system |
At first glance, the E-1's black body seems to share a great deal with the older Olympus Camedia E-20n, a 5MP ZLR with a fixed 4X optical zoom now selling for about $1,250. But the E-1 is built with a more durable magnesium-alloy body, and has splash-proof seals on both the body and lenses. So this camera should be able to handle its share of abuse, and while it's heavier than the older E-20n, we found it balances nicely with the 14-54mm f/2.8-3.5 lens, one of four initially introduced with the camera. Most buttons were also easy to find, but scattered around the camera as on the E-20n. The locking-mode button situated on the camera's top right sets shutter, aperture, program, and manual modes. The other half of the dial is empty, almost begging to be used for quick access to other controls and presets. However, to the E-1's credit, several control buttons are programmable, and the manual-focus ring can be set to work in either clockwise or counterclockwise direction, depending on your habits. A button on top sets redeye reduction, slow sync, rear-curtain sync, and an optional external flash to auto, but the E-1 is conspicuously missing a pop-up flash like the one on the E-20n and most other digital SLRs in its price class. That may be in keeping with its "pro" designation, but being forced to add an external flash (such as the Olympus FL-50, $499 list) boosts the already high price of this camera system. On the other hand, the E-1 features a regular 1/180-sec flash sync, higher-speed sync with the FL-50, and has a PC flash-sync connector for studio and third-party flash units.
There are several other features that make this camera more valuable to both pros and photo enthusiasts. The neatest of these is the unique Supersonic Wave Filter that shakes dust off the CCD sensor every time you turn the camera on. For digital cameras, even small amounts of dust on the sensor cause black spotting similar to dead pixels (which may also occur as the sensor ages). The Wave Filter rids the sensor of most dust, while a CCD mapping function helps reduce black spotting from dead pixels.
On the performance end, the E-1 has a fast burst mode of up to 12 images at three frames per second in all formats, including RAW. It also features metered shutter speeds ranging from 60 sec to 1/4000 sec. But if you turn on the camera's noise filter (for removing random noise, especially at a higher ISO) the burst rate slows due to in-camera processing. The same happens if you turn on the camera's Shading Compensation, described in the manual as a method of increasing the brightness at the dark edges of the image. We were baffled by that setting, since one of the biggest claims for the E-1's totally digital design is the lack of dark zones at the edges. Go figure.
After being frustrated by the sluggish low-light focusing system on the older E-20n and E-10 models, we were impressed by the E-1's improved AF system. Based on a TTL phase-difference detection system, the E-1 features three AF zones, with a cross-type central zone and two vertical sensors on either side. When all three are activated, the camera chooses the best AF zone and can track a moving subject. AF sensitivity bottoms out at EV 2, not EV 0 as stated in the camera manual (see test results, right). But low-light AF can be achieved with the help of the built-in focus-assist light or one on an external flash unit.
| | |
| --- | --- |
| Certified Lab Test Results: Olympus E-1 Digital SLR | |
| Resolution: Extremely high (V1360xH1400HxD1430 lines) Color accuracy: Extremely high (Avg. Delta E: 8.38; best 90%: 6.91; worst 10%: 21.26) Highlight/shadow detail: High Contrast: Normal, and adjustable high to low Noise: Low at ISO 100, moderately low at ISO 400, and unacceptable at ISO 800 Image quality: Extremely high at ISO 100 AF speed: In bright light levels of EV 7 to 12, the E-1 is slightly slower than the Nikon D100 and Canon EOS 10D, ranging from 0.48-0.75 sec. In moderately low light (EV 3 to 6), the E-1 maintains a fast 0.85-0.95 sec AF speed, similar to the D100 and Fujifilm S2 Pro, but slower than the EOS 10D. In low light (EV 2), the E-1 was as fast as the EOS 10D at about 1 sec. However, the E-1 isn't able to autofocus below EV 2. | Viewfinder: The E-1's focusing screen is very bright and contrasty. The screen image shows 98 percent of the picture area, a great performance with no parallax error, superior to other SLRs in this class. However, the viewfinder magnification was among the lowest of the DSLRs we've tested. In our AF-sensitivity diagram, shaded areas inside the marked AF zones represent the actual sensitivity. The center cross shows slightly off-center horizontal and vertical sensitivity, while the two side zones have narrow vertical sensors smaller than marked. |
For added control, the E-1's programmable shutter and AEL/AFL buttons can be set to a variety of modes. And the AF system can be set to AF with manual-assist mode, which allows you to fine-tune the focus using the manual-focus ring. The metering system works better than most we've tested. In fact, our lab tests revealed a remarkably centered two-percent spot sensitivity and a tight, well-formed centerweighted pattern. In our field tests, the camera's Electro-Selective Pattern (ESP) metering mode also faired well.
Test results on the camera's viewfinder are a mixed bag. On the one hand, there's incredibly high (98 percent) viewfinder accuracy, so what you see is what you get. And it's relatively bright, with a diopter control and light shutter. On the other hand, viewfinder magnification is lower than on the E-20n and most other SLRs, which causes a mild "tunnel-vision" effect. Since the CCD on the E-1 is twice the size of the one found on the E-20n, and Olympus optimized the lenses for the sensor, we were expecting higher viewfinder magnification, not lower.
In playback mode, the brightness of the 1.8-inch color LCD can be adjusted, and image information can be quickly changed from exposure and metering info to a histogram display. You can also set the camera to slideshow playback, select images for DPOF printing, or manually rotate images shot vertically. (But we miss the E-20n's swiveling LCD, which allowed you to compose from waist-level or while holding the camera overhead.) Images can be rapidly downloaded to a computer via the camera's USB or high-speed FireWire (IEEE1394) connector. The camera ships with a trial version of a program that lets you control the camera from the computer, as well as RAW conversion software.
The E-1 uses a rechargeable lithium ion battery, but it only provides enough power for about 150 shots. For extended shooting, the optional BLL-1 battery pack ($399) holds two batteries and adds a vertical shutter release.
One plus one equals Four Thirds
For years, Olympus has been the leading voice of damnation against the failings of older lenses paired with digital SLRs, a problem that apparently stems from the distinct ways that film and digital sensors capture light. In film, silver-halide grains located in multiple emulsion layers are sensitive to light coming in at all angles. This gives film an increased sensitivity to light focused at different depths of the emulsion, a common occurrence with spherical lenses. However, light-sensitive CCD pixels sit along a perfectly flat plane, in the bottom of a well, and are most receptive to light focused on the micro lenses covering each pixel.
According to Olympus, light from the edges of a wide-angle spherical lens set to a bright-aperture setting (f/1.8-4.0) may not focus precisely on the perfectly flat CCD. This can lead to measurably lower resolution, contrast, and color accuracy around the edges and corners of an image.
How to overcome this problem? We've found that setting a lens to f/5.6 or higher can dramatically reduce the edge effects on a digital SLR by increasing depth of field at the sensor. But it's not always possible, or desirable, to set the aperture higher, which is why Olympus decided to design the new Four Thirds system with the help of its imaging-sensor partner, Kodak. The name Four Thirds is derived from the 4:3 aspect ratio of the image sensor in the camera. (By this method, 35mm film could be called the Two Thirds system because of its 2:3 aspect ratio.)
Kodak's advanced 5.5MP, Full Frame Transfer CCD (measuring 17.3x13mm) was chosen because of its 4:3 aspect ratio, its high resolution, color accuracy, and low noise. (Its narrower horizontal field of view, relative to the vertical axis also helps reduce edge effects.) Then Olympus optimized the design of their new Zuiko Digital lenses for this flat CCD using aspherical elements and high-quality ED glass. According to Olympus, true wide-angle lenses such as the Zuiko Digital 14-55mm f/2.8-3.5 (equivalent to a 28-108mm lens on a 35mm camera) have less distortion, reduced light falloff, and more accurate colors around the edges at wide apertures.
| | |
| --- | --- |
| Olympus E-1 vs. its competitors | |
| Canon EOS 10D ($1,500 street, body only) Lower cost camera features a higher resolution 6.3MP CMOS sensor, magnesium-alloy panels in body. Extensive lens system includes stabilized zooms and fisheye (all at 1.6X 35mm lens factor). Seven AF-zone system is faster, and images are captured at a 2:3 aspect ratio similar to 35mm film. Pop-up flash, software bundle, and longer-life rechargeable battery are a plus, but camera is missing a true spotmeter, and some wide-angle lenses exhibit light falloff at edges when set to wide apertures. | Nikon D100 ($1,700 street, body only) This 6MP DSLR accepts a wide variety of Nikkor lenses (with a 1.5X magnification factor) plus several wide- angle and tele Digital Nikkor lenses with edge-to-edge sharpness. It also features 28 custom functions, sophisticated metering options, a pop-up flash, a faster AF system, and a bright AF-assist light. However, the D100 has a less rugged polycarbonate body and can only capture up to 6 hi-res JPEG images at 3 fps. RAW bursts are slower, and RAW conversion software is optional. |
Take control of image quality
Olympus was certainly aiming at pros when designing the E-1's image-quality menus. These include advanced settings for image format, color space, sharpness, color saturation, contrast, and white balance. Image formats include RAW, TIFF, and JPEG (with a variety of JPEG compression settings), as well as a RAW plus JPEG mode. The camera lets you edit RAW image files and resave them with new parameters, such as white balance or sharpness. As for color management, there's the choice of sRGB or Adobe RGB 1998 color spaces, as well as nine color-saturation settings. The E-1's white balance controls can be set to auto or any of 12 color temperature settings from 3000-7500K, (and you can then fine-tune each preset).
As for image quality, there's very good news and a tiny bit of bad news. The good news is that the camera captures images with extremely high color accuracy and resolution. And, as promised, images shot at wide angle, using the 14-54mm Zuiko lens at a wide-open aperture, f/2.8, showed no measurable resolution falloff in the corners. Impressive! Contrast was also normal and adjustable, and JPEG artifacts were minimal at the highest-quality settings. Unfortunately, we weren't able to test the camera's RAW image quality, since the software was still under development. And the camera's resolution rating did not equal that of a 6MP SLR, but landed at the high end of 5MP cameras we've tested.
When shooting in low light, you can set the ISO from 100-800 in normal ISO mode, or up to 3200 in ISO-boost mode. With JPEGs shot at ISO 100, the E-1 produces images with low noise levels-nothing to crow about. As with other cameras, noise increases with ISO. At ISO 400, noise was moderate; at 800, unacceptable.
Sum of the parts
The bottom line on the E-1 is that it features many pro qualities, including a rugged construction, accurate metering system, and high burst mode. Pros will also love its edge-to-edge sharpness with all types of lenses, fast FireWire connectivity, and the plethora of image-quality controls. But battery life is limited, and the AF system isn't in the same class as those found on pro competitors such as Nikon's D2h or D1x, or the Canon EOS-1D. The E-1 is therefore more of a challenger to the Nikon D100, Canon EOS 10D, and Fujifilm S2 Pro. Now, if only it had a pop-up flash and the camera system was priced accordingly.
For more info: www.olympusamerica.com; 888-553-4448
>> HOT DEALS!
Compare Prices