Nikon Versus Canon: The Competition for the Pro DSLR Market Is Heating Up
With Nikon and Canon both launching new mid-range and pro DSLRs, competition for the high-end market is getting fierce. Does Nikon's foray into full-frame level the playing field?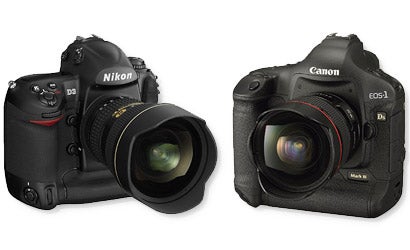 We may earn revenue from the products available on this page and participate in affiliate programs. Learn more ›
To say that this week has been one of the most exciting and amazing in terms of new camera announcements in a long time isn't just the headline du jour to be repeated next quarter for some incremental upgrades to existing models. Truly, Monday's news from Canon, and Thursday's news from Nikon are monumental and change the professional photography landscape in serious ways.
As an aside, it's considered wise in web style to get right to the point — don't prattle on for a couple thousand words building a case and then supporting your thesis with your closing paragraphs. Get it all right up front — on the first page, above the fold.
So here we go: Nikon versus Canon. The DSLR camera announcements from Nikon and Canon this week take the camera wars to a whole new level. Ground was broken. Earth was shattered. And more message board postings than you can count were posted touting this camera or that — wondering about the feature set, an omission or inclusion, and lots that are just gloating among zealously brand-loyal users.
We love lists, we love rankings, we love quick, punchy qualitative data. So who's the winner? Nikon with its first foray into the full-frame arena, the 12.1 megapixel D3, or Canon's EOS 1Ds Mark III, the first full-frame 35mm DSLR to pack more than 20 megapixels?
Well, Nikonians and Canonistas will argue this ad infinitum on message boards — but the real winner in the Nikon versus Canon battle is you, the photographer. Competition breeds innovation, and both Canon and Nikon have some catching up to do with each other right now, if that makes any sense.
In some very real ways, Nikon, with the D3, is a clear-cut winner — especially for ultra-loyal, long-suffering Nikon shooters who have been waiting and waiting a la Godot for the fabled, rumored, full-frame pro Nikon DSLR with every product cycle and Photo Show, ever since Canon introduced the 1Ds and the 5D a web lifetime ago.
We love competition and head-to-heads, don't we? So which Canon does the D3 compete with? Is it the speed demon 10 megapixel Canon EOS 1D Mark III, announced earlier this year, or is it the 21-megapixel 1Ds Mark III? The answer is both, mostly.
What about the EOS 5D, Canon's other full-frame DSLR? It's also got 12 megapixels, but is slower than either of the Mark IIIs. But keep in mind, this camera is an elder statesman amongst the EOS lineup — old enough to have been Pop's Camera of the Year in 2005!
Or do we compare the cameras based on price? In that case, the D3 competes most directly with the 1D Mark III — the D3 packs two more megpixels, doesn't have a 1.3x factor, and is almost as quick in frame rate with full AF as its EOS pricepoint counterpart. Yes, on paper it appears Nikon's got the edge here — but how those extra megapixels and bigger sensor stack up in terms of image quality will have to wait for our full lab test.
Live view mode? All the new cameras, including the "prosumer" D300 and 40D, ship with some variation on a live view on either the LCD or a computer monitor, and we are excited about the possibilities live preview opens up for the creative photographer — regardless of platform.
What about the D300 versus the 40D? Who's the winner there? Well, we'll leave it to the reader to compare the feature sets and come to their own conclusions, but on paper, the D300 has a definite edge — unless you consider price. The 40D is a heck of a lot of a light-duty pro camera for just a bit more than a grand. Meanwhile, the D300 is a heck of a lot of a light-duty pro camera for just a bit under two grand.
Let's look first at the 1Ds Mark III: who is its competition? The full frame D3? Maybe.
But the 1Ds Mark III packs a heck of a lot more pixels into its full frame. How many more? A Rebel XT's plus a couple of cheap cellphone cam's worth, that's how many more megapixels!
Sure, the 1Ds Mark III is a bit more "sluggish" (if we can really call 5fps RAW "sluggish" these days) than the D3, but it will definitely have much greater resolution than any DSLR we've seen before — nearing medium-format digital back performance for a fraction of the price, with burst and processing rates that are meteoric in this rarified class of commercial and high-end editorial cameras. And throw in the added bonus of SLR handling and a deep stock of pro-caliber lenses and the 1Ds Mark III is a very viable alternative to the Sinar and Hasselblad behemoths for the luxe class shooter.
It's not a simple matter to declare one brand or the other the winner — the war is still on. But if we must put a win in each column, Canon wins big with the first 20+ megapixel SLR. And Nikon's 920,000-dot (* see Editor's Note below) 3-inch LCD sets a new standard for on-camera image quality, and no other camera line in market comes close to this — it is that awesome, based on our first impressions.
But the real winner is us, the photographers. Competition begets innovation, and both Canon and Nikon have pulled some rabbits out of their hats this week. And the result is better tools all around to help photographers create and capture their vision. And these innovations will trickle down to more economical models soon enough, so it's a win all around.
We will be field testing and lab testing these cameras as soon as we can — stay tuned to PopPhoto.com for our full lab tests of each of these exciting new DSLRs.
It wasn't just DSLRs being announced this week. Click here to see a slideshow of lenses, compacts, printers and more!
What's your opinion on the camera news from two of the biggest players in the DSLR game — talk about it in our forums!
* Editor's Note: About those dots and pixels.
There has been some confusion about the LCD resolution on Nikon's new D3 and D300 DSLRs. Nikon states that the LCDs feature "an ultra-high definition, 920,000-dot VGA LCD screen." The important distinction that needs to be made is that Nikon's new LCDs for these cameras feature a different type of filter array than traditionally used in digital still cameras (DSC). Nikon's Steve Heiner offers the following clarification:
The terms "pixels" and "dots" seem to be interchangeably used throughout the industry depending on the source or manufacturer.
Difference between our new LCD and current LCD is the pixel number and filter array used.
New LCD for D3/D300 has 640x480x3 (RGB Stripe array filter) = 921,600 dots. Rounded to 920,000 dots.
Our current LCD (D2Xs) has 960×240 (Delta array filter) = 230,400 pixels. (Not 320x240x3)
Stripe filter array LCD is more expensive but suits display geometrical data better (character, CG, line).
Almost all DSC use Delta array LCD because of lower cost.