Nikon SB-900 Speedlight
Nikon's new top-of-the-line strobe packs a killer feature set.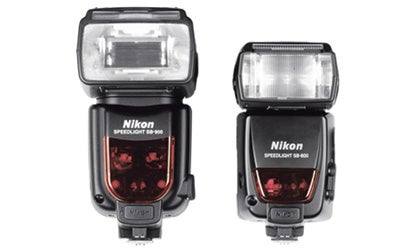 We may earn revenue from the products available on this page and participate in affiliate programs. Learn more ›
The first impression almost all Nikon shooters form on meeting the new line-topping SB-900 Speedlight ($470, street) is: It's big! Scaled to look at home atop the beefy Nikon D3, the SB-900 is about 20 percent larger than the Speedlight it replaces, the SB-800.
In several weeks of shooting with the SB-900, we found its added bulk easily manageable. More important, its revised controls and overall handling are great improvements over the SB-800. The head now swivels 180 degrees in each direction for easier bouncing. The larger LCD panel displays far more info (some might say too much). The new central Selector dial is much sleeker and easier to operate than the relatively clunky and toy-like rocker switch on the SB-800. And now there are eight controls on the flash body (up from five), creating swifter operation and less reliance on buried menus, especially when going wireless.
Depending on how you use your shoe-mount flash, other SB-900 features may also be attractive. They include:
• Photography's first dual-format flash capability, for use on DSLRs with either full-frame or smaller sensors. It automatically expands or narrows light throw, depending on whether you're using an FX (full-frame) or DX lens.
• Much wider auto-zoom range. Anyone who shoots with Nikon's 18-200mm VR DX superzoom, for example, will appreciate this flash's 17-200mm range (up from a limiting 24-105mm).
• Faster recycle times. The difference may not seem huge (4 sec, down from 6 sec, when using four AA alkaline cells), but that's a 35 percent improvement, and you feel the new responsiveness.
• Firmware updating. Now your flash will be compatible with future Nikon flash autoexposure systems. This gives Nikon engineers more freedom in creating those systems, because their designs won't be locked into a hardwired 2008-era flash circuitry.
• Multiple flash patterns. Many of us darken the corners in our images in postprocessing to draw attention to a central subject. The SB-900 produces this look automatically with a Centerweighted flash pattern that puts more light in the middle of the frame than around the edges. Conversely, its new Even flash pattern eliminates edge falloff — nice for group portraits. You used to achieve these effects manually by zooming the flash head — now they're automatic.
• A clever system of accessory filters that balance the SB-900's output to ambient color temperatures. In another first, the flash automatically tells newer Nikon DSLRs (the D3, D700, and D90) which white balance to set, depending on what filter you mount on the flash.
Three kinds of photographers will benefit from the SB-900. Heavy flash users will like Nikon's fixes to the SB-800's flaws, including a new thermal cutoff that prevents overheating meltdowns. Those using both DX- and FX-series lenses will like the instant switching between the two light patterns. And D3 owners concerned about impressions will want it — the SB-900 just looks right on the D3.
But if you aren't one of these, grab an SB-800. At press time they were going for just $300 — fire-sale prices!