Nikon Kicks it up a Notch with the D2xs
Too Much Ain't Enough!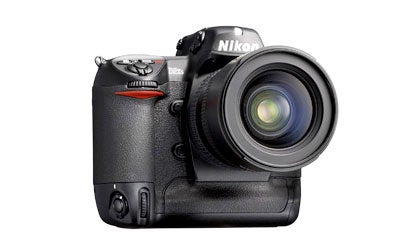 The philosophy around Nikon these days seems to be verging on "Too much ain't enough!" The latest example is the D2xs ($4,699 estimated street, body only), the upgraded replacement for the already tough-enough 12.4MP D2x.
The new camera packs improvements to its High-Speed Cropped Image mode, greater burst capacity, an easier viewing LCD screen, a higher-capacity battery, and several more tweaks to controls and connectivity.
The High-Speed Cropped Image Mode has, according to Nikon, proven popular among pros for its ability to gobble 8 frames per second at a very respectable 6.8-megapixel resolution by cropping into the image during capture (resulting in a 2X 35mm lens factor). The viewfinder indication of the cropped image on the D2x, though, is a dotted frame line permanently etched on the viewfinder screen. The new D2xs substitutes a translucent LCD mask overlay that darkens the cropped-out portion of the viewfinder frame only when the cropped mode is in use. In addition, Nikon has optimized the Matrix and centerweighted meter patterns and the i-TTL flashmetering pattern for the cropped area when it's in use.
Here's a rundown of other changes:The autofocus module has been updated to perform faster and with greater precision.
A new Li-ion battery, the 2500 mAh EN-EL4a, replaces the 1900 mAh EN-EL4 battery used in the D2x. The new battery boosts CIPA battery life rating from 2,600 shots to 3,800 shots, and will be backward-compatible with any Nikon using the older EN-EL4.
The rear LCD monitor, though remaining 2.5 inches, is now the newer screen used on the Nikon D200, with its wider (170-degree) viewing angle.
The image buffer has been increased; the maximum number of highest-quality JPEGs that can be captured in a continuous burst from 35 to 60.
Encrypted image authentication data can be stored with image files using any type of compatible card.
Recorded images can be downsized in camera for easier e-mailing or transmission.
ISO settings above 800 can be set in 1/3-EV increments.
A black-and-white image capture mode has been added.
The autofocusing lock-on (which holds the focus within an AF area if distance changes markedly) can now be adjusted to hold for varying intervals of time, rather than be just on or off as on the D2x.
The D2xs can upload three custom image tone curves rather than just one.
The new camera maintains the exact look and feel of the previous model and is unchanged in size or weight. And the upgrade hits the streets with a price that's $300 less than the original D2x at the time of its introduction. The Nikon D2xs is expected to be available beginning in late June or early July.