Nikon D70 Digital SLR: War Is Declared!
At $999, Nikon returns fire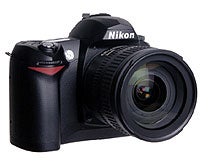 We may earn revenue from the products available on this page and participate in affiliate programs. Learn more ›
The Nikon D70 Digital SLR Hands On review and the D70 Test Results will appear respectively in the May, 2004 and June, 2004 issues of Popular Photography & Imaging Magazine. Because of the importance of this digital camera and the demand for our accurate and thorough test report, both articles are being posted here at the same time the D70 Digital SLR Hands On review appears on the newsstand and is mailed to subscribers.
Go directly to Test Results
For the past six months, Canon has dominated the digital SLR market with its popular 6.3MP EOS Digital Rebel ($899 street price, body only). And for good reason! It was the only DSLR in its price range and it takes great pictures. There are even rumors that some Nikon 35mm SLR owners, tempted by the low price and availability of the Digital Rebel, actually switched sides when they made the digital jump. (You know who you are!) But for unswerving Nikon loyalists, and others looking for more bang for the buck than the Digital Rebel offers, Nikon's new 6MP D70 ($999, body only) may have been worth the wait.
Nikon claims that this sleek, well-balanced camera offers more features, performance, and value than any other camera in its category-namely, the Digital Rebel. And while Nikon also claims that the D70 won't replace the more expensive Nikon D100, we're predicting that it will, once the word gets out on its improved performance, overall feature set, and lower price. But is this digital SLR a better deal than the EOS Digital Rebel or the Nikon D100? Let's find out.
Rebel rouser
We wrestled one of the first fully functioning D70s out of Nikon's hands long enough for a hands-on review of its features and capabilities. However, the camera's firmware was not finalized and we couldn't perform a full lab test. The complete Pop Photo Lab test results on a production version-including resolution, color accuracy, image quality, contrast, noise, AF speed, and metering performance-are available online at www.Pop-Photo.com > War Baby: Born for battle, it enters the fight.
Our first impression is that this camera is far more than a "light" version of the D100, as many have nicknamed Canon's EOS Digital Rebel when compared to the more expensive EOS 10D. On the one hand, the D70's durable body construction is similar to the D100 and Digital Rebel, with a stainless-steel chassis surrounded by a polycarbonate body, and a stainless-steel lensmount. It's smaller and easier to grip than the D100, and, at 1.3 pounds, the D70 body weighs about the same as the Digital Rebel. But with a lens attached, the D70 feels more solid and well-balanced.
On the imaging side, the D70's newly designed 6.2MP CCD image sensor captures 6.0MP (effective resolution of 3008×2000 pixels), which is the same as the D100 and just shy of the Digital Rebel's 6.3MP. The roughly APS-size sensor gives the D70 the same 1.5X 35mm lens factor found on all current Nikon digital SLRs. Nikon claims that individual microlenses covering each pixel improve the camera's dynamic range and compatibility with AF and DX Nikkor lenses. And speaking of lenses, Nikon also offers a D70 Outfit ($1,299) that includes its new 18-70mm f/3.5-4.5G AF-S DX Nikkor lens. Although this lens costs $200 more than the 18-55mm f/3.5-5.6 EF-S Canon that's included in the EOS Digital Rebel kit for $999, it has a slightly wider field of view at 18mm (equivalent to a 27mm lens on a 35mm SLR), a greater maximum focal length of 70mm, and improved low-light performance with its maximum f/4.5 aperture at full tele. But it's heavier (13.5 ounces compared to the Canon's 6.5 ounces), and it can only close-focus to 38mm compared to 28mm. (That's still less than 1.5 inches from the lens!)
Storage speed has greatly improved over the D100, thanks to a new Large Scale Integrated Circuit (LSI) processor. Nikon says this LSI also improves color accuracy and white balance while reducing noise. In combination with its new Dynamic Buffer, the D70 can continuously capture up to 144 normal-large JPEGs at a blazing 3 fps. But we think a better benchmark is its ability to capture up to 14 images at 3 fps in fine-large JPEG mode, compared to four images at 2.5 fps for the Digital Rebel. And RAW fans can also capture up to four RAW+JPEG Basic images at 3 fps, while the Digital Rebel can capture RAW or JPEG, but not both simultaneously. RAW files can also be saved in compressed or uncompressed NEF formats at about the same burst rate. There's a RAW converter in the included software, and advanced conversion with Nikon's optional Capture 4.1 software ($99).
As usual, storage speed depends on the type and speed of the memory card, and we got these results using a Sandisk 256MB Ultra II CF. With this card, the D70 can maintain a speed of approximately 1 fps after the burst is finished and until the card is full. But startup speed, shutter lag, and AF speed are based solely on the camera. Here, the D70 is one of the fastest DSLRs out the gate. By the time you turn it on and lift it to your eye, it's ready to shoot. While the D70 uses the same AF module as the D100 and has similar AF modes, Nikon claims the D70 has improved AF algo-rithms and reduced shutter lag over the D100. After capture, we were impressed by the nearly instantaneous display of images on the bright, 1.8-inch LCD. Other speed improvements include a faster maximum shutter speed of 1/8000 sec (Digital Rebel is 1/4000 sec), and a higher flash sync of 1/500 sec. In addition, the auto-pop-up iTTL flash has a Flash Value lock, which is especially useful for shooting portraits, and it can be set manually from full output to 1/64 power in 1/3-step increments. Studio shooters will love that it can also be used in Commander Mode to control wireless flash units such as the Nikon SB-800 or SB-600 Speedlights.
Help is here!
While many of the D70's control buttons will be familiar to D100 shooters, there are a few significant additions. The most visible is the Vari-Program Mode dial that lets you choose from one of seven Vari-Programs including Auto, Portrait, Landscape, Close-up, Sports, Night Landscape, and Night Portrait. But unlike most presets, the D70's Vari-Programs optimize image quality for PictBridge-enabled printers.
Menu settings accessed from the LCD are among the brightest and easiest to read of any SLR; you can set the camera to display either simple or advanced options. But if the variety of image quality and custom functions leaves you dazed, just press the help button and a short description of the control settings you're viewing pops up (see above). Every camera maker should include this function.
White balance is controlled in a similar fashion to the D100, and uses Nikon's 3D Color Matrix metering in partnership with a 1005-pixel sensor. Several preset and custom white-balance settings are also available, and Kelvin temperature fine-tuning can be done when converting RAW files in the computer. Image-quality settings also affect color accuracy, especially when using a calibrated monitor or color-managed printer. The D70's New Generation Color Reproduction System gives you three choices for color space, including sRGB, Adobe RGB, and sRGB Vivid. Other image-quality choices include sharpness, contrast, tone, color, saturation, hue, and exposure compensation. The D70 has metering patterns similar to the D100's, including 3D Color Matrix, a choice of centerweighted patterns, and a tight spot pattern. The D70 also lets you choose among multiprogram, shutter- and aperture- priority, and manual exposure modes.
Playback controls are similar to the D100, but image display is much faster. You can choose to view a histogram and highlight warnings,
image-capture data, thumbnail images, or a magnified view up to 4.7X. And don't worry too much about battery drain during normal playback. According to Nikon, the lithium ion battery's life has been extended, mostly due to lower drain during image capture and processing. The company claims up to 2,000 images on a single charge, and, if you're in a bind, the D70 includes a battery holder for three CR2 cells.
Another major improvement comes in the software bundled with the D70. Nikon's Picture Project makes it easier to download images from the camera, and contains a browsing utility and image-editing tools. It also supports plug-in filters and opens RAW NEF files. Nikon's optional Capture 4.1 software ($99 street) can be used to control the camera through its USB connection, and offers additional control over RAW NEF processing. It also gives you an Image Dust Off and particle shade removal function, Digital DEE scene-specific auto dodge-and-burn control, and the ability to transform images taken with the fisheye 10.5mm f/2.8 AF DX Nikkor lens into rectilinear ultrawide-angle images.
The performance, control, functions, easy-to-use menus, and hard-to-resist price make the D70 the only choice for 35mm Nikon SLR owners looking to go digital without spending a fortune, or Nikon pros looking for a great backup camera. But since it outfeatures the Canon EOS Digital Rebel on many fronts, it should catch the eye of many digital compact owners shopping for their first SLR. Who knows? It may even turn a few Digital Rebel shooters green with envy.
What's Hot
Affordably priced.
6MP resolution.
Up to 14 fine-quality JPEGs at 3 fps in burst mode.
Advanced iTTL flash with wireless control.
25 custom functions. Long-life Li-ion rechargeable battery.
What's Not
1.5X 35mm lens factor limits ultrawide fields of view.
No optional vertical grip or microphone.
AF-assist lamp very bright and distracting.
Nikon Capture 4.1 software for remote control is optional.
Vital Statistics: Nikon D70 Digital SLR
Imaging: New 6.2MP CCD sensor captures 6MP (3008×2000-pixel) images with up to 12 bits per color.
Storage: CF Type I/II cards including Microdrives. Stores RAW, JPEG, and RAW+JPEG Basic. Up to 14 fine quality JPEGs in burst mode at 3 fps.
AF system: Selectable 5-zone, TTL phase detection AF using Nikon Multi-CAM900 autofocus module. Bright AF-assist illuminator with 3-meter range.
Shutter/exposure controls: 30-1/8000-sec shutter speeds plus Bulb, up to 1/500-sec flash sync.
Metering: 3D Color Matrix with 1,005-pixel RGB sensor, center-weighted, partial, and spotmetering (at 1% of frame). ISO 200-1600.
Output: USB and video out
Power: Rechargeable EN-EL3 Li-ion battery or 3 CR2 lithium batteries (with supplied Battery Holder MS-D70)
Size/weight: 5.5 x 4.4 x 3.1 inches 1.3 lb without battery
Street price: $999 (body only)
Info: www.nikonusa.com; 800-645-6689
Go to Nikon D70 Digital SLR Test Results
>> HOT DEALS!
Compare Prices