Nikon D300 vs Canon EOS 40D: A Hands-On Workout
Although the technology-showcase D300 ($1800) costs 50 percent more than the EOS 40D ($1200), American Photo contributor Jonathan Barkey found them to be more evenly matched than he expected.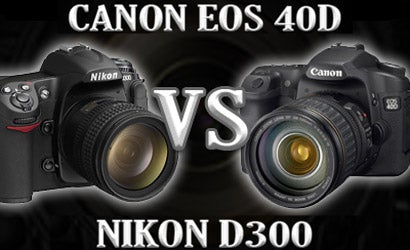 We may earn revenue from the products available on this page and participate in affiliate programs. Learn more ›
While mid-priced DSLRs from competing manufacturers may excel in different ways, these semi-pro models from Canon and Nikon give you a winning combination of speed, image quality, extensive lens/accessory systems, and an upgrade path to their top-drawer professional brethren.
Of course, pitting the two against each other isn't entirely fair, since the technology-showcase D300 ($1800), a junior version of Nikon's tour-de-force flagship D3, costs 50 percent more than the EOS 40D ($1200), which has evolved from humbler "prosumer" models. Still, we found them to be more evenly matched than we expected, based on our evaluations in the key areas detailed below.
SENSOR AND IMAGE QUALITY
With the D300, Nikon finally trades the "noisier" CCD chips of its previous mid-range (and pro) DSLRs for a "smoother" CMOS design that rivals Canon's at high ISOs. Both cameras' sensors are APS-C format, roughly half the size of a 35mm frame. The EOS 40D's own CMOS chip is 10.1MP, with a 1.6x cropping factor; the D300's, 12.3MP, and 1.5x. The 2MP difference in resolution is negligible, output from the two cameras being virtually indistinguishable to us when we compared RAW files in Adobe Lightroom. But with JPEGs shot at ISO 800 and up (to 3200 in the EOS 40D, 6400 in the D300) we could see the Nikon was applying more in-camera noise reduction (Normal setting) than the Canon. This produced less grain, in a tighter, more pleasing pattern, but with fine image details slightly softened as sensitivity increased. The Nikon, unlike the Canon, gave us three different levels of noise reduction and, like the Canon, the option to turn it off. For high-ISO shooting, both cameras are significantly better than competitors in this price range; the D300 beats the 40D, by a hair.
BODY AND VIEWFINDER
Both cameras have rugged magnesium-alloy bodies that felt rock solid in our hands. The Canon is a good bit lighter and more modestly sealed against dust and water. The Nikon is heftier and more weatherproof, making it the better choice in hostile conditions. (In addition, both cameras have self-cleaning sensor systems that automatically remove dust at startup/shutdown.) Although, as Canon veterans, we're used to the 40D's dual function control buttons, we think the D300's traditional ergonomics are better, with single-purpose levers, dials and buttons giving us faster control of AF mode, AF area, shooting mode, metering pattern, white balance and ISO. Both viewfinders are generous for cropped-sensor cameras, but the Nikon's is slightly larger, brighter and clearer. And it covers 100% of the frame, versus the 40D's 95%.
OPERATING SPEED
Each of these DSLRs is at least 20% faster than competing mid-range models, making them better equipped for sports and other blink-of-the-eye-subjects. The EOS 40D shoots at a maximum rate of 6.5fps, in continuous bursts (Canon says) up to 75 Large/Fine JPEGS or 17 RAW files. (We managed 54 JPEGs and 16 RAW frames with an older SanDisk Extreme III 2GB card.) Startup takes just 0.15 sec, and shutter lag is 55ms. Corresponding specs for the Nikon are better: 0.13 sec and 45ms. But, using its standard EN-EL3a battery, the D300 is, at 6fps just slightly slower. With its larger resolution files, we got 38 Large/fine JPEGS per burst at full speed and the same 17 RAW images. Adding the optional MB-D10 battery grip and EN-EL4a battery boosts the D300's framing rate to a smoking 8fps – but at a hefty price, about $400. Although both cameras record data at 14 bits per channel (16,384 shades of gray), the D300 gave us a choice of 12-bit (smaller) or 14-bit (larger) RAW storage. But the latter slowed shooting significantly, to just 2.5fps. Also, enabling high-ISO noise reduction in the EOS 40D lowered burst capacity to just six frames, regardless of the sensitivity we set.
AUTOFOCUS
For reportage and action photography, autofocus performance is just as important as shooting speed. In that regard, the D300 and EOS 40D are standouts. During our tests tracking cyclists, horse riders and other fast-moving targets, we noted exceptionally swift (and roughly comparable) continuous AF speed with all sensors active. The D300's phenomenal 51-point (15 cross-type) system – lifted intact from Nikon's $5,000 D3 – provides virtually seamless coverage over roughly half the viewfinder. Using Dynamic-area AF with 3D-tracking, the sensors magically lit up as they followed our subjects moving across the screen, aided by color info from the camera's 1005-pixel RGB exposure meter. The EOS 40D's nine cross-type sensors are more widely spaced, so we had to exercise more care in keeping the intended point of focus covered. Surprisingly, the simpler Canon system was quicker than the D300's when acquiring initial focus in moderately low light (indoors or at dusk), an advantage augmented by Canon's super-swift USM (ultrasonic-motor) fast-aperture prime lenses. But Nikon's higher-tech system is both smarter and more "configurable".
LCD AND LIVE VIEW
Both cameras have impressive LCD screens, measuring 3 inches diagonally and bright enough for viewing in sunlight. But the D300's record-setting 920,000 dots are twice as sharp as the 40D's 230,000 dots, enabling us to see much finer details. Though neither camera's screen tilts or swivels (like the Olympus E-3's does), we could view them easily even at highly oblique angles. That was perfect for Live View shooting, available in both cameras, which let us compose live, sensor-generated images on the LCD screen instead of sighting through the optical finder. Each allowed us to focus in Live View by hitting the AF-On button, which momentarily swung the mirror down, engaged the optical AF sensors, then flipped it up again. This operation blacks out the screen image, briefly with the EOS 40D and a bit longer with the D300. The latter also offers point-and-shoot style contrast-detection focusing using actual image pixels. Highly precise but quite slow, it's designed specifically for tripod-mounted shooting. Curiously, the Nikon (but not the Canon) flipped its mirror down every time we shot, disabling Live View until we reengaged it manually (by half-pressing the shutter release). That's the major reason we preferred the Canon for Live View; it also has a real-time histogram, exposure simulation, optional grid overlay and two quieter shooting modes.
LENSES AND ACCESSORIES
A big inducement to buying a D300 or EOS 40D instead of another brand DSLR is its compatibility with more than fifty autofocus optics (twice to three times as many as competitors'), including more than a dozen optically stabilized models. (Of course, Sony, Pentax and Olympus DSLRs have body-integral stabilization, but you can't see the effect in the viewfinder.) Canon has a lot more lenses with super-fast ultrasonic focusing, but the D300 can mount virtually any Nikkor lens made since 1959. Both cameras are also blessed with advanced wireless flash systems. The D300 can control two groups of external Speedlights with its own pop-up flash (three groups using a Nikon shoe-mounted strobe as a controller), while the EOS 40D employs a separate wireless controller or external Canon strobe to do the same. And both are compatible with professional wireless file transmitters, unique to Nikon and Canon, that let you radio images to a computer at a distance, or enable you to control and trigger the camera in real time using wireless Live View.
AND THE WINNER IS?
Not cut-and-dried. Ignoring price, the D300 easily takes the prize. In addition to its killer AF and superb LCD, it's got loads of other assets the EOS 40D lacks, like Active D-Lighting – real-time shadow/highlight compensation that's more effective than 40D's own Highlight tone priority mode; a sophisticated Scene Recognition System that improves AF, metering and white balance; a 1000-shot battery with precision status-metering; post-shot image correction and filter effects; high-definition (HDMI) video output; an interval timer; optional GPS compatibility; the ability to add text comments to photos; and enough features, custom settings and configurations to fill a 421-page user manual. But given the Canon's excellent performance in the things that count, we'd call the match differently. The D300 surely gave us the most bang. But the EOS 40D gave us the most bang for the buck!