New Photo Software and Services
Here's a look at a few of the new photo-oriented programs and services that we think are cool and useful.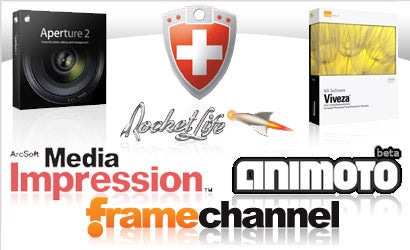 Early 2008 has seen plenty of new software and online service introductions and upgrades. Here's a look at a few of the new photo-oriented programs and services that we think are cool and useful. Some offer better ways to do things we already do, some do brand-new tricks, and others simply make the programs that have already impressed us even more powerful.
Animoto
This online photo show creator goes beyond typical slideshow-making software by automatically generating shows with advanced editing and effects; offering an intuitive, well-designed site interface; and providing simple tools for exporting videos to Web sites, blogs, and social networks. (Future additions will include tools for downloading videos, burning them to disc, and sending them to phones and other mobile devices.) To use Animoto, you open an account, upload a bunch of photos, select music or upload your own, and wait for the video to be created. If you don't like what Animoto comes up with the first time around, you can just hit Remix. Short 30-second videos are free and take about 10 minutes to be generated. Lengthier shows that can run as long as 10 minutes cost $3 apiece or $30 for a year of unlimited videos.
www.animoto.com
Apple Aperture 2
The latest version of Apple's photography workflow software for the Mac has a more flexible, streamlined interface, faster performance, and a new Quick Preview image browsing mode. It also now provides more fine-tuning options for RAW processing, DNG support, and improved metadata handling. Among its many new features are tools for recovering blown-out highlight details, selectively boosting saturation, and retouching image flaws. Apple has also improved the software's integration with other programs, added tools for syncing image libraries with an iPhone or iPod, and made it possible for users to create image galleries and upload them to the company's online .Mac Web Gallery site directly from Aperture. An added bonus: Aperture 2 comes with more than 50 tutorials too.
$199
www.apple.com
ArcSoft MediaImpression
This software takes on the monumental task of managing all of your digital media — including photos, of course — under one umbrella. MediaImpression is made up of about 20 modules that perform different functions, and can be expanded with additional functions as ArcSoft makes more modules available. All of the modules are integrated into a single interface. The basic functions let you capture, import, browse, search, and organize media files. There are also tools for creating projects featuring photos, videos, and music, as well as sharing tools for exporting media and projects to Web sites. There's a module that integrates with Google Earth to let you geocode photos by dragging them onto a location, as well as movie- and slideshow-editing tools, photo-editing tools, and strong metadata support for adding IPTC data, ratings, and tags.
Available in Windows and Mac versions (although a few of the modules are not supported on a Mac).
$79.99
www.arcsoft.com
Nik Viveza
This Photoshop plug-in implements Nik's U Point technology to provide a highly intuitive alternative to working with layers, selections, and masks in order to make adjustments to specific elements of a photograph. To alter the brightness, contrast, saturation, or color in an area of an image with Viveza, you click on a color or an object to create a Color Control Point. Sliders then appear right on the image so that you can make fine adjustments and see their effects in real time. The program automatically generates layers and masks to preserve the adjustments you've made. You can also use Viveza's Selective Tool to brush light and color changes onto an image with Photoshop brushes.
Available in April 2008 for use with Mac and Windows versions of Adobe Photoshop and Photoshop Elements.
$249.95
www.niksoftware.com
Frame Media FrameChannel
Between the CES and PMA trade shows, we've already seen enough digital frame introductions this year to choke a horse. Frame Media has made this onslaught a little easier to take by coming out with a new software/service combination for WiFi-enabled digital photo frames. FrameChannel lets you break the eternal slideshow loop by adding content from online sources to the mix. So, for example, you can have weather, news, and your favorite blog show up on your frame along with your photos. To display photos, you create a photo channel and add images to it, or set a channel up to stream photos from your online gallery. You can subscribe to other people's photo channels or let them subscribe to yours. Samsung, PhotoVu, Digital Spectrum, Momento Live, and D-Link currently offer WiFi frames with FrameChannel installed (you can't download and install it on just any digital frame). You can also download the FrameChannel software for free and run it on your computer.
www.framechannel.com
Rocketlife
This online service lets you put your photos on a large selection of items, from calendars and mugs to photo books and t-shirts. It automatically generates designs and book layouts, incorporating background graphics and other design elements. Then it shows you a preview of the finished product and lets you make a wide range of adjustments while showing you your changes in real time on the product preview. Rocketlife recently redesigned its interface to be both more attractive and more intuitive to use, and added numerous photo editing and touch-up tools. The result is an efficient way to create highly customizable photo products — and without having to go through an online gallery registration process. Rocketlife's automatic layout technology can also create multiple products with the same design and images. So if you want to make a matching calendar, mug, and mousepad set, it's a piece of cake.
Requires Windows Internet Explorer 5.5 or higher, and installs a browser plug-in.
www.rocketlife.com
Swiss Picture Bank
This service is pretty much exactly what it says: a Swiss bank account for your pictures — a data bank, that is. When you upload your image files to Swiss Picture Bank, they are stored on Swisscom IT Services's data servers, which is where many Swiss banks store their data. The Windows-compatible Swiss Picture Bank software includes a "Photobot Guardian" automatic uploader, which can be set to automatically send your JPEG files to their second home in the Alps as soon as they're added to a designated desktop folder. Photos can be stored in a compressed format for 30 years at a rate of 3 cents per file, or uncompressed for 15 cents per file. For 6 cents per compressed file or 30 cents per uncompressed, the system will save your images for 99 years. All of the fees are charged on a one-time basis, with no ongoing maintenance charges.
www.swisspicturebank.com