New Lenses for 2008
Now that you've got that new DSLR, how about some glass to go with it? Here's a quick roundup of the latest zooms and primes hitting store shelves.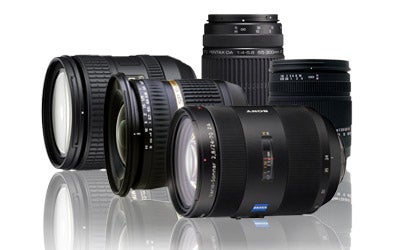 We may earn revenue from the products available on this page and participate in affiliate programs. Learn more ›
Lens makers opened the flood gates in late 2007 and early 2008, announcing brand-new glass, expanding the camera compatibility of existing lenses, and finally putting a release date on some long-awaited optics. The new lenses have already started arriving in stores, and will continue to trickle out in a steady stream over the next several months.
If you like to buy from third-party lens makers, who generally charge less for their optics than camera manufacturers, there are plenty of new options for you. Sigma, Tamron, and Tokina have come out with both new lens designs and numerous versions of existing lenses with new mounts and motors to make them compatible with a greater range of cameras. One nice thing about buying a lens that is newly available for your camera but has been around for a while for other brands is that it will probably have been widely tried, tested, and reviewed already.
Most of the new lenses are of course zooms, but there are quite a few primes on the list too. Although Nikon has a 60mm prime coming out, the new models tend to fall on the very wide and telephoto ends of the optical spectrum, with Pentax and Tokina unveiling two noticeably similar 35mm lenses (both companies are owned by Hoya, so draw your own conclusions) and Canon presenting its long-anticipated 800mm and 200mm optics. Pentax takes the prize for offering the most new primes, adding 200mm and 300mm lenses in addition to the wide glass.
There are also some notable new specialty lenses coming to market this year: Nikon added a wide tilt-shift lens with automatic exposure support, and has plans to announce two additional tilt-shift models later this year. Sigma says it will finally ship its ginormous 200-500mm/400-1000mm lens later in the year. Sunex has also come out with a 5.6mm fisheye lens for Nikon and Canon SLRs with APS-C-size sensors. With lens conversion factors, its 35mm-equivalent focal length will still fall under 9mm, and the Sunex is priced to be a little more affordable than similar fisheye options from Sigma.
Below you'll find a list of the new lenses that are just hitting the shelves or will become available soon. With 2008 just getting started, be sure to check our Photo News frequently for the complete scoop on the latest gadgets as they're announced, and stay tuned to our Tests & Reviews area, where we'll post our complete evaluations after running new lenses through the rigors of the Pop Photo Lab.
(Note: All focal lengths listed are for 35mm-size image frames. If your digital SLR does not have a full-frame sensor, apply the appropriate lens conversion factor to the focal length to see what its 35mm equivalent focal length is.)
Zooms
||||||| |—|—|—|—|—|—| | Lens (name includes focal length and maximum aperture)| Minimum focus distance| Designed for use with full-frame SLRs| Notable features| MSRP| Available| | Nikon AF-S DX Nikkor 16-85mm f/3.5-5.6G ED VR| 15.6 inches| No (compatible but not optimal)| Optical stabilization| $649| March| | Pentax smc DA 55-300mm f/4-5.8 ED| 4.6 feet| No| Quick shift between manual focus and AF| $399.95| May| | Pentax smc DA 18-55mm f/3.5-5.6 AL II| 9.8 inches| No| Improved resolution over the last version, quick shift between manualfocus and AF| $200 and included in a kit with Pentax's new K200D SLR| March| | Sigma 10-20mm f/4-5.6 EX DC HSM AF| 9.4 inches at all focal lengths| No| Four-Thirds-mount version of existing lens| $730| February| | Sigma APO 50-150mm F2.8 II EX DC HSM| 3.3 feet| No| Sony- and Pentax-mount versions of existing lens| $1350| February| | Sigma APO 70-200mm F2.8 II EX DG MacroHSM| 39.4 inches| Yes| Sony-, Pentax-, and Four-Thirds-mount versions of existing lens, f/2.8throughout the entire zoom range| $1420| Not announced| | Sigma 70-300mm F4-5.6 DG Macro| 4.9 feet at all focal lengths| Yes| Nikon version of existing lens with built-in motor| $200| Spring| | Sigma APO 70-300mm F4-5.6 DG Macro| 4.9 feet at all focal lengths| Yes| Nikon version of existing lens with built-in motor, APOlens has special low-dispersion (SLD) glass for less chromatic aberration| $300| Spring| | Sigma APO 200-500mm F2.8 /400-1000mm F5.6EX DG| 6.6 feet-16.4 feet| Yes| Dedicated attachment for autofocusing at 1000mm focal length, filter canbe inserted at the rear of the lens, built-in battery powers zooming and AF,focusing distances and focal lengths can be viewed on built-in LCD| between $20,000 and $30,000| Not announced| | Sigma 18-125mm F3.8-5.6 DC OS HSM (Sigma, Canon, Nikon, Pentax, and Sonymounts)| 13.8 inches at all focal lengths| No| Optical stabilization| Not announced| Summer| | Sigma APO 120-400mm F4.5-5.6 DG OS HSM (Sigma,Canon, Nikon, Pentax, and Sony mounts)| 4.9 feet| Yes| Rear-focus system to minimize optical flaws by reducing fluctuations causedby focusing| Not announced| Not announced| | Sigma APO 150-500mm F5-6.3 DG OS HSM (Sigma,Canon, Nikon, Pentax, and Sony mounts)| 7.2 feet| Yes| Rear-focus system to minimize optical flaws by reducing fluctuations causedby focusing| Not announced| Not announced| | Sony Vario-Sonnar T* 24-70mm f/2.8 ZA| 13.8 inches| Yes| Mode selector for switching between manual focus and AF, focus hold button,constant f/2.8 aperture| $1,750| February| | Sony 70-300mm f/4.5-5.6 G| 4 feet| Yes?| Focus hold button, focus range limiter, manual focus ring| $800| April| | Tamron SP AF10-24mm F/3.5-4.5 DI II LD Aspherical (IF) (Canon, Nikon, Pentax,and Sony mounts)| 9.6 inches at all focal lengths| No| HID (high index/high dispersion) element and two LD (low dispersion)elements to minimize chromatic aberrations| Not announced| Not announced| | Tamron SP AF70-200mm F/2.8 Di LD (IF) Macro (Canon, Nikon, Pentax, and Sonymounts)| 3.1 feet| Yes| Switch for quickly changing between manual focus and AF| Not announced| Not announced| | Tamron AF18-200mm F/3.5-6.3 XR Di II (Nikon mount)| 17.7 inches| No| Nikon version of existing lens with built-in motor| $400| February| | Tamron AF17-50mm F/2.8 XR Di II (Nikon nd Pentax mounts)| 10.6 inches| No| Pentax version and Nikon version of existing lens with built-in motor| $450| February| | Tamron AF70-300mm F/4-5.6 Di (Nikon mount)| 4.9 feet in normal setting/ 3.1 feet in macro mode| Yes| Nikon version of existing lens with built-in motor| $190| February| | Tokina AT-X 116 Pro DX 11-16mm F2.8| 11.8 inches| No| SD-fluorite (ultra-low dispersion) element, constant f/2.8 aperture| Not announced| May| Primes
| | | | | | |
| --- | --- | --- | --- | --- | --- |
| Lens | Minimum focus distance | Compatible with full-frame SLRs | Notable features | MSRP | Available |
| Canon EF200mm f/2L IS USM | 6.2 feet | Yes | Optical stabilization, fluorite and UD lens elements, weather-resistantdesign | $5,999 | April |
| Canon EF800mm f/5.6L IS USM | 19.7 feet | Yes | Optical stabilization, fluorite and UD lens elements, lightweightmagnesium alloy lens barrel | $11,999 | May |
| Nikon AF-S Micro Nikkor 60mm f/2.8G ED | 7.2 inches | Yes | Control for switching between manual focus and AF, 1:1 magnification | $550 | March |
| Nikon PC-E Nikkor 24mm f/3.5DED | 8.4 inches | Yes | Tilt-shift lens with automatic exposure control | $1929 | Spring |
| Pentax smc DA* 200mm F2.8ED[IF]SDM | 3.9 feet | No | Control for switching between manual focus and AF, weather and dustresistant | $1099.95 | March |
| Pentax smc DA* 300mm F4ED[IF]SDM | 4.6 feet | No | Control for switching between manual focus and AF, weather and dustresistant | $1299.95 | May |
| Pentax smc DA 35mm F2.8 Macro Limited | 5.5 inches | No | 1:1 magnification, high-grade aluminum lens barrel, built-in pullout hood,control for switching between manual focus and AF | $599.95 | April |
| Sunex SuperFisheye 5.6mm F/5.6 (Canon and Nikon mounts) | | No | 185-degree field of view | $799 | January |
| Tokina AT-X M35 Pro DX 35mm F2.8 | 5.5 inches | No | 1:1 magnification | $799 | March |