New Cameras for 2008
The first few weeks of 2008 have seen a flood of new cameras. Here's a quick and easy guide to the coolest new cameras on the market.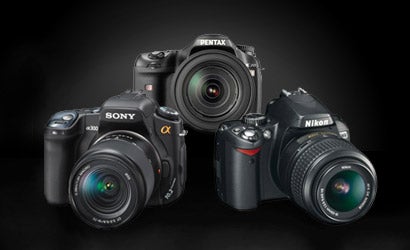 We may earn revenue from the products available on this page and participate in affiliate programs. Learn more ›
With the Consumer Electronics Show and PMA this January, an influx of cameras have entered the market.
For consumers this year, thin is in. With nearly 40 new additions to the ultra-thin compact category, manufacturers are slimming down to make their offerings more pocketable. January 2008 brought roughly half the number of larger point-and-shoot cameras as 2007, with smaller, more powerful cameras taking a chunk out of last year's larger offerings.
For the digital-SLR market, Canon, Nikon, Pentax and Sony are all offering updates to their professional and prosumer lines, with several new models incorporating impressive live-view displays. Sony stands out in this category with the recent announcement of their Alpha DSLR-A300and DSLR-A350cameras, retailing for around $800 each, with the A300 including a kit lens. Both feature live-view technology, but unlike last year's models, their displays bypass the camera's main sensor, enabling the use of autofocus even in live-view mode. The Canon EOS Rebel XSi also has this capability.
If you're willing to wait, coming later this year, the recently announced 24.81-megapixel Sony Alpha prototype camera will feature a full-frame imaging sensor. While details of the camera have yet to be released, the sensor has the same imaging area as a 35mm frame, and will be released with a set of new lenses.
For superzooms, Casio announced their Exilim Pro EX-F1 (MSRP: $1000), the first camera to offer a blazing fast 1200fps low-resolution video mode. Even more impressive, the EX-F1 can shoot full-resolution stills at 60fps with a 1-second capture limit. Missing that prized peak action shot is a thing of the past.
Another impressive addition to the superzoom category is the Olympus SP-570 Ultra Zoom. This 10-megapixel EVF camera features a 20x optical zoom lens providing a range of 26mm-520mm. Appealing to serious photographers, the camera also offers manual exposure and RAW capture. For those not ready to drop a cool grand on the EX-F1 featured above, the SP-570 UZ's continuous-shooting mode isn't shabby, capturing up to 30 5-megapixel photos at 7.2fps.
For the photographer that always needs a camera within reach, this year's ultra-thin compact category is busting at the seams with more megapixels, larger displays and smaller casings. With many of last year's models adding large, 2.7-inch displays, optically stabilized lenses and even high-definition video recording, it might be time to consider an upgrade.
While many cameras have yet to make the jump to HD, VGA video is a thing of the past. Samsung embraces the future with their newest addition to the NV-series. In addition to its 10.2-megapixel sensor and optically stabilized zoom lens, the $349 NV24 HD features 720p video recording, capturing 1280×720-pixel video at a smooth 30fps. Panasonic's HD offering, the $350 Lumix DMC-FX35, includes similar features, adding a slightly longer zoom range to the mix.
For photographers who split their time between land and sea, the Olympus Stylus 1030SW brings a 10.1-megapixel sensor, 3.6x zoom lens, 2.7-inch LCD and 33 feet of shockproofing to the specialty camera category. Designed to withstand extreme conditions, the camera can survive drops of 6.6 feet, up to 220 pounds of crushing pressure and temperatures as low as 14-degrees.
Below you'll find a complete list of every new camera announced from a major manufacturer so far this year. With 2008 just getting started, be sure to check our Photo News frequently for the complete scoop on the latest gadgets as they're announced, and stay tuned to our Tests & Reviews area where we'll post our complete evaluations after running the cameras through the rigors of the Pop Photo Lab.
Digital SLR Cameras
||||||| |—|—|—|—|—|—| | Camera| Type| MSRP| Resolution (MP)| LCD| Release Date| | Canon EOS Rebel XSi| Digital SLR| $799| 12.2| Live-View| April| | Nikon D60| Digital SLR| $750| 10.2| Standard| February| | Pentax K20D| Digital SLR| $1299| 14.6| Live-View| April| | Pentax K200D| Digital SLR| $800| 10.2| Standard| March| | Samsung GX-20| Digital SLR| $1399| 14.6| Live-View| March| | Sony Alpha DSLR-A200| Digital SLR| $700| 10.2| Standard| February| | Sony Alpha DSLR-A300| Digital SLR| $800| 10.2| Live-View| April| | Sony Alpha DSLR-A350| Digital SLR| $800| 14.2| Live-View| March| Superzooms
||||||| |—|—|—|—|—|—| | Camera| Type| MSRP| Resolution (MP)| Zoom| Release Date| | Casio Exilim Pro EX-F1| Super Zoom| $999| 6| 12x| March| | Fujifilm Finepix S100FS| Super Zoom| $800| 11.1| 18x| February| | Fujifilm Finepix S1000fd| Super Zoom| $250| 10| 12x| April| | Fujifilm Finepix S8100fd| Super Zoom| $399| 10| 18x| March| | Olympus SP-570 UZ| Super Zoom| $500| 10| 20x| March| | Panasonic Lumix DMC-TZ4| Super Zoom| $300| 8.1| 10x| March| | Panasonic Lumix DMC-TZ5| Super Zoom| $350| 9.1| 10x| March| | Sony Cyber-shot DSC-H10| Super Zoom| $299| 8.1| 10x| April| Ultra-Thin Compacts
||||||| |—|—|—|—|—|—| | Camera| Type| MSRP| Resolution (MP)| Zoom| Release Date| | Canon PowerShot SD1100 IS| Ultra Compact| $249| 8| 7x| March| | Casio Exilim EX-S10| Ultra Compact| $250| 10.1| 3x| February| | Casio Exilim EX-Z80| Ultra Compact| $200| 8.1| 3x| March| | Casio Exilim EX-Z100| Ultra Compact| $280| 10.1| 4x| March| | Casio Exilim EX-Z200| Ultra Compact| $330| 10.1| 4x| March| | Fujifilm Finepix F100fd| Ultra Compact| $380| 12| 5x| March| | Fujifilm FinePix Z100fd| Ultra Compact| $250| 8| 5x| January| | Nikon Coolpix S210| Ultra Compact| $180| 8| 3x| March| | Nikon Coolpix S520| Ultra Compact| $230| 8| 3x| March| | Nikon Coolpix S550| Ultra Compact| $230| 10| 5x| March| | Nikon Coolpix S600| Ultra Compact| $300| 10| 4x| March| | Olympus FE-320| Ultra Compact| $180| 8| 3x| January| | Olympus FE-340| Ultra Compact| $200| 8| 5x| January| | Olympus Stylus 840| Ultra Compact| $250| 8| 5x| January| | Olympus Stylus 1010| Ultra Compact| $300| 10.1| 7x| March| | Olympus Stylus 1020| Ultra Compact| $350| 10.1| 7x| March| | Panasonic Lumix DMC-FS3| Ultra Compact| $200| 8.1| 3x| February| | Panasonic Lumix DMC-FS5| Ultra Compact| $250| 10.1| 4x| February| | Panasonic Lumix DMC-FS20| Ultra Compact| $300| 10.1| 4x| February| | Panasonic Lumix DMC-FX35| Ultra Compact| $350| 10.1| 4x| March| | Pentax Optio E50| Ultra Compact| $150| 8.1| 3x| March| | Pentax Optio M50| Ultra Compact| $230| 8| 5x| March| | Pentax Optio S12| Ultra Compact| $280| 12| 3x| April| | Samsung i8| Ultra Compact| $299| 8.2| 3x| February| | Samsung L100| Ultra Compact| $199| 8.2| 3x| February| | Samsung L110| Ultra Compact| $229| 8.2| 3x| February| | Samsung L210| Ultra Compact| $269| 10.2| 3x| March| | Samsung NV4| Ultra Compact| $279| 8.2| 3x| March| | Samsung NV24 HD| Ultra Compact| $349| 10.2| 3.6x| March| | Samsung NV30| Ultra Compact| $279| 8.1| 3x| February| | Samsung NV40| Ultra Compact| $329| 10.5| 3x| March| | Sony Cyber-shot DSC-S730| Ultra Compact| $129| 7.2| 3x| February| | Sony Cyber-shot DSC-S750| Ultra Compact| $149| 7.2| 3x| March| | Sony Cyber-shot DSC-S780| Ultra Compact| $179| 8.1| 3x| April| | Sony Cyber-shot DSC-T300| Ultra Compact| $399| 10.1| 5x| March| | Sony Cyber-shot DSC-W120| Ultra Compact| $200| 7.2| 4x| March| | Sony Cyber-shot DSC-W130| Ultra Compact| $230| 8.1| 4x| March| | Sony Cyber-shot DSC-W150| Ultra Compact| $250| 8.1| 5x| April| | Sony Cyber-shot DSC-W170| Ultra Compact| $300| 10.1| 5x| April| Point-and-Shoots
||||||| |—|—|—|—|—|—| | Camera| Type| MSRP| Resolution (MP)| Zoom| Release Date| | Canon PowerShot A470| Point and Shoot| $130| 7.1| 3.5x| March| | Canon PowerShot A580| Point and Shoot| $150| 8| 4x| March| | Canon PowerShot A590 IS| Point and Shoot| $180| 8| 4x| March| | Nikon Coolpix L18| Point and Shoot| $140| 8| 3x| March| | Nikon Coolpix P60| Point and Shoot| $230| 8.1| 5x| March| | Olympus FE-310| Point and Shoot| $150| 8| 5x| January| | Olympus FE-350| Point and Shoot| $250| 8| 4x| January| | Panasonic Lumix DMC-LZ8| Point and Shoot| $180| 8.1| 5x| February| | Panasonic Lumix DMC-LZ10| Point and Shoot| $250| 10.1| 5x| February| Specialty Cameras
| | | | | | |
| --- | --- | --- | --- | --- | --- |
| Camera | Type | MSRP | Resolution (MP) | Zoom | Release Date |
| Olympus Stylus 850SW | All-Weather | $300 | 8 | 3x | January |
| Olympus Stylus 1030SW | All-Weather | $400 | 10.1 | 3.6x | March |