Minolta Maxxum 4: Best Bargain 35mm AF SLR?
Minolta's $165 winner: rock-bottom price plus fantastic features!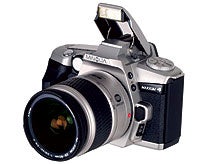 We may earn revenue from the products available on this page and participate in affiliate programs. Learn more ›
Bright viewfinder but no built-in diopter correction, lacks Minolta Eye-start automatic camera turn-on
Function dial similar to Maxxum 5's; offers an amazing 12 custom functions
Ultra-compact, all-polycarbonate body, nearly identical to Minolta Maxxum 5 except plastic lensmount. Important? Not unless you plan on using gigantic supertele or zoom lenses
Optional 28-80mm f/3.5-5.6 lens kit has no distance or aperture scales. What do you expect for $65?
Camera has a built-in data back (but there's a catch to using it). Built-in provision for wireless flash and infrared shutter release
Plenty of info here on LCD panel and in viewfinder, but no built-in light on the panel
Very simply put, the Minolta Maxxum 4 is a Maxxum 5 (tested February 2002) but with a few features missing-and others altered-in an identical camera body. Missing are a depth-of-field preview, the Minolta Eye-start system, which automatically activates the camera when it's held to your eye, and the ability to use various Minolta flashes at high speeds. Other changes are diminutions: a three-sensor AF system from seven, 1/2000-sec top speed and 1/90-sec X sync instead of 1/4000-sec with 1/125-sec X sync, a polycarbonate lensmount instead of metal (plastic lensmounts have worked well on all budget SLRs using them), 1.7 fps continuous film advance rather than 3 fps, and 12 custom features rather than 14. Missing functions? The Eye-start system, and the duration of the LED display in the viewfinder.
By "doing without" the above list, you save $30 compared to the Maxxum 5. But the long list of features remaining is sufficiently impressive to consider this the test of a far more expensive SLR than one costing $165. And we've left out some Maxxum 4 features we liked, such as the camera-back lock, which prevents you from inadvertently opening the camera unless it's empty or the film is safely rewound.
The principal loss we feel is in the AF system. The Maxxum 5 had a stellar one, with one cross and six linear sensors that light individually when operating. That has been simplified to three in the Maxxum 4-one cross, right, and left linear sensors that do not light up. The Maxxum 5's greater AF area coverage provides superior autofocus performance with action subjects. The Maxxum 4's system is best used (if the subject isn't central) by focusing directly on the principal subject, holding focus and recomposing before shooting.
Our summary of the Maxxum 5 applies to the Maxxum 4 (aside from the AF system change): "outstanding simplicity of controls-the camera is a winner."
| | |
| --- | --- |
| Certified test Results: Minolta Maxxum 4 | |
| Viewfinder: Viewfinder magnification, screen image size, autofocusing, shutter speed and exposure accuracy, as well as sound level are nearly identical to those of the Minolta Maxxum 5 (February 2002), although the autofocus sensor configuration is different. Instead of the seven sensors of the Maxxum 5, the Maxxum 4 has three: a central cross sensor and two linear outer sensors, right and left. We tested the marked sensor area (red line) on the focusing screen against the actual sensor sensitivity (green line). As you can see, actual sensitivity of the cross sensor is slightly wider than the marking, while the linear sensors are about half the thickness and a bit shorter. No parallax error was detected. | |
| HOT! Terrific number of features for the money. | NOT! Some Maxxum 5 features you might miss (see text). |
Minolta Maxxum 4 vs. its competitors
• Canon EOS Rebel GII ($170 street): AF system similar, controls somewhat more convenient to use than on Maxxum 4, has depth-of-field exposure mode; uses more powerful CR123 batteries, but there's no release-priority AF or spotmetering; slower fps film advance.
• Pentax ZX-60 ($160 street): Only single central linear AF sensor sensitive to subjects with vertical lines; no shutter speed or aperture numerals in the finder, (only symbols), although LCD panel on body has full info; no release-priority exposure; two-segment TTL exposure metering, but no spotmeter or flash-OK signal in finder; 1 fps film advance.
| | |
| --- | --- |
| Specifications | |
| Camera: Minolta Maxxum 4 35mm AF SLR. Approx. street price: $165, body only; $230 with 28-80mm f/3.5-5.6 AF D Zoom. Focusing and viewing: Central AF cross sensor sensitive to both horizontal and vertical lines, with left and right outer single-line sensors sensitive to horizontal lines; wide focus area, spotfocus, or selected right and left local areas; autoswitching, continuous, single-shot AF, or manual focusing with visible and audible focus-OK signals; focus tracking, focus priority, or (by custom function) release priority. AF sensitivity range EV -1 to 18 at ISO 100. Range of AF aidlight in flash head, 3.3-16.4 feet. Noninterchangeable mirror-prism finder with fixed matte screen showing spotfocus area, spotmetering circle, local focus areas, and wide focus frame. Shutter and exposure controls: Speeds from 30 to 1/2000 sec plus B. Shiftable or basic program, aperture- and shutter-priority autoexposure, portrait, landscape, close-up, sports, and night subject program modes; metered manual exposure mode. Data printing, | provision for wireless remote release, ±3 EV exposure compensation in 0.5 increments, single or continuous three-frame exposure compensation in ±0.3, 0.5, 0.7, or 1 EV increments, unlimited multiple exposures; self-timer with warning light and audible signal. Metering and range: 14-segment honeycomb pattern cell provides evaluative readings from EV 4 to 20; spotmeter EV 4 to 20 at ISO 100 with an f/1.4 lens. Loading and winding: Autoloading, DX film speeds ISO 25-5000; manual ISO 6-6400; flash 25-1000. Single frame advance or continuous to 1.7 fps. Flash sync: Four-segment cell provides evaluative metering including distance integration (ADI) with D lenses; flash-OK finder signal; auto or manual pop-up flash; X sync at 1/90 sec; provision for accessory wireless remote TTL flash, second-curtain flash; auto fill flash; redeye reduction option. Other features: Powered by two CR2 lithium batteries. |
For more info: www.minoltausa.com; 201-825-4000