Lensbaby Composer: A Brand New kind of 'Baby
A new ball-socket based Lensbaby launched as Lensbaby reinvents itself.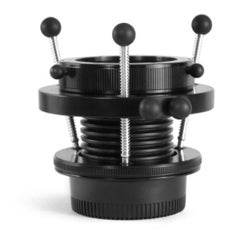 What started as a perceived novelty a few years ago is now becoming a truly mature optical system, as Lensbaby rolls out three new selective-focus lenses, plus a new set of add-ons that extend its range of low-tech effects. Although they look like toys, Lensbabies have been embraced by professional photographers (especially wedding shooters, who like the soft, romantic effect) and fun-loving amateurs alike.
The original Lensbaby, born in 2004, was a 50mm f/2.8 single-element lens in a bendable, bellows-like plastic barrel, affording only a small area of focus within a smeary image. Version 2.0 added a doublet lens and magnetic aperture rings to give you more control over exposure and depth of field. And a third iteration, called the Lensbaby 3G, added a trio of springy pins designed to help lock the selective focus in place.
Now there are three new versions, each a full stop brighter than the original: the Muse (replacing the original and 2.0), the Control Freak (updating the 3G), and the completely redesigned Composer. All come in Canon, Nikon, Olympus/Panasonic Four Thirds, Pentax/Samsung/Sigma, and Sony/ Minolta mounts and are compatible with both digital and film SLRs.
The Muse ($100 and $130, estimated street, for plastic and glass versions, respectively) and Control Freak ($270, est. street) are very similar to the models they replace, with the flexible tube barrel for push/pull/bend focusing. But now they're part of a new Optic Swap System that allows you to switch quickly among four optical choices, including a single-element plastic lens and a pinhole plate, to suit your artistic vision.
The Muse bends and flexes easily, and is great for fluid and moving subjects — but the results are fleeting, and tough to recreate consistently. The Control Freak bends, twists, and locks in a complex ballet of finger movements on tubes, bolts, and focusing rings, allowing for nuanced effects, at the cost of fluidity.
But the Composer works completely differently — with largely the same results. Instead of the tube, it uses an elegant ball-and-socket system to bend light rays without bending the lens barrel.
Selecting your point of focus is as simple and fluid as with the original Lensbaby, and may be even easier for newcomers to learn because it feels more like a "real" lens. And it locks the focus in place a heck of a lot easier than the Frankenlens 3G. Throw in variable resistance and finefocusing by way of an innovative helical gear, too.
The new Lensbabies aren't ever going to replace your supersharp autofocus prime or zoom lenses for day-to-day shooting (for most photographers, at least). But they offer a whole lot of fun, with more control than ever — which means maybe even more people will catch the bending bug!
SWAP MEET
Lensbaby's new Optic Swap System comprises four optical choices, three of which also come in a kit at a slight discount. All of them take 37mm filters, and the lenses (except the Zone Plate) all use drop-in magnetic aperture disks (included).
• Plastic: 50mm f/2 singlet like the classic Holga and Diana; $35, est. street.
• Single Glass: 50mm f/2 uncoated singlet; $35, est. street.
• Double Glass: 50mm f/2 multicoated doublet, identical to the 2.0 and 3G lens; $85, est. street.
• Pinhole/Zone plate: Flat-field Fresnel lens that toggles between f/19 and f/177; $35, est. street.
• Kit (Plastic, Single Glass, and Pinhole/Zone): $95, est. street.
Check out Lensbaby.com for more info on the new products.