Lens Test: Tokina AT-X 11-16mm f/2.8 Pro DX AF
The industry's widest high-speed ultrawide zoom for DSLRs.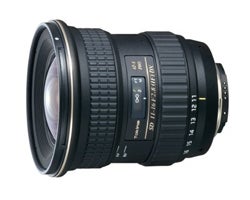 We may earn revenue from the products available on this page and participate in affiliate programs. Learn more ›
The industry's widest high-speed ultrawide zoom for DSLRs, this digital-only lens ($570, street) is one of Tokina's AT-X series of pro-quality optics. A 16.5-24mm equivalent, its design is based on Tokina's 12-24mm f/4. Available only in Canon and Nikon mounts, it has no AF motor in the Nikon version, so it can't autofocus on the D40, D40x, or D60 (otherwise it's fully dedicated to these bodies). Tokina's water-repellent coating on the outer element makes cleaning fingerprints and other smudges easier.
HANDS ON
Because of the added glass required for that bright f/2.8 maximum aperture, the lens is heavy by ultrawide, digital-only standards. It's attractively finished in a matte black, stippled surface, with ribbed and rubberized focus and zoom rings that both have nicely damped turning actions. The lens is unique for its zoom scale with markings for each individual focal length.
It also flips easily from manual to autofocus, thanks to an MF ring that doubles as an MF/AF switch. Push or pull the ring to switch between modes — much easier than conventional MF/AF switches.
On our test camera, a Canon EOS Rebel XS, the AF action was quick and quiet — close to what you would expect from an ultrasonic AF motor. As with most ultrawide zooms, this Tokina (without a shade) cast a shadow at all focal lengths when used with the Rebel's built-in flash.
IN THE LAB
SQF numbers climbed to about midway into the Excellent range at three tested focal lengths, an indication of superb sharpness and contrast.
DxO Analyzer 3.0.1 distortion tests found barreling in the Visible range at 11mm (0.34%), in the Slight range at 14mm (0.13%), and finally improving into the Imperceptible range at 16mm (0.06%). An outstanding performer, the Tokina fared better here than, for example, the Sony 11-18mm f/4.5-5.6, which showed barrel distortion between 0.49% and 0.13%, or the Tamron 11-18mm f/4.5-5.6, which showed barreling in the Very Visible range at 11mm (1.01%).
The Tokina's light falloff left the edges by f/4 at 11mm and by f/3.5 at 14mm and 16mm — also an excellent performance for so wide a lens.
At the uniform close-focusing distance of approximately 12 inches, magnifying power ranged from 1:16.3 at 11mm, to 1:12.9 at 14mm, and on to a somewhat disappointing 1:11.2 at 16mm.
CONCLUSIONS
In terms of its optical purity, this is among the strongest digital-only, ultrawide lenses we've seen to date. You pay a price for this purity, however: The lens doesn't offer much magnifying power, which limits the ability to contrast a large foreground subject against a dramatically distant background; and, at 1.45X, the zoom range is quite limited. Any photographer willing to pay these prices, however, will reap that unusually fast f/2.8 maximum aperture for low-light or high-shutterspeed work, plus extremely well-controlled distortion (by ultrawide zoom standards), a trait that architectural or interior shooters should prize.
SPECIFICATIONS
11-16mm (11.22-15.90mm tested), f/2.8 (f/2.42-2.58 tested), 13 elements in 11 groups. Focusing turns 90 degrees counterclockwise. Zoom ring turns 60 degrees counterclockwise. Focal lengths marked at 11-, 12-, 13-, 14-, 15-, and 16mm.
• Diagonal view angle: 104-82 degrees.
• Weight: 1.26 lb.
• Filter size: 77mm.
• Mounts: Canon AF, Nikon AF.
• Included: Lenshood.
• Street price: $570.