Lens Test: Tokina 50-135mm f/2.8 Pro DX AF
With its new multipurpose zoom, Tokina offers a standout performer in a very hot field.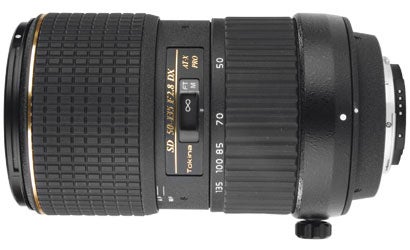 We may earn revenue from the products available on this page and participate in affiliate programs. Learn more ›
For full-frame film shooters, one of the most popular lenses is the highspeed 70-210mm zoom, suited to most typical photo subjects. No surprise, then, that lensmakers are now offering a spate of (approximately) 50-150mm digital-only zooms, the modern-day digital equivalent. At less than 2 pounds, Tokina's professional version, its 50-135mm f/2.8 Pro DX ($800, street), is lighter and more compact than traditional full-frame f/2.8 zooms. With multiple SD glass elements to better control chromatic aberration, it's the first Tokina with an easy-cleaning WP glass coating.
Hands On
As befits a pro-caliber tool, it has a tough, all-metal construction. Though long, the barrel cast no shadow when we used our test camera's built-in flash. The large, knurled manual-focusing ring incorporates a push/pull AF/Manual clutch and is nicely sized, smooth-turning, and very well damped. Focusing scales are behind a small plastic window; metric readouts are somewhat difficult to read.
AF action was quiet but slow. (Because the Nikon-mount version relies on the camera's AF motor, autofocus doesn't work on the Nikon D40, which lacks an internal AF motor. See this month's Editorial for more.) The ribbed, rubberized zoom collar is amply proportioned, well damped, and smooth-turning, with large, clean focal length markings. The lens is internal-focusing, so it works well with most lensmounted filters and flash systems. Its built-in tripod collar, which unfortunately is not removable, rotates freely. Finally, it comes with a large, reversemounting, petal-type shade that's lined in black flocking to suppress reflections.
In the Lab
Our SQF tests found sharpness and contrast in the Excellent range at all focal lengths — an above-average performance, as many lenses in the category slip into the Very Good range at their long tele settings. DxO Analyzer 2.0 tests found Slight barrel distortion at 50mm (0.18%); Imperceptible pincushion distortion at 85mm (0.09%); and Slight pincushion distortion at 135mm (0.22%) — all excellent results. We found no light falloff at 50mm, and slight falloff at 85mm and 135mm, gone in both cases by f/3.5 — also exemplary. At the constant close-focus distance of about 39 inches, maximum magnification ratios ranged from 1:14.25 at 50mm to a respectable (but not great)1:5.42 at 135mm.
Conclusion
This Tokina is excellent for many types of photography, including lowlight, portrait, action, and landscape.
Specifications
• 50-135mm (50.50-127.89mm tested), f/2.8 (f/2.86 tested), 18 elements in 14 groups. Focusing turns 120 degrees clockwise. Zoom ring turns 80 degrees counterclockwise. Focal lengths marked at 50-, 70-, 85-, 100-, and 135mm.
• Diagonal view angle: 31-11 degrees.
• Weight: 1.93 lb. n Filter size: 67mm.
• Mounts: Canon AF, Nikon AF.
• Included: Lenshood, built-in tripod collar.
• Street price: $800.
Subjective Quality Factor