Lens Test: Tamron 28-300mm f/3.5-6.3 XR Di VC AF
Add image stabilization to ultrazoom reach and remarkable sharpness. What do you get? A bargain.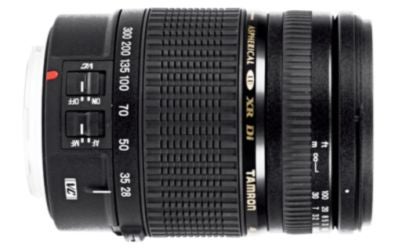 We may earn revenue from the products available on this page and participate in affiliate programs. Learn more ›
The fourth version of Tamron's popular 10.7X superzoom since 1999, this 28-300mm ($600, street) is the first Tamron to offer image stabilization. Called "VC" for "Vibration Compensation," the system is the industry's first to use a three-coil design (up from the usual two) that theoretically can compensate for vertical, horizontal, and diagonal shake.
A full-frame lens that scales up to a 43-465mm on most DSLRs, it has been internally coated to suppress ghosting and flare off digital sensors. Like most superzooms, it's targeted toward amateurs, so we tested it on both the Canon EOS Digital Rebel XTi, with an APS-sized sensor, and the full-frame EOS 5D.
Packed with specialized optics, the lens has hybrid and molded glass aspheric elements, plus low- and anomalous-dispersion glass to control chromatic aberration. All this helped Tamron make the lightest, closest focusing, and most favorably priced superzoom in its class.
HANDS ON
Despite the 5 ounces and 0.75 inches added (we suppose) by the VC mechanism, this lens is surprisingly light and compact for a high-ratio zoom. It's so trim that it casts no shadow at any focal length when used with the Rebel XTi's built-in flash.
Its attractive, matte-black barrel is made of polycarbonate material; the lensmount, metal; and the generously sized and well-placed zoom and focusing collars are rubberized. The manual-focusing action is well-damped across a conveniently tight turning radius, but it produces a scratchy sound. Zooming action is slightly stiff, with an uneven drag.
The well-marked barrel houses three easily operated switches to activate VC, achieve autofocus, and lock the lens in its 28mm, retracted position. One disappointment: Autofocusing on both test bodies was noisy and slow.
IN THE LAB
SQF tests of the lens when used on the Rebel XTi found sharpness and contrast in the Excellent range at all tested focal lengths. Typical of high-zoom-ratio lenses, though, full-frame SQF numbers started at Excellent at 28mm and 70mm, then went to to Very Good at 200mm and Good at 300mm. (See the full-frame SQF charts at www.PopPhoto.com/february2008.)
Distortion tested on the Rebel XTi was amazingly well controlled, as measured by DxO Analyzer 2 tests, with Visible barrel distortion at 28mm (0.35%), and Slight pincushioning at 70mm (0.12%), 200mm (0.11%), and 300mm (also 0.11%). To compare, in 2002 a Tamron 28-300mm showed distortion in the Very Visible range (1.40-2.73%) at four focal lengths.
As for vignetting, the new lens produced no measurable light falloff at any focal length when used on the Rebel XTi. As a full-frame optic, light falloff left the corners by f/8 at 200mm and 300mm, and by f/6.3 at 70mm. At 28mm, the lens vignetted at all apertures.
Its macro performance carries on the tradition of Tamron's earlier 28-300mm zooms — top notch. At the uniform close-focusing distance of approximately 16 inches (tested), maximum magnification ratios ranged from 1:10.36 at 28mm to 1:2.33 at 300mm — significantly more power than Tamron's 1:3 published spec.
With VC engaged, the lens showed a 2- to 3-stop handholding advantage in tests by four different users — a welcome and valuable addition to the Tamron toolkit. Unlike some camera-based IS systems, Tamron's lens-based VC provides a visibly steady viewfinder image.
CONCLUSIONS
This is not the lens for fast-breaking or active subjects, due to its sluggish AF, nor for full-frame shooters worried about light falloff at wide settings. But this new VC superzoom should reward everyone else — macro shooters and DSLR users of all persuasions — with its excellent distortion control and remarkable sharpness, even in low light, across a one-size-fits-all zoom range. And all in a conveniently compact, affordable package.
Specifications
28-300mm (28.89-297.11mm tested), f/3.5-6.3 (f/3.69-N/A tested*), 15 elements in 13 groups. Focusing turns 50 degrees clockwise. Zoom ring turns 80 degrees counterclockwise. Focal lengths marked at 28-, 35-, 50-, 70-, 100-, 135-, 200-, and 300mm.
• Diagonal view angle: 75-8 degrees.
• Weight: 1.29 lb.
• Filter size: 67mm.
• Mounts: Canon AF, Nikon AF.
• Included: Lenshood.
• Street price: $600.
*Not available due to instrument limitations.