Lens Test: Sony 75–300mm f/4.5–5.6 Zoom
Encouraging test results and attractive new packaging.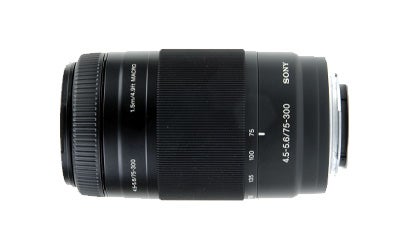 We may earn revenue from the products available on this page and participate in affiliate programs. Learn more ›
Undoubtedly a cosmetically updated version of the Konica Minolta 75-300mm f/4.5-5.6 tested by POP PHOTO in October of 1995, this is the first tele zoom available for Sony's new 10-megapixel DSLR, the Alpha A100. A 112.5mm-450mm equivalent ($230), the lens is full-frame and, thanks to its Konica Minolta lensmount, can mounted and used on KM Maxxum 35mm SLR bodies.
HANDS ON: About average in size and weight for the class, it features very attractive matte-black surfacing with a finely ribbed, well-marked zoom ring. The original Konica Minolta lens included focusing scales and a focus lock button, which Sony does without.
ON THE OPTICAL BENCH: In POP PHOTO's exclusive SQF tests, the lens exhibits sharpness and contrast in the Excellent range at 75mm, and in the Very Good range at 200mm and 300mm. The performance is above average for this class of long tele kit zoom. Even better: in DxO Analyzer tests, the lens shows stellar distortion control, with Imperceptible barrel distortion at 75mm (0.02%), and only Slight pincushion distortion at 200mm (0.12%) and 300mm (0.14%)-surprisingly good numbers. Light falloff is gone from the corners by f/5.6 at 75mm and 200mm, and by f/6.3 at 300mm-also above average. At the lens' uniform close-focusing distance of approximately 55.5 inches, its maximum magnification ratios ranged from 1:14.2 at 75mm to a satisfying 1:3.7 at 300mm.
CONCLUSIONS: We were somewhat surprised when we heard Sony had revived an 11-year-old KM lens as a long-tele kit zoom for the Alpha DSLR, but when we saw its encouraging test results and its attractive new packaging, we have to admit this sharp, relatively compact, and almost distortion-free lens seems quite up to date…at least until Sony introduces the Carl Zeiss telephoto zoom that's been rumored.
What's Hot
Almost distortion-free.
Unusually attractive body styling.
What's Not
Apparently not digitally optimized.
Spec Box
Sony 75-300mm f/4.5-5.6
75-300mm (76.78 – 272.52mm tested), f/4.5-5.6 (f/4.59-NA tested), 13 elements in 10 groups. Focusing turns 90 degrees counterclockwise. Zoom ring turns 90 degrees counterclockwise. Focal lengths marked at 70-, 100-, 135-, 200-, and 300mm.
• Diagonal view angle: 21-5 degrees.
• Weight: 1.16 lb.
• Filter size: 55mm.
• Mounts: Sony AF.
• Included: Lenshood.
• Street price: $230.
ge="http://ez.no/namespaces/ezpublish3/image/" xmlns:xhtml="http://ez.no/namespaces/ezpublish3/xhtml/" xmlns:custom="http://ez.no/namespaces/ezpublish3/