Lens Test: Sony 55-200mm f/4-5.6 DT AF
How did Sony's entrant in the digital-only 55-200mm race fare on the testing bench?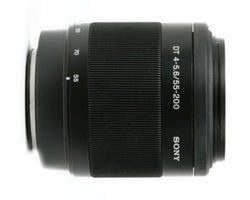 We may earn revenue from the products available on this page and participate in affiliate programs. Learn more ›
Sony's entrant in the digital-only 55-200mm race is a low-cost ($230, street) telephoto mate to its 18-70mm kit lens. Unlike some other sub-$250 zooms, however, this 82.5-300mm equivalent sports an element of ED glass and lacks onboard image stabilization — which it doesn't need because Sony's Alpha bodies have it inside.
HANDS ON
About 3/4-inch longer when fully extended than most comparable tele kit zooms, it weighs slightly less than average. Its small, rubber-sheathed manual-focus ring turns with a slightly scratchy feel, but the large zoom collar offers a smooth, well-damped turning action. Like some other tele kit zooms, autofocus is sluggish and loud.
IN THE LAB
SQF performance at all tested focal lengths was in the Excellent range, strong for a tele kit zoom, especially at 200mm. (Comparable lenses from Sigma and Tamron dropped to Very Good at 200mm.) DxO Analyzer 3.0.1 tests found Imperceptible barrel distortion at 55mm (0.04%), with Slight pincushioning at 135mm (0.30%) and 200mm (0.27%). This is almost identical to the Tamron, but much stronger than the Sigma, which showed Visible pincushioning (0.83% and 0.74%) at the longer focal lengths.
Light falloff disappeared from the corners by f/4.5 at 55mm, by f/5 at 135mm, and by f/5.6 at 200mm — slightly better than the Sigma but not up to the Tamron.
The maximum magnification ratio at the close-focusing distance of roughly 35.7 inches came in at 1:10.52 at 55mm, 1:4.45 at 135mm, and a satisfying 1:3.13 at 200mm in our tests.
CONCLUSIONS
Like most inexpensive tele zooms, this lens makes up for in price and sharpness what it loses in AF responsiveness. Forget fast sports and wildlife. But for subjects from portraits to landscapes, and even close-ups and still lifes, it won't disappoint.
SPECIFICATIONS
55-200mm (57.32-195.66mm tested), f/4-5.6 (f/4.08-5.36 tested), 13 elements in 9 groups. Focusing turns 90 degrees counterclockwise. Zoom ring turns 90 degrees counterclockwise. Focal lengths marked at 55-, 70-, 100-, 135-, and 200mm.
• Diagonal view angle: 28-8 degrees.
• Weight: 0.71 lb.
• Filter size: 55mm.
• Mounts: Konica Minolta Digital AF, Sony AF.
• Included: Lenshood.
• Street price: $230.