Lens Test: Sony 18-70mm f/3.5-5.6
Sony chose wisely for its first DSLR wide-angle kit zoom.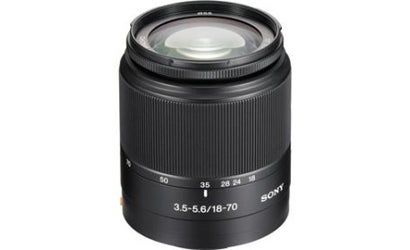 We may earn revenue from the products available on this page and participate in affiliate programs. Learn more ›
Almost certainly a cosmetic update of the Konica Minolta 18-70mm f/3.5-5.6 released shortly before KM ceded its camera business, this 27-105mm equivalent, produced for the new Sony Alpha 100, turns in some impressive performance numbers, but hides its light under a plastic barrel-and lensmount.
HANDS ON: This optic has the ultralight weight (just over 8 ounces) and plastic-y feel of an inexpensive 18-55mm digital kit lens (like the Canon and Nikon), but the wider focal length range of a higher-end DLSR zoom like the 18-70mm f/3.5-5.6 Nikkor that Nikon bundles with the D70 and D200. The Sony's lack of heft is due, in part, to its plastic lensmount.
Other traits include the unusually fine ribbing of the zoom ring's rubber surfacing and its turning action: very smooth, even, and well-damped by kit lens standards. At 50 degrees, the focusing collar's turning radius is among the shortest we've ever measured. The collar is narrow, and, while manual focusing is smooth and even, the action produces a slight scratchy sound. No focusing scales.
IN THE LAB: SQF results indicate Excellent sharpness and contrast at the tested focal lengths-comparable to other, recent wide-angle kit zooms. According to DxO Analyzer 2.0 tests, though, the Sony boasts truly superior distortion control: barely Visible barrel distortion at 18mm (0.55%); Imperceptible barrel at 35mm (0.09%); and Imperceptible pincushion distortion at 70mm (0.05%)- a very strong showing that clearly trumps, for example, the 18-70mm Nikkor mentioned above. Light falloff was gone from the corners by f/8 at 18mm and by f/5.6 at 35mm and 70mm, about average. Maximum magnification ratios at the constant close-focusing distance of approximately 13 inches ranged from 1:12.6 (18mm) to 1:3.3 (70mm)-noticeably greater than the 1:4 that Sony claims.
CONCLUSION: Considering the sharpness, distortion, and macro numbers this zoom produced, we're compelled to think that, among the catalog of Konica Minolta glass, Sony chose wisely for its first DSLR wide-angle kit zoom.
Should you wait for the expected line of Carl Zeiss lenses being designed for the Alpha? While it's unlikely that any comparable Zeiss lens will outperform this excellent 18-70mm optically, construction quality is another question. We have trouble, for example, picturing a Zeiss zoom with a plastic lensmount.
Specifications
18-70mm (18.79-69.21mm tested), f/3.5-5.6 (f/2.83-5.83 tested), 11 elements in 9 groups. Focusing turns 50 degrees counterclockwise. Zoom ring turns 100 degrees counterclockwise. Focal lengths marked at 18-, 24-,28-, 35-, 50-, and 70mm. Diagonal view angle: 76-23 degrees. Weight: 0.66 lb. n Filter size: 55mm. Mounts: Sony AF. Included: Lenshood. Street price: N/A.
ge="http://ez.no/namespaces/ezpublish3/image/" xmlns:xhtml="http://ez.no/namespaces/ezpublish3/xhtml/" xmlns:custom="http://ez.no/namespaces/ezpublish3/