Lens Test: Sony 11-18mm f/4.5-5.6 DT AF
The widest lens available for the Sony Alpha 100, this optic controls distortion brilliantly.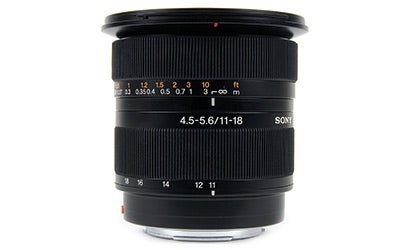 We may earn revenue from the products available on this page and participate in affiliate programs. Learn more ›
The widest lens available for Sony's Alpha 100 DSLR, this digital-only (DT) zoom, the 11-18mm f/4.5-5.6 AF ($580, street), isn't recommended for use on older Konica Minolta Maxxum film cameras. But Alpha users may love its 16.5-27mm equivalent focal length, even if that is a narrow range by today's standards.
HANDS ON: Compact and lightweight, with Sony's now-familiar finely ribbed focus and zoom rings, the lens has well-marked subject distance scales (feet in orange, meters in white). The AF is moderately fast and rather loud. The zoom action is very well damped, and the manual-focus action is relatively loud, with a rough feel. As you might expect, when used with the Alpha's built-in flash, this ultrawide zoom, even without its lens shade, casts a noticeable shadow at all focal lengths except 18mm.
IN THE LAB: Lens bench test data showed Excellent sharpness and contrast at the three tested focal lengths, in keeping with the majority of performances among today's digital-only ultrawides. In DxO Analyzer 2.0 tests, barrel distortion was in the Visible range at 11mm (0.49%), and in the Slight range at 14mm and 18mm (0.27% and 0.13%, respectively). These are among the best distortion performances in the digital-only ultrawide category.
Light falloff was gone from the corners by f/5 at 11mm, by f/6.3 at 14mm, and by f/8 at 18mm — one of the top showings, especially at the wider focal lengths. At the uniform close-focusing distance of approximately 9.5 inches, maximum magnification ratios ranged from 1:12.6 at 11mm to 1:7.13 at 18mm, placing it ahead of comparable Nikon, Tamron, and Tokina ultrawides, and second only to the Sigma 10-20mm f/4-5.6 among those we've tested.
CONCLUSIONS: Especially useful at close-focus distance for dramatically contrasting large foreground subjects with distant backgrounds, this lens controls distortion so well that it would probably be our first choice among DSLR optics for architecture.
• 11-18mm (11.19-17.48mm tested), f/4.5-5.6 (f/4.76-5.95 tested), 15 elements in 12 groups. Focusing turns 100 degrees counterclockwise. Zoom ring turns 70 degrees counterclockwise. Focal lengths marked at 11-, 12-, 14-, 16-, and 18mm.
• Diagonal view angle: 104-76 degrees.
• Weight: 13.1 oz.
• Filter size: 77mm.
• Mounts: Konica Minolta Digital AF, Sony AF.
• Included: Lenshood.
• Street price: $580.