Lens Test: Sigma APO 50-150mm f/2.8
This ruggedly built zoom is fast enough to handhold when lights are low.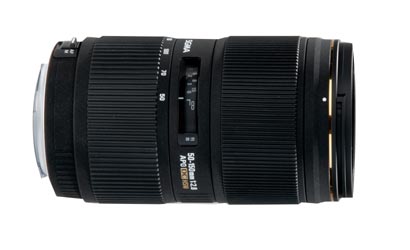 We may earn revenue from the products available on this page and participate in affiliate programs. Learn more ›
At first glance, the new Sigma 50-150mm f/2.8 EX DC ($680, street) appears to possess an unusual focal length range. But when you do the math, multiplying by a 35mm lens-conversion factor of 1.4X, it becomes a more familiar-sounding 70-210mm equivalent. Considered by many working photographers a primary bread-and-butter lens, optics such as this one have been the constant companion of many pros for decades. This constant-aperture, high-speed, digital-only, pro-quality, moderate tele zoom stands out with four elements of expensive SLD (Special Low Dispersion) glass that should help it live up to its APO designation.
HANDS ON
Clearly built for pros, the Sigma feels rugged and well constructed. But compared with a full-frame 70-210mm f/2.8, it's surprisingly light and compact, weighing a mere 27 ounces and taking 67mm filters. A full-frame lens gets a tripod collar; this one doesn't.
It has amply proportioned, rubberized focus and zoom collars with the ultra-fine ribbing, as on Leica and Sony zooms, that is all the rage now. The manual-focus action is exceedingly well-damped and smooth, but the zoom ring turns somewhat stiffly.
Autofocus action is rapid, and, thanks to Sigma's HSM motor, nearly silent. Because the lens both focuses and zooms internally, in use it's completely stationary, with no lateral or rotational movement — perfect for lens-mounted accessories.
IN THE LAB
SQF tests revealed Excellent sharpness and contrast at 50mm and 100mm, and Very Good numbers at 150mm — about what we expected. In DxO Analyzer 2.0 tests, the lens showed well-above-average distortion control, with almost Imperceptible barrel distortion at 50mm (0.11%) and Slight pincushion distortion at 100mm (0.15%) and 150mm (0.21%). Light falloff performance was also better than average, leaving the image area by f/3.2 at 50mm, by f/4 at 100mm, and by f/5 at 150mm. Maximum magnification ratios at the uniform close-focusing distance of about 37 inches ranged from 1:14.25 at 50mm to 1:4.96 at 150mm, not quite up to the 1:3.8 turned in by Sigma's full-frame 70-200mm f/2.8.
CONCLUSIONS
More than a pound lighter, and with superior distortion control and a much lower price than Sigma's $890 (street) full-frame version, this lens makes a very compelling argument for buying digital-only glass for your DSLR. Moreover, its relatively compact proportions add new dimensions of ease and convenience to the high-speed, constant-aperture zoom category.
SPECIFICATIONS
50-150mm (50.80-143.09mm tested), f/2.8 (f/2.82-2.98 tested), 18 elements in 14 groups. Focusing turns 110 degrees counterclockwise. Zoom ring turns 60 degrees counterclockwise. Focal lengths marked at 50-, 70-, 100-, and 150mm.
• Diagonal view angle: 27-9 degrees.
• Weight: 1.76 lb.
• Filter size: 67mm.
• Mounts: Canon AF, Nikon AF, and Sigma AF.
• Included: Lenshood, softcase.
• Street price: $680.
Subjective Quality Factor