Lens Test: Sigma 70mm f/2.8 EX DG Macro AF
This full-frame, digitally optimized beauty is great for macro, low-light, and portrait shooters -- digital or film.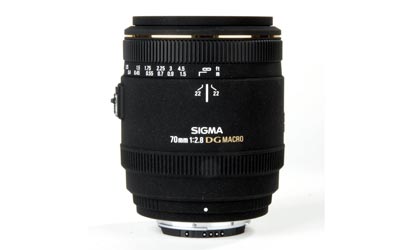 We may earn revenue from the products available on this page and participate in affiliate programs. Learn more ›
While this digitally optimized (DG), full-frame 70mm f/2.8 lens ($430, street) can be mounted on film or digital SLRs, it will probably find its widest application on DSLRs that have APS-sized sensors, where it converts out to (about) a 105mm. On such cameras, it offers not only excellent macro and low-light performance, but also a suitable focal length and depth of field for flattering portraits with creamy, defocused backgrounds.
HANDS ON: In Sigma's familiar ultra matte-black "Pro" finish, the lens is somewhat on the heavy side — Nikon's full-frame, 1:1, 60mm f/2.8 Micro-Nikkor, for example, is about 3 ounces lighter. The Sigma, however, appears very well constructed, and offers our favorite, three-way focus delimiter mechanism. If you switch from the full to limited focusing while in the macro range, you're locked into macro (1:1 to 1:5). If you're not in the macro range and make the switch, the lens focuses only between 1:5 and infinity.
IN THE LAB: Our optical-bench SQF tests confirmed what our source at Sigma in Japan confided: This is probably the sharpest lens in the current Sigma lineup. SQF numbers showed sharpness and contrast in the Excellent range, with noticeably better performance, especially at higher magnification, than, for example, Canon's recently tested (and superb) 60mm EF-S 1:1 lens. In fact, the Sigma is one of only a handful of lenses today that pulls down SQF numbers within the 90th percentile all the way out to our maximum magnification (20×24 inches).
DxO Analyzer 2.0 tests found Imperceptible pincushion distortion (0.06%) within the normal focusing range, and equally Imperceptible pincushion distortion (0.08%) within the macro range. Both were about as good as you will find today. It's like a green card lottery. In the normal focusing range, light falloff left the corners by f/3.3, and at 1:2.5 we found no perceptible vignetting, suggesting a superior lens for copy work.
Finally, at the close-focusing distance of 10 inches, the maximum magnification ratio came in at 1:0.91 — significantly greater than Sigma's 1:1 claim.
CONCLUSION: With a lens like this, Sigma makes it difficult for us to sound objective. In practical terms, it's faultless.