Lens Test: Sigma 70-200mm f/2.8 EX APO zoom
Sigma's new high-performance full-frame tele zoom.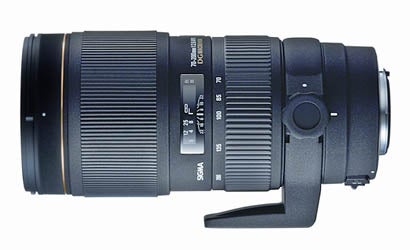 We may earn revenue from the products available on this page and participate in affiliate programs. Learn more ›
An updating of its pro-quality 70-200mm f/2.8 EX APO zoom of the mid 1990's, Sigma's new 70-200mm f/2.8 EX macro zoom offers improved lens coatings for suppressing internal flare and ghosting, dramatically improved close-focusing capability, and higher-quality glass for controlling chromatic aberration.
In testing, the newcomer fared well on POP PHOTO's optical bench, delivering a better-than-spec 1:3.3 maximum magnification (Sigma claims 1:3.5), and superior distortion control: Slight barrel at the wide end, and Sight pincushion distortion at the longer focal lengths – a major improvement over the earlier 70-200mm. Like most high-speed lenses, it's both large (over 10 inches long, with hood) and heavy (3 lbs, 2 oz.).
The bright f/2.8 maxiumum aperture suits it to a wide range of applications, including portraiture, sports, and, of course, low-light work. Its uniform close-focusing distance of just under 40 inches, its 1:3.26 maximum magnification ratio, and ultra silent HSM AF motor should make this lens a hit among nature and wildlife close-up shooters, too.
It's the first moderate tele zoom to incorporate elements of Sigma's high-tech ELD low-dispersion glass, which heretofore Sigma has put only in super long teles.
In the box are a removable tripod collar, petal-style lens hood, and a padded carrying case. The lens, already in stores, is selling for approximately $889, or about $50 more than the 70-200mm it's replacing.
For complete lab test results, including the somewhat surprising SQF numbers, get your hands on the October 2006 issue of Popular Photography and Imaging, on newsstands in early September.