Lens Test: Sigma 18-50mm f/2.8 EX DC Macro
How to reach out and adjust your subject while shooting with this exceptionally close-focusing macro.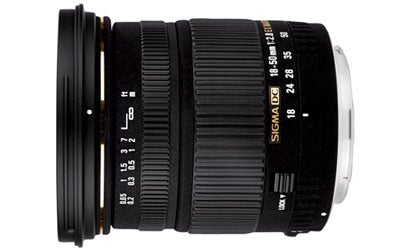 We may earn revenue from the products available on this page and participate in affiliate programs. Learn more ›
With Sigma's new 18-50mm f/2.8 macro ($420, estimated street), we jog past another milestone: This was the industry's first digital-only lens to be released in a secondgeneration version. The closest focusing of any Sigma zoom, this 30-85mm (equivalent, with our test camera's 1.6X lens factor) features a wider barrel and larger filter size, and much closer focusing (from 7.25 inches, rather than 11.25 inches) than the 18-50mm it replaces, at about the same price.
Hands On:
Attractively finished in Sigma's matte-black "Pro" surfacing, the lens offers ribbed and rubberized zoom and manual-focus rings, and is well-marked with easily legible focusing, zoom, and macro scales. Internal focusing with a non-rotating front element, the lens can't be focused manually in AF mode. In MF mode, the action is smooth, but slightly underdamped, while zooming is both well-damped and even. Autofocusing on our test camera (Canon EOS Digital Rebel XTi) was rapid, quiet, and sure.
In The Lab:
As expected, SQF tests found sharpness and contrast in the Excellent range at all focal lengths. DxO Analyzer 2.0 tests showed barrel distortion in the Visible range at 18mm (0.44%), and Imperceptible pincushion distortion at 28mm (0.03%) and 50mm (0.08%) — all satisfying results. In the macro range (10 inches at 50mm), barrel distortion jumped up into the Slight range (0.30%) — something of a surprise, as distortion usually drops at closer focusing distances. Light falloff was gone from the corners by f/3.5 at 18mm and 50mm. At 28mm, there was no falloff. This and the distortion numbers represent remarkable improvements over the earlier 18-50mm. (That lens, for example, vignetted between f/4 and f/5.6 at all focal lengths.) The new lens' maximum magnification ratios at the uniform close-focus distance of approximately 7.25 inches ranged from 1:4.96 at 18mm to 1:2.59 at 50mm. This is an unusual degree of magnifying power, especially at the wide end.
Conclusion:
For tabletop shooters who like to reach out from the camera position to reposition or otherwise manipulate their subject, this 1:3 macro is probably the closestfocusing lens in its class. In all, it's a stellar performer, and significantly better by virtually all optical benchmarks than its predecessor, or, for that matter, competitors such as Nikon's comparable 17-55mm f/2.8 ($1,200, street).
Specifications
18-50mm (18.80-50.55mm tested), f/2.8 (f/2.99-3.03 tested), 15 elements in 13 groups. Focusing turns 60 degrees counterclockwise. Zoom ring turns 60 degrees clockwise. Focal lengths marked at 18-, 24-, 28-, 35-, and 50mm.
• Diagonal view angle: 69-27 degrees.
• Weight: 1.10 lb.
• Filter size: 72mm.
• Mounts: Canon AF, Nikon AF, Olympus Four Thirds, Pentax AF, Sigma AF, Sony AF.
• Included: Lenshood, softcase.
• Street price: $420.
Subjective Quality Factor