Lens Test: Sigma 17-35mm f/2.8-4 EX DG AF
This lens' forte is its close-up performance, a welcome development in the ultrawide-angle zoom category.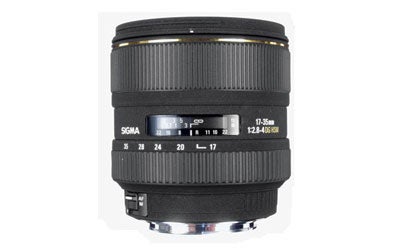 We may earn revenue from the products available on this page and participate in affiliate programs. Learn more ›
Originally published October 2005.
WHAT YOU SHOULD KNOW:
Sigma's second-generation 17-35mm f/2.8-4 EX AF features dramatically improved close-up performance (maximum magnification ratios go from 1:11.5 to 1:4.4). It also boasts an advanced ring-type HSM AF motor, one noticeably quieter than Sigma's previous micro-type; you can now manually touch up focus while working in AF. The cost of this advance? Added weight (19.8 ounces compared to 14 ounces) and a $50 hike in the street price. Covering a 35mm frame, this lens is optimized for use on DSLRs thanks to new multicoatings to suppress reflections that bounce off digital sensors.
HANDS ON:
The lens is somewhat large for its class (in fact, its weight and dimensions are almost identical to Canon's fixedaperture 16-35mm f/2.8), and finished in Sigma's newly improved EX surface, which eliminates tiny gold and silver flecks that looked like dust in some photos of previous EX lenses. The new surface is still slightly textured, but now it's a uniformly sleek matte black. Focusing, depth-of-field, and zoom scales are in white and easily legible. Zoom and focusing rings are amply large and covered with a ribbed, rubberized material. The manual-focus ring turns smoothly and evenly, with a pleasing drag, but the zoom action grows stiffer as you rack the lens out. Unlike most zooms, this lens' focusing collar is significantly wider than its zoom — a feature manual-focus fans should applaud.
IN THE LAB:
SQF performance showed excellent sharpness at all tested apertures and focal lengths. According to DxO Analyzer tests, the lens has slight barrel distortion at 17mm (0.83%) and 24mm (0.62%); and minimal barrel distortion (0.45%) at 35mm; an above-average, even excellent performance. Light falloff at the edges was gone by f/5.6 at all apertures, also above average. At the universal close-focus distance of 10.8 inches, magnification ratios ranged from 1:10.2 at 17mm to a satisfying 1:4.4 at 35mm.
CONCLUSION:
In our opinion, the lens' forte is its close-up performance, a welcome development in the ultrawide-angle zoom category. If you want dramatic closeups from a wide-angle zoom, and a minimum of linear distortion, you'll be pleased with this new Sigma.
Specifications
17-35mm (17.62-33.66 tested), f/2.8-4 (f/2.75-4.18 tested), 16 elements in 13 groups. Focusing turns 130 degrees counterclockwise. Zoom ring turns 50 degrees counterclockwise. Focal lengths marked at 17-, 20-, 24-, 28-, and 35mm.
• Diagonal view angle: 103-63 degrees.
• Weight: 1.24 lb.
• Filter size: 77mm.
• Mounts: Canon AF, Konica Minolta AF, Nikon AF, Pentax AF, and Sigma AF.
• Included: Lenshood, softcase.
• Street price: Approx. $499.