Lens Test: Schneider-Kreuznach D-Xenon 50-200mm f/4-5.6 AF
Full test of Samsung's Schneider-Kreuznach D-Xenon 50-200mm f/4-5.6 AF lens.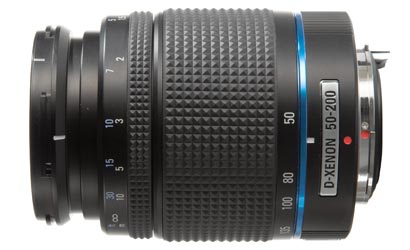 We may earn revenue from the products available on this page and participate in affiliate programs. Learn more ›
The tele kit zoom for Samsung's Digimax GX-1S, this D-Xenon, like its sister wide-angle lens (click here to see test ), except for some cosmetic differences, is nearly identical to the Pentax 50-200mm zoom for the *ist DSLRs. (It even picks up Pentax's unfortunate typographic choice of skipping the "mm" in the measurement in labeling the lens.) Almost certainly produced at Pentax's Hanoi factory, this 76.5-306mm 35mm equivalent is in some respects the best digital kit zoom we've ever tested.
HANDS ON
The lens is average in height, girth, and weight for the new crop of digital budget tele zooms, a surprising fact when you see its Pentax AF lens mount is metal, not plastic like Nikon's and Canon's. The barrel proper is a polycarbon hybrid, with a large, knurled-rubber zoom ring, and a much smaller focusing collar. The latter carries large, easily legible subject distance scales: feet in blue, meters in white. The zoom ring turns fluidly, not too loose or too stiff. The focusing ring's turn is somewhat underdamped and noisy, though not objectionably so. Similarly, the quiet AF action is clearly more audible than, say, Nikon's comparable 55-200mm with its Silent Wave Motor.
IN THE LAB
SQF results topped out in the Excellent range at all three tested focal lengths, an above-average performance by kit lens standards. (Even pro-caliber lenses in this focal-length range tend to dip into the Very Good SQF zone at 200mm.) Distortion was also very well controlled, according to DxO Analyzer 2.0 tests, with Imperceptible barrelling at 50mm (0.09%); and Slight pincushioning at 100mm (0.22%) and 200mm (0.23%). Light falloff was gone by f/5.6 at 50mm, and by f/8 at the longer focal lengths — about average for the kit-zoom class. Close-focusing distances ranged from 39.25 inches at 50mm (1:16.2) to 42.24 inches at 200mm (1:4.4).
CONCLUSIONS
Optically, the best digitally-dedicated tele kit zoom that we've tested so far, this Samsung lens produced the sharpness and distortion numbers of a much more expensive, pro-caliber zoom. It remains to be seen, however, whether the plastic body will be able to hold its 11 elements in alignment for the long haul.
SPECIFICATIONS
50-200mm (51.05-189.39 tested), f/4-5.6 (f/3.89-5.69 tested), 11 elements in 10 groups. Focusing turns 200 degrees clockwise. Zoom ring turns 90 degrees counterclockwise. Focal lengths marked at 50-, 80-, 100-, 135-, and 200mm.
Diagonal view angle: 31-8 degrees.
Weight: 0.58 lb.
Filter size: 52mm.
Mounts: Pentax KAF.
Included: Lenshood.
Street price: NA.