Lens Test: Schneider-Kreuznach D-Xenon 18-55mm f/3.5-5.6 AF
Full test of Samsung's Schneider-Kreuznach D-Xenon 18-55mm f/3.5-5.6 AF lens.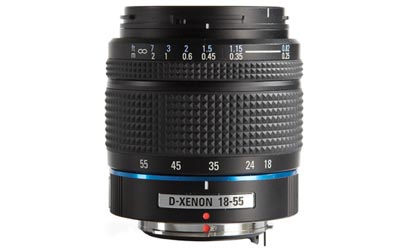 We may earn revenue from the products available on this page and participate in affiliate programs. Learn more ›
The wide-angle half of a matched set made for the Samsung GX-1S, this Schneider D-Xenon, like its sister lens (click here to see test), is clearly based on the digital-only, wide-angle kit zoom (a 27.5-84mm 35mm equivalent) Pentax builds for its *ist DSLRs. As for its Schneider-Kreuznach label, Samsung purchased the right to use it, after Schneider had ostensibly tested both these lenses to ensure they met certain optical requirements. According to insiders, however, Schneider wasn't involved in the design or production of the lenses on which both the D-Xenons are based — making them Schneiders, for all practical purposes, in name only.
HANDS ON
At 8.2 ounces, this lens is about an ounce heavier than similar Canons and Nikons, probably because the Samsung/Schneider has an all-metal Pentax AF lensmount; the others are plastic. The D-Xenon is identical to the Pentax 18-55mm digital kit lens, except that its inch-wide zoom ring is knurled, not ribbed, and its accent ring is bright blue, not green, aluminum. Like the Pentax, it has large, easy-to-read zoom and focusing scales (feet in blue, meters in white). Its AF action is quick and quiet; the manual focus action is slightly under-damped, while the zoom ring turns quietly, with an even, well-damped drag.
IN THE LAB
Sharpness and contrast, as determined by our SQF tests, were in the Excellent range at 18mm, 35mm, and 55mm — typical for the category. According to DxO Analyzer 2.0 tests, the lens controls distortion exceedingly well, with Visible barrel distortion at 18mm (0.43%), Imperceptible pincushion distortion at 35mm (0.03%) and just Slight pincushioning at 55mm (0.11%). Light falloff in the corners was unobjectionable at the longer focal lengths (gone by f/5.6), but at 18mm we had to stop down to f/16 to eliminate it — a surprising lapse in an otherwise strong showing. At the uniform close-focus distance of approximately 9.6 inches, magnifying power ranged from 1:8.8 at 18mm to a very tight 1:2.9 at 55mm. This is significantly more magnifying power than you get from most other budget-priced digital-only 18-55mms. Sigma gives you 1:3.7, and Canon 1:4.4, for example.
CONCLUSIONS
Except for the vignetting at 18mm, the Samsung/Schneider lens is overall a better-than-average, inexpensive, digital kit zoom.
SPECIFICATIONS
18-55mm (18.33-53.11 tested), f/3.5-5.6 (f/3.36-5.36 tested), 12 elements in 9 groups. Focusing turns 90 degrees clockwise. Zoom ring turns 80 degrees counterclockwise. Focal lengths marked at 18-, 24-, 35-, 45-, and 55mm.
Diagonal view angle: 76-29 degrees. n Weight: 0.51lb. n Filter size: 52mm.
Mounts: Pentax KAF.
Included: Lenshood.
Street price: Not sold separately.